British GP preview – Will it be a British show or else!!
593 //
08 Jul 2011, 10:47 IST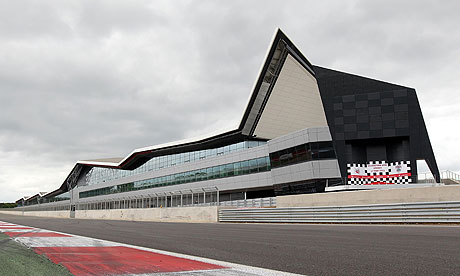 British GP is just round the corner and every driver wants to conquer this historic extravaganza. This race is the highlight of the season not only because of the historic background but also because it may open doors of the championship for the other teams. Weather it will open a door or not one thing is certain Silverstone will be a gem of the race this time around.
The three British drivers are competing in this race Button, Hamilton and Di Resta. It very unlikely that Di Resta will step on the podium, but his two fellow countrymen have a very strong chance to do that. If any of the British driver won this race than he will be the 13th driver to achieve that feast. The last driver which has won this event is Lewis Hamilton who won it in 2008 with the McLaren Team.
The McLaren have a very strong chance of winning this race as the circuit layout suits the nature of McLaren. Hamilton and Button want to win their home race in order to be in the contention of winning the trophy. McLaren have been Red Bull's closest rival all through the season and apart from that they are the only one after Red Bull which has won any grand prix this season. So, the British outfit really wants to make their home race count.
The current leaders in both the championships Red Bull and the team which is placed fifth in the standing Renault will be a bit nervous for this weekend's British GP. As there are speculations that the off-throttle diffuser will affect these teams hugely it is natural to get worried about that. Renault will be the most worried outfit among the two because their form has taken a downward shift from past two three grand prix. Even Renault technical director James Allison has admitted earlier that his team will be heavily affected because of the ban and they are set to lose about .4s per lap. Demeaning performance and than a ban which will cost half a second it's nothing less than a nightmare.
The current leaders Red Bull will also be affected by the ban and its rivals will be looking to take the full advantage of it. The designer of Red Bull car Adrian Newey has already admitted that the ban will affect Red Bull car which is the most aerodynamically efficient car on the circuit. Newey has said that the Red Bull chassis has been designed around the blown diffuser and the ban is not doing anything good for the outfit. One thing is certain if the ban didn't affect the Red Bull then they will become upbeata-Bulls at Silverstone because the fast corners of the track will make then demon at British GP.
Apart from them Paul Di Resta will also be making his home GP debut with the Force India Team. The Silverstone based outfit will be enjoying his home race away from home as stated by the team principal Dr. Vijay Mallya. The factory of Force India is just steps away from the factory and in front of its factory workers Force India will be looking to make a mark in this GP. Force India has a very good chance as their recent form is quite good with both Paul and Adrian. Paul has said that he will be a bit nervous in front of his home crowd and he will be looking to score some decent points in this grand prix.
This will be a make or break race for the Ferrari team as the team has already said that if the car didn't perform well at Silverstone then they will be shifting their attention to 2012 car. Ferrari and Alonso will be desperately looking to win this race in order to keep them in the championship contention. Even Alonso has said that it is difficult but not impossible.
Williams will also be enjoying their home race at Silverstone and they will also be looking to improve their performance. The Williams team has just scored 4 points in eight starts time season and will be looking to add some more into it. The Williams teams will be looking to again kick start their season from their home race.
Apart from Red Bull, off-throttle and home race there is one thing more to about for this weekend's race. Daniel Ricciardo the highly rated Australian driver who will be making his F1 debut with the Hispania Racing Team at Silverstone. He will be replacing Narain Karthikeyan at HRT let's see how will he perform at this weekend with not so competitive car.
This weekend's Silverstone grand prix will see a totally new Silverstone circuit now Abbey will be the first corner instead of Copse. The Silverstone will have new Wing pit and paddock complex. Silverstone is now the fastest and the longest circuit at Formula 1 calendar with 5.891 kilometer and 3.660 mile. For this weekend's race Pirelli is coming with their Soft and hard compounds which they have used in the Spanish GP.
So, be ready to witness the apex battle of motorsport at one of the most historic track of Formula 1.