Talking points from Button's win at the Australian GP 2012
698 //
18 Mar 2012, 13:49 IST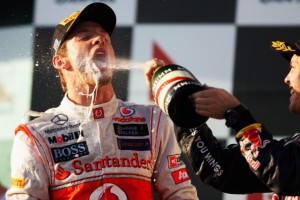 With Jenson Button winning the first race of the new F1 season and the Red Bull of Sebastian Vettel coming second and Lewis Hamilton third, this was a race filled with action and drama, with the Aussie crowd cheering Mark Webber on to try and claim a podium place.
Button dominated from the start, overtaking Hamilton right at the beginning and it seemed destined to be a simple 1-2 finish for McLaren. But a retirement brought out the safety car and pitlane poker paid off for Vettel as he overtook Hamilton via the pit stops and it propelled the German from his starting position of 6th to a 2nd place finish. Hamilton seemed to be the No. 2 driver at McLaren as he could not match Button's pace and came third.
Here are some of the things that stood out in the race.
1. McLaren's new nose works brilliantly. As I had said in my previous post, if the car looks good, the car will perform good and it seems to hold true for now at least. Button and Hamilton both seem to be on top of things, and McLaren seem to have worked hard on the car and driving styles. It looks like it's going to be a good old fashioned brawl between McLaren and Red Bull – game on! Maybe this won't be a season of domination from just one team. Red Bull are just slightly off pace, nothing a little tweaking can't solve.
2. Tires still play a crucial role in the race as the use of the medium/hard and soft compounds creates a lot of disparity in cars' performances and hence allow for overtaking and room for strategizing among the teams.
3. The FIA needs to look at the development of cars; having a team not compete on a race weekend is silly and downright embarrassing for both the FIA and the team. HRT needs to work hard and hope for the best to get into the race for the next weekend.
4. Kimi Raikonnen is back, but we'll have to wait for 2-3 more races before we can conclude whether he is the champion of 07 or the WRC driver in the wrong category of racing. This race however was a very good outing for the Finn and he should grow in confidence, taking the Lotus further than people expected.
"Why do I always get blue flags?", Kimi to his team via the radio.
Response from his team? "They are not for you Kimi, they are for the cars behind you". Remember now Kimi? He did finish a very credible 7th though.
5: Ferrari have a long way to go before they can fight the McLarens and the Red Bulls. The pre-season had shown that they lacked pace; only Alonso could have done for Ferrari what he did, race hard and make the car look better than it is. We saw the real car with Massa struggling and languishing and ultimately retiring after an unwanted clash with Bruno Senna.
6: The new kids on the block seem better than previous years – Jean Eric Vergne for Toro Rosso and of course the unlucky Romain Grosjean may have a bright future in the sport and hopefully they wont fade away like many other young drivers who have joined the ranks in F1.
7: Force India and Mercedes both flattered to deceive , with Schumi and Rosberg having technical issues, while the Force India cars again were not up to the mark. Force India really need to buckle up as Lotus and Williams both look stronger than them. That said, Pastor Maldonado is still a little crazy and needs a little cooling off, Williams won't be happy with his DNF.
All in all a brilliant race to start off the 2012 season and hopefully we will see more races like this again. Round 1 to McLaren in the McLaren vs Red Bull bout.