Christian Horner: Blame tyres for Red Bull's lack of pace
771 //
19 Mar 2013, 17:36 IST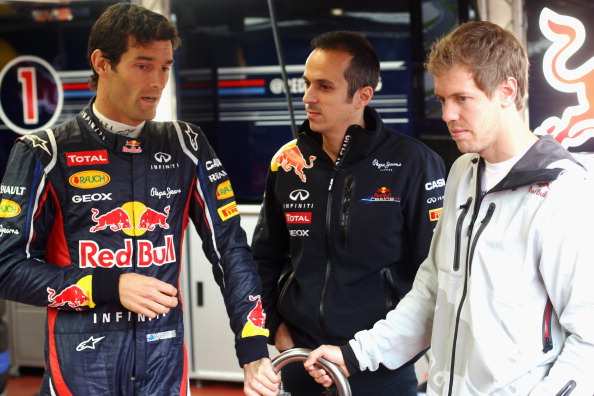 Christian Horner, Red Bull team principal, said Red Bull's astonishing lack of race pace was due to their failure to make the tyres last long enough in the Australian Grand Prix at Melbourne.
Sebastian Vettel dominated the qualifying by finishing in the pole position, followed by another Red Bull driver Mark Webber, on Sunday morning, which lead to optimism among Red Bull fans that Red Bull would secure an easy victory in the race. Vettel, to his credit, raced away in the opening stages but from then on was pegged back by the Ferrari and Lotus, eventually finishing third behind Raikkonen and Fernando Alonso.
When quizzed about why the speed went missing in the race, Horner replied, "One simple word: tyres, we just weren't in any optimum window with the tyres. For whatever reason – the conditions and so on – we were just a bit out on set-up or whatever on the tyre for these conditions. It was apparent from about lap four or five; Seb got a good start, built up the lead that we wanted and then it was quite clear that the car was pretty heavy on the tyre. That forced us to then go down the route of a three-stop and when you run in to traffic that puts more stress in to the tyre."
"I think probably the conditions were a significant factor and we were just out of the window, so all things considered third place is actually a very, very good result. Kimi was the only driver/car combination that could make a two-stop really work and it was quite obvious from about half distance that was what they were doing. Just to emphasise that point he did fastest lap on a tyre that was older than we could have dreamt going anywhere near. I think we've learnt an awful lot and hopefully it won't be quite as chilly next weekend."
However, Horner argued that Australian Grand Prix is not a fair reflection for the remainder of the season as he was hopeful that Red Bull is in good shape, reminding everyone of the positives they took out of the weekend's race.
"The really positive things are that we've come here, we've got a quick car, we've qualified on pole, we've been out of the window in the race – which is ironic because 12 months ago we struggled to qualify but were very soft on the tyre in the race – RB9 is a competitive car and I think we're only going to get a true picture of form after about four or five races when we've been to different venues, different tracks, different asphalt surfaces. Then we'll get a true picture of form but it's been a very positive weekend for us."
Source: ESPNF1.com