F1: Talking points of the 2011 German Grand Prix
1.19K //
25 Jul 2011, 12:47 IST
Lewis Hamilton produced one of the finest wins ever at the German Grand Prix, making it his second victory of the 2011 F1 season and the 16th of his career, which featured one of the most engrossing battles for some years for the lead between Alonso, Webber and him. The 2011 German Grand Prix proved that why we love Formula 1. Mark Webber's Red Bull was put under severe pressure by McLaren and Ferrari. Now it's for Red Bull racing to figure out how to carry qualifying pace into the race.
Qualifying:
The German grand prix qualifying started in overcast conditions but the day remained dry. During Q1, most of the top drivers used the PZero White medium tyres before switching to the PZero Yellow soft tyres for Q2 and Q3.
Red Bull continued their unbeaten streak in qualifying for this season so far as Mark Webber claimed his second consecutive pole position, setting a time of 1m30.079s at the Nurburgring on Pirelli PZero Yellow soft tyres, just 0.055s faster than second best Lewis Hamilton with 1m30.134s, Vettel 3rd and Alonso 4th. Force India's Adrian Sutil ended qualifying in 8th position, out-pacing team-mate Paul di Resta for only 3rd time this season, di Resta to start 12th on the grid. Karun Chandhok made his racing return replacing Jarno Trulli at Team Lotus and qualified 21st on the grid, two places and just 0.8s behind team-mate Hekki Kovalainen.
Top two rows:
Mark Webber needed a great start to finally convert his third pole position of the season into a win, Lewis Hamilton was there to repeat his Chinese win, Sebastian Vettel was to be a home hero and a Fernando Alonso to continue his very late form for the title.
The Start:
The entire grid started the race on the PZero Yellow soft tyres. Mark Webber again failed to make the most of his pole position and Hamilton had a great start to get the lead at first corner. The home boy and World Champion, Sebastian Vettel, was part of a Ferrari sandwich that dropped him behind Fernando Alonso.
The Race:
"Great job guys, great job. Keep pushing, these are the results we can get, it's amazing." – Hamilton after winning German GP.
Kamui Kobayashi started 17th on the grid and was one of few to gain advantage in first corner. But then struggled with a poor race pace and could only manage to finish at points scoring 9th place as team did a fair job with pit stop strategy. Rosberg made a mistake under braking in lap 36 and Jenson Button took the sixth place, but then Button got a call from the McLaren team, telling him that he must retire due to hydraulics issues. Karun Chandhok, who started 20th on the grid and finished at 20th place, had some high speed spins and struggled to get used to the tyres. It was not easy for Karun to return after so much time into the car and be able to extract maximum performance. Daniel Ricciardo of HRT started race at 22nd place and ended in 19th place to finish just his 2nd race of career. He even out paced better performing car of Team Lotus, driven by returning Karun Chandhok. Sebastian Vettel had his worst afternoon of the season and he managed to finish in fourth place after Ferrari made a mess with Felipe Massa's pit-stop on the final lap that gifted Sebastian Vettel fourth place at the Nurburgring.
Force India scored 8 points to go 7th in the Constructors' Championship with an excellent performance from Adrian Sutil, who ended race in 6th place, in front of home crowd. But team-mate Paul Di Resta started with a crash in first lap and after being dropped to 19th place, recovered well to finish P13.
Germans on the grid:
Six German drivers started the race, and not one finished on the podium, but 4 Germans finished in the points scoring positions –Sebastian Vettel 4th, Adrian Sutil 6th, Nico Rosberg 7th, Michael Schumacher 8th. The other two Germans were Timo Glock of Virgin – finished 17th and Nick Heidfeld of Renault – retired after a collision with Buemi.  The seven time World Champion has won his home grand prix on four occasion in his career but had a costly spin that left him to finish eighth.
Penalties:
1. Vitantonio Liuzzi has been handed a five-place grid penalty for changing the gearbox.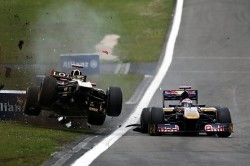 2. Sebastien Buemi, who qualified 16th on the grid ahead of team-mate Jaime Alguersuari, has been excluded from qualifying after the German Grand Prix post-qualifying inspections, the FIA found that the fuel in his car did not comply with the regulations. Buemi's car had a fuel pressure problem in FP1 and FP2, and then team changed entire fuel system on his car. But after qualifying when the fuel sample was taken from his car, it did not match the one provided to the FIA prior to the start of the season. (Post-qualifying).
3. Nick Heidfeld awarded a drive through pemalty for incident involving Paul di Resta but not taken as Heidfeld retired after collision with Sebastien Buemi.
4. Sebastien Buemi has been handed a post-race penalty of 5 place grid drop for the next race for causing a collision with Nick Heidfeld.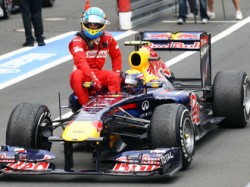 Technical Rules Breaches:
The Nurburgring race ended with two technical rules breaches; Mark Webber giving a lift to his friend Fernando Alonso back to the pits after the Ferrari ran out of fuel on slow-down lap, and Lewis Hamilton hurdling the parc ferme barriers to meet and greet his mechanics.
Retirements:
First retirement of the German grand Prix came in lap 9 with Nick Heidfeld retiring after a collision with Buemi, then in lap 16 Rubens Barrichello a oil leak problem. Jenson Button was told by team radio to retire due to hydraulics problem, second consecutive retirement for him. In lap 37 HRT's Vitantonio Liuzzi had an electrical failure.