Felipe Massa - A second fiddle championship contender
1.06K //
04 Jul 2011, 12:32 IST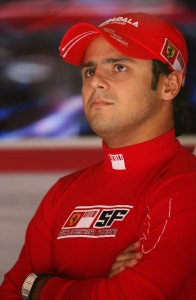 Felipe Massa, the Brazilian, can be fast, can have some good races, has learnt a lot about car set-up from being around Michael Schumacher, but is known to make silly mistakes under pressure, has a reputation of being erratic when things goes wrong in race. Massa showed an impressive pace in his maiden F1 compaign, in 2002, but that pace was wild enough to spend plenty of time in gravel traps and was punctuated as fast, wild and immature, altough he has improved a lot, but has been always outclassed by his team-mates till date and termed as Second Fiddle. Massa has been driving for Scuderia Ferrari since 2006 season and has won 11 races with 15 Pole positions to date.
The Brazilian entered Formula One in 2002 with Sauber team, during his Euro F3000 series he showed a great pace and ability of car control with producing amazingly fast lap-times on many occasions, that performance was good enough to impress Peter Sauber of Sauber team and to offer him a drive. But in first F1 season, pairing alongside Nick Heidfeld, disappointed Sauber team, was even handed a one race suspension, as the decided not to renew his contract.
Massa, then he signed a testing role with Scuderia Ferrari, with the efforts from Jean Todt, before he returned to the Sauber team again in 2004. During his testing year at Ferrari, he learnt a lot about car set-up and also received a huge amount of experience and understanding the technical side more from being around Michael Schumacher and Rubens Barrichello. It was assumed that Ferrari's management had pushed him back into the Sauber race seat. He had an excellent 2004 season with some strong results in Belgium and Monaco, delighting the team boss Peter Sauber. Then in 2005 season witnessed a young Felipe Massa consistently outperforming his highly experienced Sauber team-mate, 1997 F1 World Champion, Jacques Villeneuve.
"If my weekend begins well, I use the same underpants on Saturday. If that is also a good day, I wear them on Sunday. That is what I did in Brazil," – Massa.
In 2006 Massa got the call, Ferrari wanted him to join them to pair alongside Michael Schumacher. And no wonder that Massa was slightly second fiddle too Michael Schumacher. The first season went on with some narrow misses, few spins followed up with a collision.
In 2007 Felipe won three races, outperforming team-mate Kimi Raikkonen on many occasions and earned a reputation of Grand Prix winner but wasn't a championship contender. In 2008, Massa should have won the championship. Some races cost him important points, like the first 2 races where he struggled without traction controll, a retierment to three laps from a win in Hunagary, he spun few times in Silverstone and his Singapore refueling nightmare. The Brazilian lost the world title by a single point in the final Grand Prix of the year, in the last 400 metres, when Lewis Hamilton passed Timo Glock to finish fifth at his home race at Interlagos. Though he may not have won the 2008 title but proved that he had the skill to do so. As a result of strong 2008 season, in 2009 fans expected him to come back even stronger and win a title. But no one expected to see Massa going now.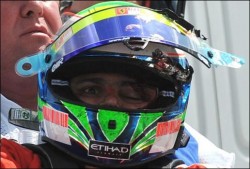 In 2009, during the weekend in Hungary, a spring, which came out of the back of Rubens Barichello's car, bounced along the racing line and hit Felipe above his left eye. This impact smashed the visor mount and knocked him unconscious. Massa's car was traveling at 260kph (approx. 160mph) at the point of impact. That that could have killed the Brazilian, he had serious head injuries but the emergency surgery and subsequent procedures not only saved Massa's life, but also allowed him to return to the Formula 1, as the Brazilian was confirmed alongside Fernando Alonso for 2010 (and has been outclassed by Fernando Alonso).
While commenting on differences with his Ferrari ex-team- mate Kimi Raikkonen and Fernando Alonso, he said, 
"I've spoken more to Fernando over the last three days than with Kimi in three years."
If you all remember the incident happened in Germany in 2010 season, while leading the race, the message on Massa's radio read- "Fernando is faster than you" – yes, a team order which ended with Massa giving up a win to Alonso. He was a man upset on the second place podium. And then he wasn't as fast again that season. After his off-pace 2010 season, many drivers have been in speculation into taking Massa's seat.
Massa holds a contract at Ferrari untill the end of 2012. But his seat isn't safe as he is still underperforming and contracts can be torn up. To continue to challenge for titles he needs to improve his driving in tough conditions, and learn to drive from a lower grid position more effectively. More importantly, he needs to have a bit more confidence and belief in himself. Massa needs to win some races to get a team back and face the spaniard alonso head on. He hasn't won since brazil 2008.
"What I don't quite understand is how Massa gets the lap times he does when he so often misses the apexes of the corners. What really does impress me is the fact that he displays a determination not to be counted out, or overlooked, when it comes to fighting for the world championship," – Damon Hill.
 In Formula One a consistency and a craft of avoiding costly errors is a very important part of winning a championship and Felipe Massa has been known to make too many silly mistakes throughout his Formula one career. Also while contesting a world championship there will always be races where things will go wrong and whenever somethings goes wrong in a race, past indicate that Felipe can never get back into the race. Felipe Massa has a very erratic reputation in terms of overtaking with some failed overtaking attempts in his career and has spent too much time stuck behind slower cars. Massa has also seen uncomfortable while driving in the wet conditions, though has shown some improvement.