Force India upbeat for the German GP
634 //
20 Jul 2011, 11:32 IST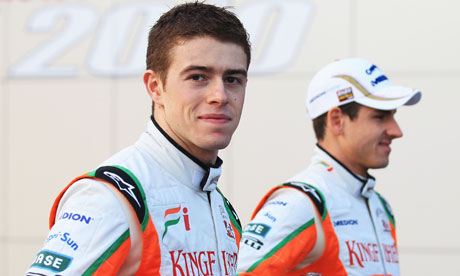 Force India team is looking very positive for the German GP after their two strong outing in Valencia and Silverstone. Both Force India drivers, Adrian Sutil and Paul Di Resta, are looking forward for a strong race in the German GP. The home hero Adrian Sutil would want to make his home outing count for the Force India team. Force India have looked an improved side in past couple of races (however, failing to convert the strong performances into points due to some misfortunes).
Adrian Sutil said he is hopeful of a strong showing as he knows the circuit well and has raced here since his childhood.
Adrian's past result has been good in this circuit and the way he is driving at the moment, he would be hoping to make his home race count as Force India is looking to close the gap on Torro Rosso and Sauber. Adrian said the nature of the track is really technical and it will require a well balanced car which is really difficult.
Describing the track, the speedster said:
"The track is challenging because there is such a variety of corners: high, medium and low speed. So you really need a car that is well balanced for every kind of corner, which isn't easy. The first sector is technical, while the second sector has a good flow to it, and the final part has the big straight."
The other Force India driver, Paul Di Resta, said that the team is very positive before going in to the German GP. Paul said that the team is really working hard to score points so that they can show the true pace of the car.
Paul added that the team is working hard after the strong qualifying sessions which they have enjoyed in past couple of races as they have missed many chances. Paul qualified on 6th place on the grid in British GP but failed to convert it into points because of the terrible miscommunication in the team.
Paul said:
"I think we should be quite positive going into the race. After strong qualifying performances in Valencia and Silverstone, we'll be working hard to try and get a race result that reflects our pace."
Paul also said that six German drivers will be racing in their home grand prix compared to three British drivers who have raced at Silverstone but it will be difficult for the German fans to create an atmosphere similar to the Silverstone.
Quoted From: aboutmyarea.co.uk