I am part of a team at Ferrari: Sebastian Vettel
Ferrari's German driver Sebastian Vettel expresses his thoughts after winning his maiden race with the Formula One team
News
01 Apr 2015, 22:11 IST
2.17K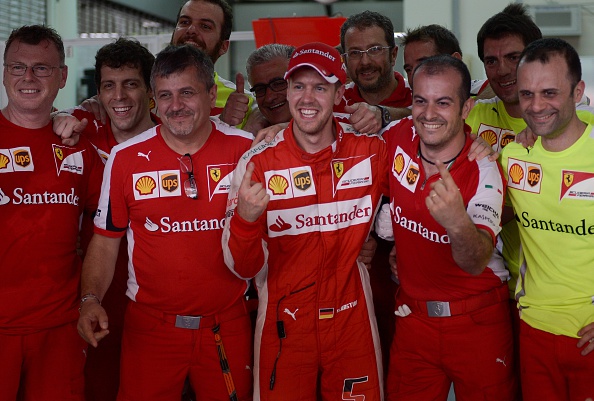 Sebastian Vettel secured his first race win with Ferrari at the Malaysian Grand Prix on Sunday. The German was behind the wheel of the Prancing Horse for just the second time in Formula 1, but finished ahead of Lewis Hamilton and Nico Rosberg.
Vettel had finished on the podium in his first race – the Australian Grand Prix – as well. He was extremely emotional after the win and said that despite his many wins throughout his career, he counted this one as 'very, very special'.
"It was a very emotional moment," said Vettel. "I have won many races, but the first one with Ferrari is very, very special.
"On Sunday night, I wanted to celebrate with the mechanics and I said to them, 'thanks a lot, but I want to be one of you, no more no less'.
"I am part of the team and, even if out on track, I'm alone, I know that really I never am, because I am always with you. I want to thank you for giving me a nice car and I think, in fact I know, that we will experience many more great moments together."
Maurizio Arrivabene, Ferrari's Team Principal, admitted that the victory in Malaysia was so emotional for Vettel because he had managed to emulate his childhood hero and former Ferrari driver Michael Schumacher.
Arrivabene said, "I think that, the 'Forza Ferrari!' from Seb over the radio immediately after taking the chequered flag, was not just for the achievement of a childhood dream, but also for memories of the moments spent with another great champion, who won so much for Ferrari, namely Michael (Schumacher) and above all there was the joy of being there with all of you. "
The 27-year-old has won 40 races so far and clinched the driver's championship four times in a row – from 2010 to 2013.