Is Felipe Massa the right candidate for Car 6?
779 //
28 Mar 2012, 19:08 IST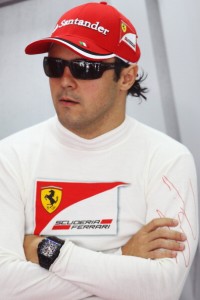 This question has picked up pace in the Formula 1 world since last year and the Malaysian Grand Prix did nothing to make it die down. In fact, after Sergio Perez's 2nd place finish and Felipe Massa's awful 15th at Sepang, speculation about Massa's seat has risen another level.
To be honest, Massa's future at Ferrari has been under speculation since the 2010 German Grand Prix when he was given this radio message by his engineer Rob Smedley – "Fernando is faster than you". Felipe's confidence took a big dive in that race and since then his performances have been well below par as he managed only two podiums in the next 29 races. On the other hand, Fernando has has had 5 wins and 17 podiums. This huge difference in results has really hurt Ferrari in keeping up with Red Bull and McLaren in the Constructors' championship in recent years.
Fernando is the most complete driver in the current field – there is no doubt to that claim. So when anyone, and especially his teammate, is compared to him, the bar has to be raised by a huge amount. Fernando has the astonishing ability to drag a dog of a car and achieve good results, which makes it even more difficult to compare Massa to him. One reason for Felipe's string of bad performances has been his teammate's overpowering brilliance, but this year, we can see that struggling to score points has been down more to his driving style and his engineers not being able to adequately set up the car for him.
Stefano Domenicali says, "I well remember that, four years ago, in fact right after a Malaysian Grand Prix, which was won for us by Kimi Raikkonen, Felipe was more or less in the same situation as today. The papers were demanding his immediate replacement and he managed to react in the best way possible, thanks to support from the team, which saw him win two of the next three races. We remember how that particular season ended, with the Brazilian actually becoming the world champion, even if it was just for a few seconds, while we took our 16th Constructors' title". This might sound encouraging, but there is a stark difference between the car's performance in 2008 and 2012. In 2008, the Ferrari had a very fast, if not the fastest, car.  But the F2012, in Massa's hands, sometimes looks like the 9th fastest car, just ahead of the Caterham, Marussia and HRT. Massa's driving style involves braking late into the corners, and is a bit hard on the tyres. That, coupled with the fact that some of the fundamental problems of the F2012 are low speed traction, leading to braking and rear instability while exiting from the corner, not to mention that the F2012 eats its tyres up very quickly, is making his performances look even worse this year.
If the guys at Maranello don't find a quick fix to the car's problems and cannot make the car capable of fighting with the likes of McLaren very soon, then it is distinctly possible that Felipe will not be behind the racing wheel of Car 6 till the end of the Brazilian Grand Prix this year.
On the other hand, the Ferrari management has sympathy for Massa considering he almost died while racing with their car. So it is taking them longer than usual to make the tough decision. Also, they do not have a perfect candidate, for the time being, to replace Massa and play rear gunner to Alonso.
Nevertheless, some probable candidates for Massa's seat, whether he is replaced mid-season or at the end of the season, are:-
SERGIO PEREZ 
After the awesome drive at Sepang, he is definitely the frontrunner to occupy Massa's seat. He has proved that he is a hard racer, can bring home points regularly and fight for the win when the opportunity comes. What strengthens his case is that he belongs to the Ferrari Driver Academy and had impressed during his test with Ferrari at the Fiorano track last year.
ADRIAN SUTIL/JAMIE ALGUERSUARI
These two men are not on the grid this season due to completely different reasons. But they would be very eager to return to racing if given an opportunity, especially with a competitive team. There have been rumours in the last few months regarding one of these two landing Massa's seat. Both of them have not had a chance to display their talents in a car capable of fighting at the front. Adrian is an experienced racer and Jamie is a promising young talent. But the problem lies in the fact that Ferrari is not known for selecting race drivers who have been out of racing for a while and have not proved, on a consistent basis, that they can fight against the best.
GIANCARLO FISICHELLA
Giancarlo's case is rather unique. It was quite surprising that he couldn't match his teammate's performances at Ferrari when just a few races earlier, he was competing very well with his teammate at Force India. Although one could say in his defense that his teammate at Ferrari was a great driver like Kimi Raikkonen, he was just not able to bring out desired performances from the car and used to finish well down the field in qualifying as well as the races. Kimi, on the other hand, would manage to be comfortably in the top 10 most of the times. But the positive thing in Fisichella's case is that he is a very experienced driver and had a very good relationship with Fernando at Renault in 2005 and 2006 when he proved to be the perfect rear gunner for Fernando and helped Renault bring home the World Constructor's Championship in both the years.
There's a very remote probability for this, but Weber's immense experience could prove to be beneficial for Ferrari. If Ferrari can make the car competitive, Mark could be happy to fight at the top and help Ferrari bring the Constructors' Championship. This choice would allow Ferrari to give Sergio Perez more time to nurture as a driver, so as and when Fernando leaves Ferrari after some years, they can draft him in and make him lead Ferrari's charge.
These are all speculations as of now and the imminent change at Ferrari might take longer than currently expected, but one thing is for sure – if Felipe cannot repeat his performance of 2008 in the next few races, and if Ferrari manage to make their car competitive in that time, he will not remain at Ferrari for the 2013 season.