Jenson Button Interview: "It's always a great feeling when you win championships"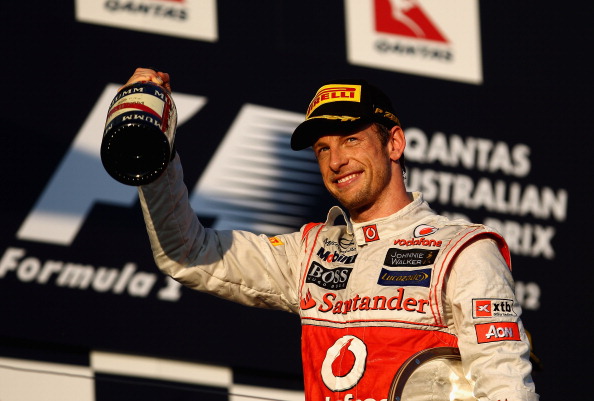 The boy who failed his first driving test went on to become a Formula One Champion. Jenson Button, who currently races for McLaren Mercedes, is one of the best drivers in the Formula One today. He has already won 14 Grand Prix races, the Belgian GP being the latest. After the completion of the Singapore Grand Prix on Sunday, Sportskeeda correspondent Taruka Srivastav caught up with the star.
You satisfied with your second position today?
Well yeah, it was a tough race. Vettel was brilliant today.
Your teammate Hamilton had to retire. Did that affect you?
Well it was unfortunate. I myself avoided a collision with Vettel which would have been very embarassing for me. I am glad I was able to pull it off as things could have really gone wrong in lap 36.
You have been criticized by many for leaving Brawn for McLaren. What do you have to say about it?
See, F1 is a very competitive sport and you can't go to a team thinking that you are always going to win with it. Winning a championship is up to you and the team working together. After I won the World Driver's title, I decided I would like to go on to a team which always has chances of winning.
Are you aiming to win a title again?
Of course I am. It's always a great feeling when you win championships. I am always working hard and chasing leads to be able to win Championships. The result in races is always so unpredictable which I think increases my excitement to win.
How do you, as an F1 driver, prepare for the physical extremities of a race? Give an insight into your diet and other preparatory routines before the raceday.
I like keeping myself fit. I take part in triathlons and I also qualified for Half Ironman world champs. I like to eat a healthy diet as it is one of the most important elements when it comes to keeping yourself fit. I also like to swim.
Would you say that Hamilton is your toughest competitor?
Haha! Even if I didn't had to, you said it already. Well me and him are teammates and also world champions. So we are like almost equally good. It all comes down to who is good on a particular day.
Are you looking forward to the Indian Grand Prix?
Yes I am. It was good last time. Hopefully will try to win. Desperately in need of one.