Kimi Raikkonen wins season opener in Australia
574 //
19 Mar 2013, 04:25 IST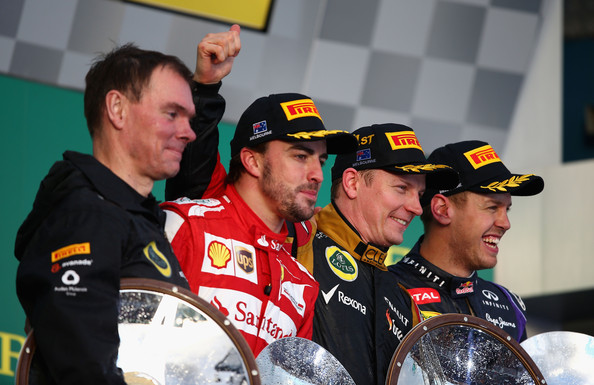 Kimi Raikkonen opened his 2013 campaign with a victory at the Australian Grand Prix, beating Fernando Alonso to victory by 12.4s.
After qualifying everyone seemed to expect a Red Bull domination, but that went very wrong right from the beginning. Sebastian Vettel led confidently, but Mark Webber immediately fell from second to seventh as the pair of Ferraris, driven by Felipe Massa and Alonso burst into second and third places (ahead of the Mercedes pair of Lewis Hamilton and Nico Rosberg), which sandwiched Raikkonen's Lotus.
Raikkonen soon disposed of the silver arrows, and began his chase of the three breakaway leaders.
It was Raikkonen's long second stint, which was the key to his success as he kept up with Vettel and the two Ferraris (who led the race early on). Raikkonen remained out on track preserving his tyres as the cars around him adopted three-stop strategies. Before the race was over, Alonso managed to shuffle his way ahead of team-mate Felipe Massa and Vettel.
Lap seven, Vettel was the first of the lot to change to the supersoft Pirelli tyres. He was soon followed by the current race leader Massa on lap eight, then Alonso. Raikkonen held off his first pit till lap nine. That left Hamilton in the lead and he stayed there until lap 12, where Rosberg led briefly before Adrian Sutil.
Sutil (making his first start since 2011) stayed in the front of Vettel, Massa, Alonso and Raikkonen until pitting on the 21st lap. Sutil, who had started 11th for Force India on medium compound tyres, seized the initiative. For the second race in succession, a Force India led.
As the race progressed, Raikkonen caught up with Alonso, who pit for a second time (before Sutil's first). The following lap saw Sutil and Vettel come together and undercut allowing Alonso to jump them both, while a slightly later stop for Massa dropped him behind the pair and left Raikkonen clear in the lead.
But once Alonso had passed Sutil, Raikkonen upped his pace and was able to keep the Ferrari at arm's length and even pull away in the closing laps.
Hamilton looked good on track early on as his Mercedes went 12 laps on the supersofts, but though his lap times were competitive (at times), the Mercedes lacked the sheer pace to run with the 'big boys'. He was, however, able to reel in Sutil, as the German struggled for the final 12 laps on the supersofts.
After his disaster in the opening few laps, an unhappy Webber fought back to sixth, setting some fastest laps on the way. He also was able to pass Sutil in the closing stages. Sutil managed to cling on for seventh after a great comeback, as team mate Paul di Resta looked as thought he might have made a move on his teammate, until a moment on the final session dropped him back.
McLaren had a deeply troubled outing on the Albert Park Circuit as Jenson Button was the first to swap from supersofts to mediums as early as the fourth lap. Button ran in the lower midfield, fighting with Lotus's Romain Grosjean for much of the race (after the young Frenchman made a terrible start). They stopped racing when they finally crossed the finish line within 1.1s of each other.
F1 rookie, Jules Bianchi drove a great race for Marussia to beat his Caterham rivals; Charles Pic finished a lap further down than his fellow Frenchman. Behind them, Marussia's Max Chilton and Caterham's Giedo van der Garde had a fantastic scrap over 17th place where the English rookie finally beat his Dutch counterpart comfortably.
Eighteen cars finished the 58-lap race around the Albert Park Circuit with two retirements by Nico Hulkenberg and Daniel Ricciardo, while Pastor Maldonado encountered car trouble on the circuit.
 Kimi Räikkönen
  Winner   
 Fernando Alonso
  Second
 Sebastian Vettel
  Third
 Felipe Massa
 P4
 Lewis Hamilton
 P5 
 Mark Webber
 P6 
 Adrian Sutil
 P7
 Paul di Resta
 P8
 Jenson Button
 P9
 Romain Grosjean
 P10
 Sergio Pérez
 P11
 Jean-Éric Vergne
 P12
 Esteban Gutiérrez
 P13
 Valtteri Bottas
 P14   
 Jules Bianchi
 P15
 Charles Pic
 P16
 Max Chilton
 P17
 Giedo van der Garde
 P18
 Daniel Ricciardo
   Retired (Exhaust)
 Nico Rosberg
   Retired (Electrical)
 Pastor Maldonado
   Retired (Spin)
 Nico Hülkenberg
   Retired (Fuel System)