Lewis Hamilton wins Bahrain Grand Prix
Mercedes' Lewis Hamilton won the 2015 Bahrain Grand Prix and his third win of the season.
News
20 Apr 2015, 13:40 IST
1.87K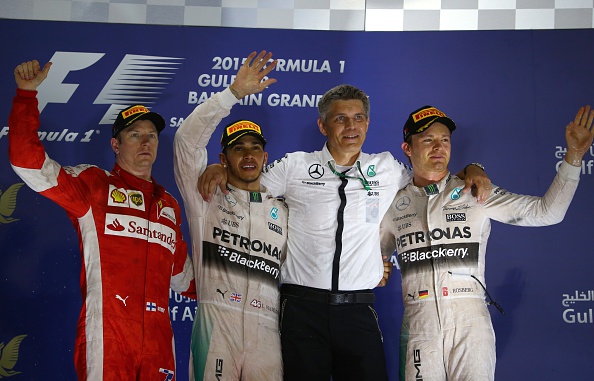 Hamilton all the way
Lewis Hamilton won his second Bahrain Grand Prix in a row as he led from start to finish to register his third win of the season. Ferrari's Kimi Raikkonen finished second ahead of Hamilton's Mercedes AMG teammate Nico Rosberg.
The Iceman ended his 27-race podium drought with a podium finish in Bahrain. His last podium appearance came at the 2013 Korean Grand Prix, when he was still with British team Lotus. He rejoined Ferrari in early 2014 and is the record holder for most podiums at Sakhir, although he is yet to win on the track.
Hamilton was ahead for much of the race, starting at pole position and maintaining his lead for 49 of the total 57 laps. Hamilton opted for two runs on the soft tyres before finishing with the medium ones. The World champion faced a minor challenge at the end of the first pitstop as Sebastian Vettel and Rosberg were closing in on him as he exited into turn one.
That was the closest any driver came from Hamilton who won the race 3.3 seconds ahead of the Finn. Raikkonen managed his tyres well despite opting for the harder medium ones in the middle of the rac, changing to quicker soft rubber which helped him overtake Rosberg on Lap 56. Rosberg is yet to overtake his teammate this season.
Vettel had a great start to the race, but he suffered damage to his vehicle whilst attempting to undercut Rosberg. The 4-time World champion had to settle for fifth place after a tough battle with Valtteri Bottas.
Problems for Ricciardo
Daniel Ricciardo finished sixth with an engine billowing dark smoke soon after he passed the chequered flag. After several engine failures in the past year, Ricciardo will now be on his fourth and final one in the upcoming Spanish Grand Prix. It seems as if the situation could be alleviated, however, with new rules due to be signed into effect by F1 boss Bernie Ecclestone during the year that will permit a 5th engine to be used. Ricciardo was followed by Lotus's Romain Grosjean, Force India's Sergio Perez and Red Bull's Daniil Kvyat.
Felipe Massa was the last point scorer in Bahrain as he finished 10th after a start from the pit lane.
Jenson Button, Hamilton's one-time teammate at McLaren Mercedes and current driver for McLaren Honda, was prevented from even making a start to the race after suffering major mechanical issues. Button's teammate, Fernando Alonso came in 11th. Force India's Nico Hulkenberg finished a disappointing 13th as the team struggles to put up major wins following several issues with owners' creditors and vehicle issues.
Hamilton in pursuit of a record
Hamilton, with his extremely successful stint in racing is now only 5 wins behind the late Brazilian Formula 1 legend Ayrton Senna, who is also his childhood idol. The Brit is also four wins behind German champion and new Ferrari recruit Vettel.
The next Formula 1 fixture, the Spanish Grand Prix commences on the 8th of May at Barcelona's Catalunya circuit.