Malaysian Grand Prix: Pre-Race Coverage
668 //
24 Mar 2013, 10:00 IST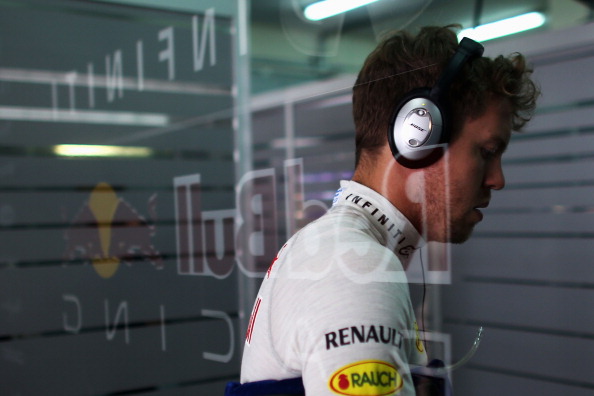 With a runaway championship under its belt, F1 gave us far too few reasons to remain upbeat about the 2012 season around this time last year. But in came Malaysian Grand Prix 2012, ushering a revival of Formula One's x-factor with a flurry of surprises and an engrossing tale that left the onlookers speechless, the lovers of sport and the skeptics alike. This time around, the season is riding high on expectations, and to say that it won't let us down would not be overly optimistic. Even the ones who derided the sport for being fairly predictable (or still do), can agree that as we hit Melbourne last week, Formula One 2013 was shrouded in uncertainty. We talk about uncertainty because we came into the season with more questions than we had answers to. Once again a huge proponent of this unpredictability is the way the Pirellis have behaved thus far and apprehensions about what they might do ahead. All that the teams have made out about the tyres from testing and Melbourne is that the supersoft tyres have a shelf life of an adult Mayfly. Even the Australian media could not help but have a jibe as some of the teams struggled with tyre wear and graining ,especially targeting Seb – "Hungry Heidi* ate away the tyres".
This weekend, we are at the Sepang International Circuit, about 60 kilometres outside Kuala Lumpur. If you're thinking Australia was a sign of things to come, then you couldn't be more wrong, because Sepang is everything that Melbourne wasn't. If anything, Albert Park was closer to Barcelona from earlier this year, with peculiar, low temperatures and Pirelli's adventure with Supersoft compounds creating havoc in the pit lane. But Malaysia, as we know, is typically hot and humid – by the time we are done here, the teams would have seen the other extreme as well, and Schrodinger's proverbial cat would be out of its box. We'll get that definitive piece of the jigsaw that'll set the course for the rest of the season, and many of the questions dangling precariously at this moment would be answered for us, and more importantly, for the teams as well.
What's cooking in Sepang
Sepang, all set to host the Malaysian Grand Prix for the 14th time this weekend, was Formula One's first purpose-built, erected from scratch facility. This is where the Hermann Tilke era of circuits was heralded, and its template has had its domineering presence in the design of any new circuit that has come up ever since. And clichéd as it sounds – "Its blueprint is typical of Tilke-dromes" – a flowing layout with sweeping corners and wide straights. It has two long straights, each about a kilometre long bound together by a tight hairpin. The first straight ends in a distinctive tight right and left, which is turn one of the lap and hence will be the scene for a lot of action (especially the opening lap) as well as obvious overtaking opportunities. The facility also features an exorbitant grandstand and paddock (again, typical of Tilke). In a nutshell, the track is fast and challenging, carefully punctuated by a decent mix of flowing and slow corners that takes its toll on the drivers, with high and humid track conditions making this possibly the toughest and physically draining race on the calendar.
"One does not simply talk about Malaysia without mentioning the torrential weather". It's sunny one moment, and flash tropical rainstorms kicks-in the very next. This weekend as well, a storm is in the forecast, though around 4pm local time it is expected to weaken. And as we have already seen last year, these factors could come in handy if you like watching the race turned around on its head. Fingers-crossed for that! (We know that's perilously evil but after the fun we had last year, can you really blame us?). The unpredictable weather means tyres really take a beating. Pirelli has brought in the Medium compounds as the option tyres while Hards are the prime compounds, with Hembrey citing Sepang as an extreme track and thus opting for the hardest range of tyres to cope with high temperatures, abrasive tarmac and sweeping corners that load up the tyres.
Car setup is very tricky and gives nightmares to race engineers. Setting up the chassis and suspension is a complex pursuit given the variety of track conditions, both in terms of weather and track geometry. High downforce settings with an excellent car balance are a premium. From the strategy perspective, weather will play an important role, but given that it doesn't rain at the start, the teams would go for the medium compounds which they would repeat for their second stint starting from around lap 16, followed by the hard compounds for the final stint with the window being around lap 34-38. And in case rain plays a major role, three stops might prove to be the way to go as was the case last year, with Alonso winning on a three-stopper.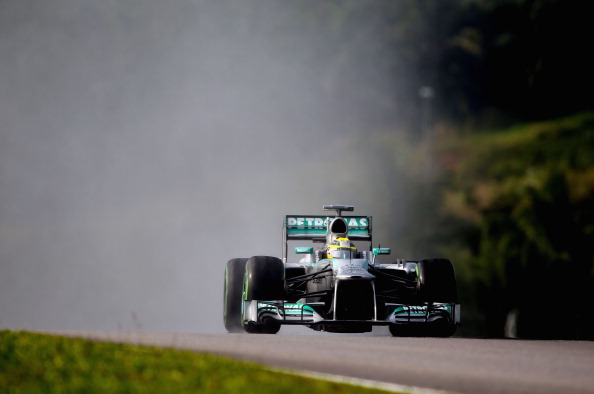 Qualifying Report
Q1: Chilton was the first one out on track followed by Bianchi, his teammate at Marussia. A real lap time first came from Rosberg, going fastest in all the four sectors as he broke into the 1m 37s bracket. Meanwhile, there was some locking and wiggling around as sparks showered from under the Williams of Bottas as he locked up on the final turn, while Alonso got on the power a bit too soon exiting the final hairpin. Rosberg's time was soon bettered by Force India's Sutil with an impressive 1m 36s lap that kept him ahead for the rest of the session. It was otherwise business as usual for the top teams, with no upsets, although the two Redbulls really did give us a scare at one point, especially Vettel, who qualified 15th, dangling close to the drop-zone. Bianchi looked the most impressive among the back-markers as he qualified just a shade under a second clear of Pic and 1.2 seconds better than his teammate Chilton. Up ahead, Sutil went fastest followed by Raikkonen and Rosberg.
Not making it into Q2: 17) Jules Eric-Vergne (Toro Rosso) 18) Valterri Bottas (Williams) 19) Jules Bianchi (Marussia) 20) Charles Pic (Caterham) 21) Max Chilton (Marussia) 22) Giedo van der Garde (Caterham)
Q2: Rains were expected ahead of Q2 and they did not disappoint. While most of the drivers sneaked in their best times as showers began invading the track around turns 5 and 6, Grosjean, Di Resta and Maldonado were caught in the rain. Grosjean fell short of making it to Q3 as he could not improve on his P11 time with rain dampening his progress. Di Resta's laps were ruined twice on consecutive attempts as he ran wide due to wet conditions around turns 8 and 9. Maldonado was the worst affected, as he failed to get any lap time in before the rain brought an anti-climax end to the session. Rosberg held on to the fastest time as the final minutes saw no improvements in times, followed by Webber and teammate Hamilton.
Not taking further part: 11) Romain Grosjean (Lotus) 12) Nico Hulkenberg (Sauber) 13) Ricciardo (Toro Rosso) 14) Esteban Gutierrez (Sauber) 15) Paul di Resta (Force India) 16) Pastor Maldonado (Williams).
Massa claimed an impressive P2 ahead of Alonso; it's been more than 50 races when he last started from the front row
Q3: Rains decided to ease just enough for Q3 to commence with the sun stealing a look through the clouds. All teams chose to start with intermediates due to the slippery conditions. Pirelli confirmed that if the cars did qualify on the intermediates, the drivers will be free to start with whichever slick compounds they want. A trail of vehicles began Q3, led by Sutil for Force India. The cars still sprinkled around water on certain parts of the track, which meant the teams weren't likely to switch to slicks. The times kept tumbling throughout as teams wanted to make sure they get their hot laps in before any further interventions. Raikkonen was told to get one flying lap in, as he had just enough fuel on-board, and he finished P4 before he lost places in the final minutes, dropping to P7. Sebastian Vettel put in a stonking lap to claim P1 with a lap time one second clear of Alonso at P2 as his move to switch to a fresh set of intermediates seemed to be the difference. Only Massa had the chance to topple the German, which he failed to do, though it was an impressive lap to snatch P2 from teammate Alonso, out-qualifying him for the fourth consecutive race.
Kimi Raikkonen was penalised post qualifying for impending Nico Rosberg in Q3. He will now start 10th on the grid, slightly impacting his chances of a repeat of Australia, where he claimed victory from P7.
Rounding up the top 10: 1) Sebastian Vettel (Redbull) 2) Felipe Massa (Ferrari) 3) Fernando Alonso (Ferrari) 4) Lewis Hamilton (Mercedes) 5) Mark Webber (Redbull) 6) Nico Rosberg (Mercedes) 7) Jenson Button (McLaren) 8) Adrian Sutil (Force India) 9) Sergio Perez (McLaren) 10) Kimi Raikkonen (Lotus).
* Sebastian Vettel has named his Redbull RB9 as "Hungry Heidi" after German-American model Heidi Klum