Malaysian Grand Prix - Predictions
1.04K //
23 Mar 2013, 09:40 IST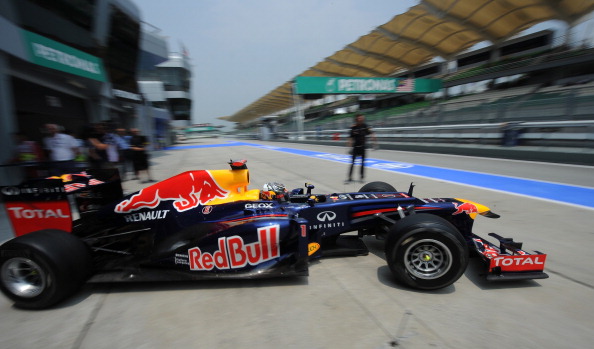 Sepang is more of a high-speed circuit (than Melbourne); it's one of the toughest circuits on the calendar because there's a real range of corners, cambers, a couple of blind apexes and a little bit of gradient. Tropical heat and sudden downpours make the Malaysian Grand Prix one of the most demanding of the season; add to it the extra challenge this year in preserving Formula One supplier Pirelli's new, faster-degrading tyres. Another major challenge for the teams would be the choice of tyre as the track is expected to be dry in parts while it is drenched in others.
Just five days after his 20th career victory in Australia, Raikkonen proved the win was not a flash in the pan and that Lotus appear to be strong title contenders – second in P1, fastest in P2 and fastest in the wet as well. Kimi is a two-time winner at Sepang, including his first ever Formula One victory in 2003. Raikkonen's time of one minute 35.569 secs was four tenths of a second ahead of Webber's best earlier in the day. This was primly due to the switch to the faster medium compound Pirelli tyres for his run, as opposed to the hard rubber. But the Iceman said Friday's performance would matter little when it comes to qualifying on Saturday. "It seemed to be OK today… it was a good day but it doesn't help us tomorrow so we have to do tomorrow and hope it goes well," he also dismissed the challenging conditions as "the same like other years".
"We didn't get as much done as we wanted to but that's the same for everyone," "One part of the track was quite soaked and one part pretty dry." "This afternoon we couldn't do that much [race preparation] because of the weather. It looked pretty OK but quite a mess if you look at how long the tyres last. There is some footage to look at too; it doesn't look very nice, I have to say." "I hope we have enough tyres to survive the race. Tyre wear was pretty severe for everyone." Said Vettel.
The other title contenders appeared closely matched, with only 0.384secs separating Webber from Alonso in the first session and 0.416secs between Raikkonen and the Spaniard in the second.
Force India are literally soaked in confidence, after their ten point haul in Melbourne and Adrian's stunning comeback, proving theVJM06 is a solid midfield runner, and that it could hold it own with the leaders. Sutil gave absolutely no indication that he'd been away from the sport for a year and will definitely entertain at Sepang as well.
The Caterham F1 Team is quietly confident that it can bring the challenge to Marussia this weekend at its home Grand Prix, after a positive day of running during the first two practice sessions. "We've completed a lot of laps on all the tyres except the full wets and run through the whole program. It's also good for me to get as many laps as possible done on the intermediates – it's all part of the learning process and with full running in both FP1 and FP2 today, compared to Melbourne, we're in a better position for tomorrow and Sunday than we were last weekend" said Van Der Garde
Toro Rosso got off to a slow start with both cars struggling for pace. Despite the issues, both drivers have remained confident that they can change thing, heading into qualifying and the race. Jean-Éric Vergne seems more positive for the upcoming race.
Everything is pretty much what we expected from first practice. Everyone is in roughly the same order as Australia. Lotus are quick, as are Ferrari and Red Bull and I think it will come down to tyre management this Sunday. It was clear from the dry run that tyre usage could be a decisive factor in Malaysia, as it was in Australia. All the teams struggled to one degree or another with 'graining', where the surface of the tyre overheats and shreds. McLaren are going to have to stay worried. I don't think they have made much progress. In reality, with just five days since Melbourne there is not a lot that they can do. But after this weekend they would have three weeks before the Chinese Grand Prix to look at the data and make some improvements.