Malaysian Grand Prix: Tyre Strategy
807 //
19 Mar 2013, 16:39 IST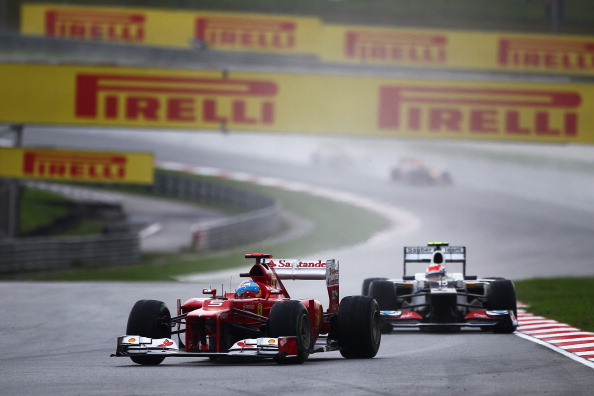 Back-to-back race weekends are always tough for any team, but it gets even more challenging when one has to face extremely hot and humid weather along with heavy chance of torrential downpour. That is what the Malaysian Grand Prix exactly is, and has been since its inception.
Tyre allocation for the weekend:-
- Medium (5 sets) – Working range 90/115 oC
- Hard (6 sets) – Working range 110/135 oC
- Intermediates (4 sets)
- Full Wets (3 sets)
Why have these tyres been chosen?
- The Sepang International Circuit has an abrasive tarmac and so the chosen tyres will provide performance without degrading too quickly
- Hot and humid temperatures – The Hard tyres, having a higher working range, will last longer. The Mediums will be used for shorter stints and in qualifying
- Fast corners, hence high lateral loading – harder tyres are required to be able to tolerate that
Pirelli have nominated the same tyres as last year, but with the 2013 tyres being a step down when compared to their predecessors, more pitstops are expected (Pirelli are expecting 3 on average). Thus, the new orange-walled Hard tyres will be around half a second faster this time. As the track in Malaysia is regularly used round the year, the grip levels are quite high right from the start of FP1. So, teams are a bit less conservative when it comes to using their tyres in the beginning. Higher grip levels along with higher ambient and track temperatures alleviate the problem of tyres not coming up to their working range and thus prevent graining (which happens at lower temperatures). But there is a downside too – higher temperatures demand greater cooling – especially the inner walls of the tyres – or else, thermal degradation comes into picture. Such problems are aggravated by the high lateral loadings experienced at the high speed corners. Hence, teams need to find a perfect balance between aerodynamic performance and proper cooling.
Among all this, we should not forget that the intermediates and the full wets may have an equally important role to play during the weekend, with 80-90% chance of rain predicted. On top of that, the track doesn't have  a very good drainage system, resulting in standing water and rivers at many points on the track. Another problem faced is that it might rain at some parts of the track while others might be completely dry – such a situation is a major dilemma for the teams as to whether, and if so, when to switch tyres. The teams face a challenge the other way round also, because the hot weather causes a clear dry line to appear very soon but it remains very wet off the racing line, which makes it difficult to overtake even the backmarkers, losing significant time in the process.
How will the teams use the tyres during the sessions (considering them to be all dry)?
Free Practice 1: 1 new set of Hard tyres (H1) – This set must be returned to Pirelli before FP2
Free Practice 2: 1 new set of Hard tyres (H2), 1 new set of Medium tyres (M1) – Both sets to be returned before FP3
Free Practice 3: 1 new set of Hard tyres (M3), 1 new set of Mediums (M2) – Both sets to be returned before Qualifying begins
Qualifying (for the top 9 teams)
Q1: 1 new set of Hard tyres (H3), 1 new set of Mediums (M3) (if required)
Q2: 1 used set of Hards (H3), 1 new set of Mediums (M4)
Q3: 1 new set of Mediums (M5)
Race (for the top 10 qualifiers): 1 used set of Mediums (M5), 3 new set of Hards (H4, H5, H6)
Taking the relative pace of the teams in Australia as a benchmark (although being a notoriously unreliable indicator of the pecking order), it doesn't look like that the drivers eventually making it into the top 10 will have to use a fresh set of the option tyres in Q1 and will be able to preserve them for the race. If it rains though, all these strategies go straight into the bin!
Will it again be the tyre-conserving monster at the hands of Kimi Raikkonen that beats them all or will Ferrari and Red Bull be able to find a chink in the E21′s armour? Sunday can't come sooner!