Michael Schumacher: The Alexander of F1
797 //
25 Nov 2012, 12:08 IST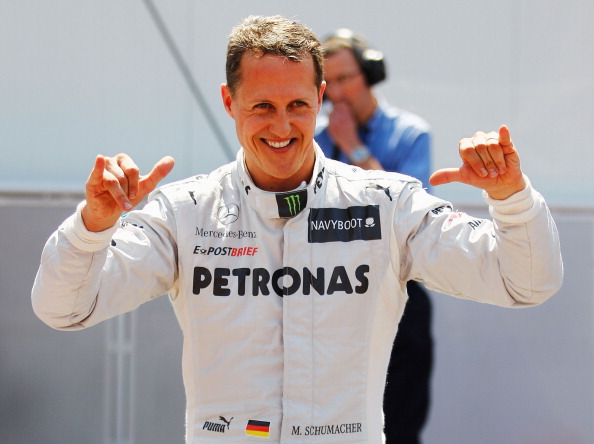 The Alexander of Formula 1, the Regenmeister, all these names are synonyms for one man. As we all sit down to watch a great event, Interlagos, that turn juvenile racers into historic idols ( given the record stakes in this race), we also see some idols of racing slowly fading away from the limelight. Some legends giving way for burgeoning talents. Some Gods resting in peace after a breakneck 21 years of racing.
"Statistically the best ever Formula 1 driver till date", quoted by the official Formula 1 site , we are talking about none other than the legend of formula 1, the God behind the wheel, Michael Schumacher. As we gear up for the 2012 season finale, the person we are going to miss the  most after the race  is the "the Red Baron", affectionately called Schumi.
Michael Schumacher's history is an encyclopaedia of Formula 1 itself. Racing with the early rock stars of Formula 1 like Allan Prost, Ayrton Senna and Jackie Stewart  to dynamic youngsters like Sebastian Vettel, Fernando Alonso and  Lewis Hamilton, Schumi has shown the world that age never mattered 20 years ago when he started as one of the youngest drivers, nor is it a matter of concern for him when he is behind the wheels even at the age of 43!
As a young driver, Schumi had shown his potential of a great racer in making. When Germans were allowed racing/ karting license at the age of minimum 14, Schumi obtained it at the age of 12. But the thing that kept him going even after tough competitions and not much recognition of motorsport in Germany during his time was his determination and willpower to succeed. And success indeed comes to those who thrive for it, like Schumi did. Aged 21 years, he was given his first Formula 1 car by the Jordan-Ford team for the challenging Spa circuit. Even though he finished the qualifying with a fifth spot and his hopes charred by a clutch failure in the final race, his spirit and enthusiasm grew nevertheless and his potential did not go unnoticed. The German media called him the best talent for Germany after Stefan Bellot.
By 1994, Schumi had established himself as a more than just a capable racer with Benetton-Ford. With 9 podium finishes which included 1 win, Schumi had threatened Damon Hill's long-standing dominance. In 1994 however, the odds were in Schumi's favor . The championship fight went on till the last stage to Australia. With a slender lead of 1 point, Schumi had a tedious task of clinching his first Formula 1 title. And a fateful crash between Schumi and Hill left the latter in pieces and he had to retire from the last race, giving Schumi his first world championship title. The following year also saw Schumi successfully defend his title  making him the youngest two time world champion at that time.
Then came the Red Italians with a swift decision to make Schumi their prime driver. Ferrari bought Schumi even before his contract in Benetton could expire. Amidst many allegations and cases the year of 1996, Schumi finished 3rd in that year's championship. The successive years saw Schumi being disqualified in 1997, 2nd in 1998 and 5th in 1999. But then came an era that made Schumi climb to such high ranks in Formula 1 history, that his level was elevated from a good driver to "the greatest driver".
In the year of 2000, Schumi captured his 3rd championship title and the first under Ferrari. And as we know, history always repeats itself. Come 2001, 2002, 2003 and 2004, the only thing written all over it was only Schumacher's name. Being the first person to win 5 consecutive titles, a record unbroken till now, Schumi took Formula 1 racing to a new level, something no one could have imagined. The two next years saw the dominance of another young Renault talent, Fernando Alonso, as he stole the limelight from Schumacher.But the work started by Schumacher was already complete.
Motorsports was now not just a recreational activity for the rich to squander their overflowing cash, but now was seen as a true sport. Inspiring young talents, Schumi did what it took to promote this sport like no other driver. The presence of  2 Germans in the top 4 spots in this season goes to show Schumi's influence in bringing Germany into prominence in the world of racing, previously considered a minnow. " He is the main inspiration for my racing", were the words by the current German Formula 1 champion, Sebastian Vettel. Registering himself as the greatest Formula 1 driver ever, Schumi could have easily taken a step back and enjoy his royalty at some private island.
But when racing is in your blood like Schumi, separation from an high power engine is unbearable. After a brief retirement of  3 years, Schumi felt his fingers missing the steering wheel, his head missing the helmet and his body missing the adrenaline rush of racing. taking his wife on a shopping spree in London in 2012, Schumi silently left her behind and went on to give the driver's trials for Mercedes.
Cometh the year 2010, cometh the legend in style. Again behind the wheels, Schumi was back, taking on racers half his age. Finishing 6th in the first race in Bahrain, Schumi had the caliber and experience like none in the grid, but failed to make an impression as compared to the younger drivers
Racing for Schumi is not a competition but a never ending passion. With not much success in the following years, ending 9th in 2010 and 8th in 2011, Schumi's great aura was being stolen by the young guns. And again in 2012, Schumi announced his complete retirement from Formula 1.
He lived  and relived his dream, something he cherished the most. And like all other legends, he gave way for other talents to live the life he relished behind the wheels for more than two decade. Like it's said, God made humans, but it is a leader who makes others believe in that God. Similarly, it was Micheal Schumacher who made us all believe in Formula 1 and enjoy this sport. He is indeed the Alexander of Formula 1 and like him, Schumi truly,"came,saw and conquered."