HRT, Lotus, Virgin and Williams: Mid season performance analysis Part – 1
702 //
16 Jul 2011, 18:26 IST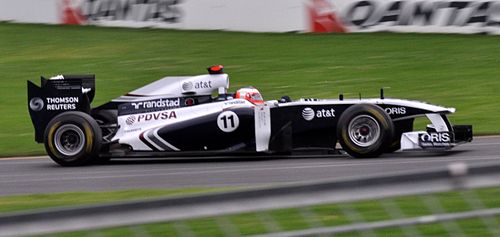 We are now halfway into the Formula 1 season after the completion of 9 rounds out of the 19. Next up is the German GP but before that lets have a look on the mid season performances of the teams. Today in the first part we will be stating from the back of the grid and analyzing the performance of HRT, Virgin, Team Lotus and the underperforming Williams F1 team.
HRT: Vitantonio Liuzzi, Narain Karthikeyan and Daniel Ricciardo
Hispania Racing team has struggled in this season as well and was not at all competitive in first nine races of the season. HRT initially started the season with Narain and Tonio but after Valencia they replaced Narain with Ricciardo because of Red Bull backing. However, Narain will race in the inaugural India GP later this year. Mid season HRT also changed the ownership hands and is now looking to improve their performance and hoping for the money to improve the infrastructure of the team.
Tonio has headed HRT's attack on the grid by achieving 13th position in Valencia which is their best performance till date in this season. HRT is looking to challenge its closest rival Virgin all through this season and are way behind Team Lotus in terms of performance. However, HRT has shown signs of improvement after the initial race in which they didn't able to qualify under the 107% rule.
HRT signed Red Bull backed Daniel Ricciardo for the rest of the season. Daniel was competitive in an uncompetitive car however, he didn't able to challenge his teammate in the race HRT and Red Bull is expecting more from him. Even Ricciardo has said that he is not intended to be at the back and will be looking to charge ahead of the order.
Narain had a terrible comeback season he didn't able to match his teammate's pace at all in the whole season and later on replaced by HRT. Narain also become the first driver in the history of Formula 1 after his car finished the race on 24th position in the European GP. Narian's best race result in his comeback year is 17th in the Monaco and Canadian GP.
Hispania Racing team performance
Best race result: 13th Vitantonio Liuzzi (Canadian GP)
Best qualifying position: 20 Vitantonio Liuzzi (Turkish GP)
Virgin Racing: Timo Glock and Jerome D'Ambrosio
Virgin has improved its performance in this season but not much to challenge the Team Lotus. The Richard Branson's side always seems to compete with the HRT team and is way behind Lotus. Virgin however, looked promising at the start of the season when Jerome D'Ambrosio finished the race on 14th place.
Virgin has not able to qualify in the second round of qualifying even one time. Their best qualifying position is 20th which they have scored in more than two occasions with Timo Glock. However, the best race position is scored by the rookie Jerome D'Ambrosio on two occasions first in Australian GP and then in Canadian GP.
Virgin is currently placed on 12th and last position in the constructor's standing behind HRT. It is because HRT has a highest race finish of 13th where as Virgin's best race finish is 14th. Timo Glock has outpaced Jarno Trulli on one occasion in this season and it was on the British GP when he qualified on 20th position. This is the only achievement of Virgin in this season till date.
Virgin Racing Team performance
Best Race result: 14th Jerome D'Ambrosio (Australian GP, Canadian GP)
Best qualifying position: 20th Timo Glock (Spanish, Monaco and British GP)
Team Lotus: Jarno Trulli and Heikki Kovalainen
Lotus has impressed everyone with its performance in this season and showed that they are heading into a right direction. Kovalainen has made three Q2 appearances and Jarno Trulli's two times 13th position has put Lotus into 10th place in the constructor's standing.
Heikki Kovalainen is the star performer in the qualifying whereas Trulli is driving brilliantly in the races. Trulli has finished the races on 13th place on two occasions. Heikki however has made three Q2 appearances in Spain, Monaco and in Britain. Best race finish for Heikki is 14 in Monaco.
So, Lotus has shown that they are heading into right direction and are way ahead from other two teams of the grid.
Team Lotus Performance
Best Race result: 13th Jarno Trulli (Australian GP and Monaco GP)
Best qualifying position: 15th Heikki Kovalainen (Spanish GP)
Williams F1: Rubens Barrichello and Pastor Maldonado
Williams have struggled all through the season and have just scored 4 points in the nine races. Barrichello has scored all the points for the grove based outfit. Maldonado however came close to score points but some misfortune has ruined his chances in all the occasions.
On three occasions Maldonado has made Q3 appearance but in all the occasions he failed to score points. Rubens however has not made even a single Q3 appearance in this season. Williams who finished 2010 season just one point ahead of Force India at 6th place is really having some big problems.
They have shown signs of improvement but with just 4 points on board till the halfway stage it is really difficult for them to catch the other teams of the grid. The British outfit has made some progress since the Monaco and are looking stronger than they were in initial races. Williams will be hoping that Maldonado's misfortune ends soon so that they could move ahead in the championship.
Williams F1 performance
Best race result: 9th Rubens Barrichello (Monaco and Canada)
Best qualifying position: 7th Pastor Maldonado (British GP)
Read Part two mid season analysis here.
Stay tuned for the next part of the mid-season analysis on Wednesday.