Montezemelo hits out at Schumacher
913 //
04 Dec 2012, 20:52 IST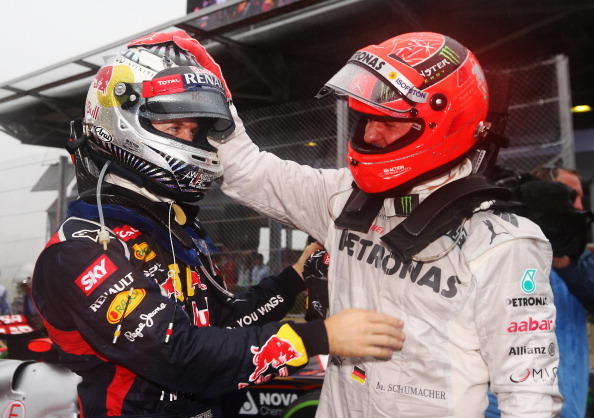 Ferrari president Luca Di Montezemelo has hit out at former Ferrari driver and seven time F1 world champion Michael Schumacher.
During the Brazilian Grand Prix, Schumacher had moved over during the later stages of the race and had allowed Vettel to easily pass by him to take sixth place, and more importantly, seal the world championship.
This move by Schumacher has been praised by the Red-Bull team principal Christian Horner. More on that story here: Red Bull thank Schumacher for giving Vettel sixth
But his Former employer Ferrari were left disappointed by Schumacher's gracious gift to Vettel. Here is what Ferrari chief Montezemelo had to say at a Ferrari event:
"I was expecting a slightly different final race on the part of Michael Schumacher because he is a driver with links to Ferrari through some extraordinary moments and with whom we feel very close," said the outspoken Italian.
His Brother and former F1 driver Ralf Schumacher has come out in support of Michael and here is what he had to say about the incident:
"Sebastian was faster and he didn't want to get in the way and increase the risk for him. That's how fair sports people treat each other."
 Montezemelo also took a dig at F1 supremo Bernie Ecclestone during the Ferrari world finals.
"We are constructors, not sponsors: I'm no longer happy that we can't do testing on tarmac and that you can't give any chance for young drivers to emerge," he said.
"Since some people have used the expression 'It's a joke' in recent days, I would like to say that this is the real 'joke'.
"Yes, I'm referring to one of Ecclestone's phrases: my father always taught me that you have to have respect your elders, above all when they reach the point that they can no longer control their words. So I will stop there.
"Certainly, old age is often incompatible with certain roles and responsibilities."
As far as FIA's clarification on Vettel's move is concerned, Montezemelo said that Ferrari have accepted FIA's decision and consider the matter as closed.
"Congratulations go to Sebastian Vettel and Red Bull because they won and we are happy to congratulate winners, hoping and wishing that next year we are on the receiving end of these compliments," he said.
"As for the yellow flag saga, we took the simplest and most linear route, by asking the Federation to look into it, making it clear that we would accept their decision and that's what we did."