The Formula 1 grid is prepared to undergo fierce laps around the Spanish GP circuit, the Circuit de Barcelona-Catalunya, as the Saturday qualifying session nears. Teams have been preparing immensely for this throughout Friday, getting their setups right around the new layout of the track.
The final chicane on the circuit of the Spanish GP has been given up for Formula 1 and drivers have been taking the long way around the final few set of corners. While this has definitely made them go much faster, it has also defined new limits on the track for drivers to push.
With not much time to go for qualifying, here are the official timings for the session in different time zones around the world.
GMT - 14:00 - 15:00
IST - 19:30 - 20:30
CEST - 16:00 - 17:00 (Track Time)
AEDT - 01:00 - 02:00 (Next Day)
PT - 07:00 - 08:00
EST - 10:00 - 11:00
JST - 23:00 - 00:00
The qualifying session would be quite interesting. It is expected that at least 7 seconds would be taken off of a lap of the circuit because of the new format that will be used. The practice sessions already saw drivers setting times close to 1:13s. For reference, Charles Leclerc's pole lap during the 2022 edition of the Spanish GP was only in the 1:18.750.
---
What is expected for the 2023 Spanish GP qualifying?
Analysing the first two practice sessions of the Spanish GP, it is quite apparent that Max Verstappen has a fine grip around the track, as he was the fastest driver during both sessions.
The second session saw him setting an amazing laptime of 1:13.9, however, his lead was almost compromised as Fernando Alonso came extremely close to taking the fastest lap. He was only 0.17 seconds down to Verstappen, then followed by Nico Hulkenberg in the Haas.
Red Bull is expected to dominate the Spanish GP qualifying session as well since the RB19 looks very comfortable going around the circuit. Although many drivers complained of exiting the final corner with a couple of bumps, it didn't compromise the pace that RBR was carrying.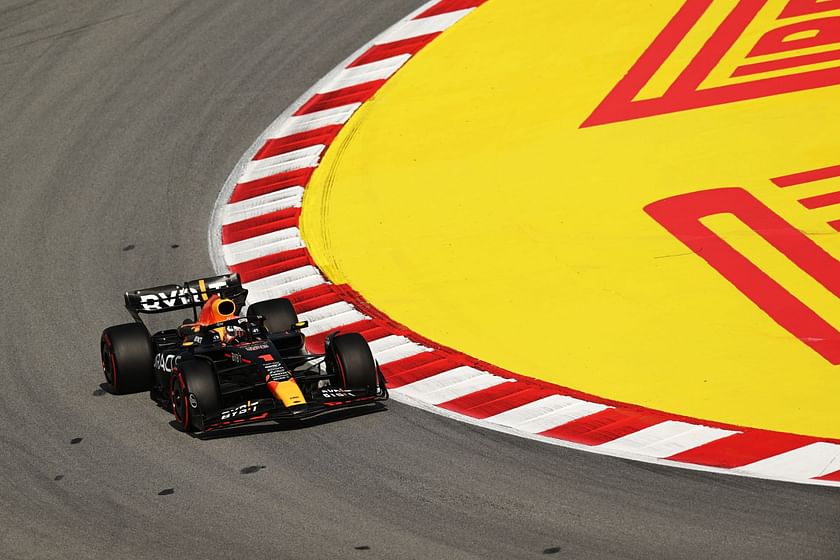 At the same time, the team might perhaps be under pressure from their rivals; mainly Aston Martin, who are closest to them at the moment. Mercedes have been under development of their car as well, but it hasn't been quite a performance since the Monaco GP last week.
Adding onto the top teams, Ferrari has introduced new upgrades to their SF-23, with new sidepods and floor design for Carlos Sainz, who will be getting in a lot of data for the team.
Alpine, too, have looked quite strong in the midfield. Since Esteban Ocon's podium last week, the team has raised quite a few expectations, and they have looked strong during the first two practice sessions as well.