George Russell believes Mercedes won't be very competitive in qualifying but could improve in the race at the 2023 F1 Spanish Grand Prix. The Briton feels they will have a tough fight with Alpine and Ferrari in the midfield.
Describing his practice sessions at the Spanish circuit, Russell said:
"It's only Friday and we have learned a huge amount so we will dig into the data tonight. We know that we are not Friday specialists and we often take a bit of a step forward on Saturday and Sunday. So it is the right way around where we need to be. But we are where we are. I think a lot of people are bringing updates to their car, we weren't expecting to suddenly set the world on fire and we need to learn what we can from the info we've got and we look forward to tomorrow."
On his expectations of their place in the pecking order of the field in Spain, the 25-year-old said:
"Well, I don't think there is a fight for pole with anyone on this grid, so that's the way things are at the moment. I think it's going to be tight. There are a few cars who are definitely fast on a Saturday. I think [the] Alpines are looking really strong. So between us, Ferrari and Alpine, it's probably going to be tight."
"Nico [Hulkenberg] was really quick today. I don't know where that came from, but we saw that in Miami, I think, Kevin [Magnussen] qualified ahead of us, but then things changed on Sunday. So I don't expect us to be having an incredible day tomorrow, but I certainly expect us to be having a better Sunday than Saturday, so that's what we're gearing up for," George Russell added.
While Lewis Hamilton struggled to get into the top 10 in both practice sessions, Russell was only able to manage the tenth-fastest lap in the first session and the eighth-fastest lap in the second session. Although a lot of their sessions were compromised by their upgrades which were being tested, the Brit claims they have been able to gather a considerable amount of data from both sessions.
Russell expects to struggle in qualifying but perform better on race day. He was also impressed by the Alpines and Nico Hulkenberg who clocked the third fastest time of the second practice. While their own car was upgraded, he felt their rivals upgrading their cars has bunched up the field tighter in terms of performance.
---
George Russell feels new changes to Spanish circuit have made it more enjoyable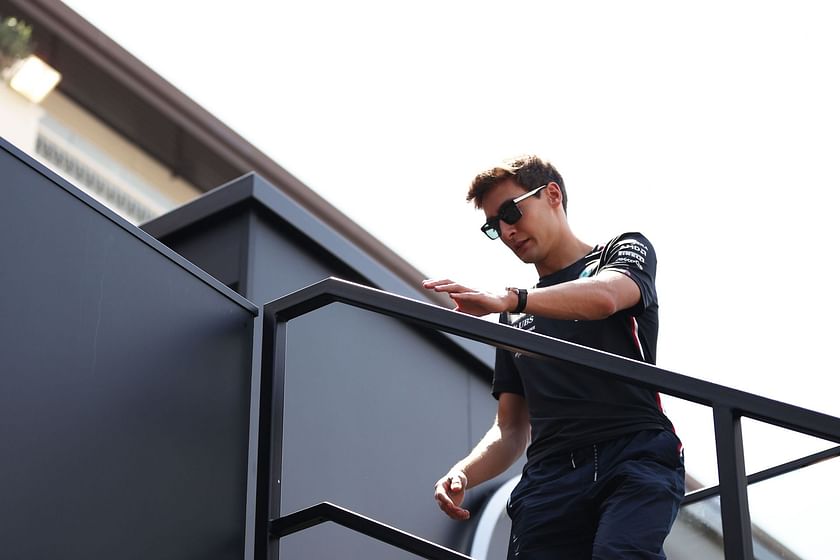 George Russell claims that the ride height of their car made the final corners of the circuit tricky. He believes they can make changes overnight between Friday and Saturday, to improvise their performance for qualifying and the race. Overviewing the changes at the circuit, the Briton felt that the changes made to the final sector of the circuit made it better and could improve the overtaking on the circuit.
Asked if he had issues with the changed corners of the circuit, Russell said:
"I think we were just pushing the ride height of the car, to be honest. We solved it for the second half of the session just by lifting it a little bit. I mean, it's really bumpy through that final corner, so it's a little bit sketchy through there. Same for everyone. But we'll see what we learn tonight. I think, definitely, we can find some gains."
"There were a few surprises out there today, but I'm sure the story will be slightly different tomorrow and again on Sunday, and as we know, we score points on Sunday. So that's what we're targeting," George Russell added.
On the feeling of driving through the final section of the circuit, George Russell said:
"It was also fun to drive around the new version of the Barcelona circuit. It's gone from one of the worst corners in F1 to one of the best! So that's really enjoyable. I think it'll probably help overtaking a little bit because the old layout was such a slow speed corner. You could only get so close and then the guy ahead puts the foot down and disappears."
"On the neck, it doesn't feel too bad at the moment, I don't know how I'll feel after Sunday. A part of it is you could be so quick through the corners, you're sort of in and out. And the most tricky corners are those long sustained corners. As I said maybe I'll feel different on Sunday," George Russell concluded.
With changes made to the Catalunya circuit, the overtaking is expected to improve. In previous years the circuit was known to produce dull track action which led to its unpopularity on the calendar. Although Mercedes seemed to be struggling in practice, they are expected to improve in qualifying and in the race. But their rivals looked more confident around the circuit both with their upgrades and competitiveness.
After a tough weekend in Monaco, where they lost a potential third-place podium, George Russell will be looking forward to making up for his losses at the Spanish GP.