Red Bull's taskmaster Helmut Marko recently revealed that Ferrari planned to snatch the team's two most important figures Christian Horner and Adrian Newey last summer.
Horner and Newey are two of the most highly-rated personalities in the F1 paddock with teams willing to shell out millions of dollars to get them on their side. Ferrari attempted to pull off a similar heist last season as they hoped to hire the top bosses of the Red Bull team.
However, their attempts were strongly countered by Helmut Marko, who managed to convince both of them to stay with the team. The 80-year-old told Swiss publication Blick, how he convinced team principal Christian Horner to stay at the 2022 Canadian GP:
"I spent all night trying to convince Horner to stay with us. That cost us a lot of extra millions."
He then added how they persuaded their Chief Technology Officer Adrian Newey to stay on board as well:
"[Luca di] Montezemelo was already cheering in the paddock and wanted to announce the deal. But during the night we were able to change Newey's mind."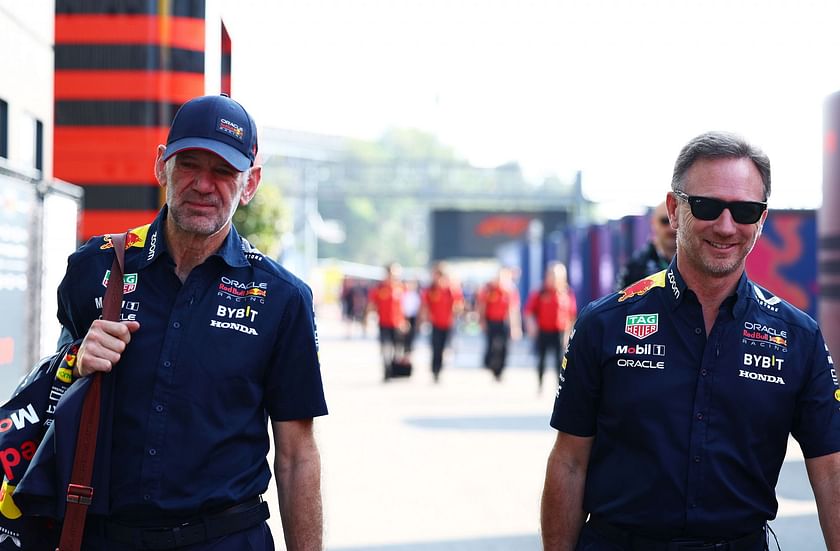 Ferrari's attempt to sway Red Bull's top bosses failed as they continued to search for a replacement for outgoing team principal Mattia Binotto. They finally settled for Alfa-Romeo team principal Frederic Vasseur.
Christian Horner has been at the helm of the Red Bull F1 team since its inception in 2005 with Adrian Newey joining the team in 2006. Since then the two have played a pivotal role in converting the Milton-Keynes outfit into a championship-winning force.
The two have made Red Bull one of the most successful F1 teams, winning six drivers championships and five constructors' titles.
---
Red Bull boss Christian Horner slams Nico Rosberg's comments
Red Bull team principal Christian Horner blamed Sky Sports F1 pundit Nico Rosberg for being too critical of the drivers, after receiving a harsh question about Sergio Perez's performance.
The 2016 F1 champion questioned Horner:
"Christian, you were just saying he did a good race, but I thought he had quite a lack of performance, especially in the early part of the race. Isn't that true? I mean, really comparing to Max there were some laps where it was quite a gap."
To which Horner defended his driver, replying:
"You're quite a critical kind of guy though, aren't you? You're tough on these guys, you know, you're happy to criticise all the guys."
He then went on to explain Perez's race at the Spanish GP:
"But I think that he lost out in the early laps, and he didn't have a great start. George [Russell] managed to get away, running off track, getting [back] on track, not getting any penalty from that and I think that was the difference at the end of the day and you know, Checo, his race was getting stronger and stronger."
Sergio Perez had yet another lackluster weekend, while Max Verstappen is extending his lead in the drivers' standings. The Mexican finished fourth behind Verstappen, Lewis Hamilton, and George Russell.