Nico Rosberg must improve – and fast
Thoughts after the Chinese GP, same text on my autosporlegends blog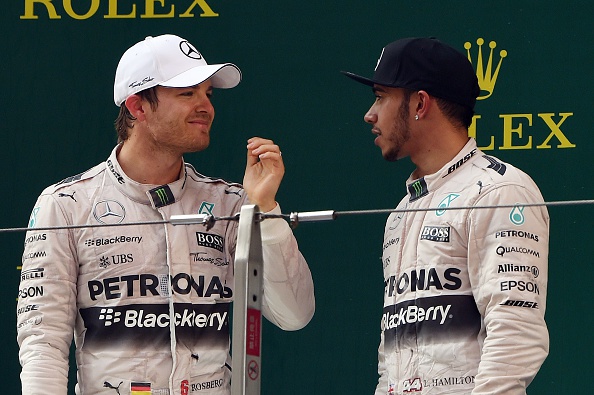 Tensions between Lewis Hamilton and Nico Rosberg are running high. After the Chinese Grand Prix, Rosberg, who finished behind his team-mate, accused Hamilton for being selfish and making his race difficult. Hamilton, who won the event, controlled his pace during the race, and was driving too slowly – according to Rosberg. This opened a chance for Ferrari's Sebastien Vettel to catch and try to pass Rosberg. Hamilton's reply was a chilling one; he told it was not his job to look after Nico's race. Harsh but true. Nico must raise his game.
Rosberg's frustration is understandable. Hamilton has taken three poles and two wins in the first three races. The edge Nico had over Hamilton in qualifying in last year seems to have vanished. In addition, he has been unable to beat Hamilton in a race this year. Rosberg's compatriot Vettel won the race in Malaysia and is mixing up the title fight. If Ferrari poses a serious threat to Mercedes this year, Mercedes may have to re-think their driver politics: Nico may have to play a supporting role for Lewis. So far, this is not the case.
Nico needs to regain his confidence. Losing the title last year must have been a hard hit – especially since he was leading the championship for so long. In Hamliton's case, the title boosted his confidence which seems to be unbreakable at the moment. Nico made crucial errors in races last year – one notable was his error in Austin, which allowed Hamilton to pass him in the race. First step for Nico in his comeback is to regain his edge in qualifying.
This will be difficult, since it seems Hamilton has improved in qualifying – as he vowed before the start of this season. If everything comes together, Nico is able to beat Lewis, as he showed in Brazilian GP last year. The problem in Nico's case seems to be Lewis's confidence: after the Chinese GP he told he had some extra speed in case he had needed it. This may or may not be true, but it is clear Hamilton is playing mind games with Nico – in order to win again, he must ignore all kind of comments.
Nico will have his chance soon – the next GP will be driven in Bahrain next weekend. Last year the Mercedes drivers offered a thrilling battle for the win and it was the race that really launched the duel between Hamilton and Rosberg for the title. Nico is undoubtedly keen for a payback after finishing second last year.
However, Bahrain might not be a two horse race: the temperatures will be higher than in China and Ferrari has an edge in terms of consuming tires, as it demonstrated in Malaysian GP. In raw speed, Mercedes is ahead, but if Ferrari can exploit the tire advantage by making one pit stop less in the race, we might see another Ferrari-win. That would mix up the situation and offer an interesting championship for the fans.