Perez shines as Alonso snatches a win at Sepang
822 //
25 Mar 2012, 19:54 IST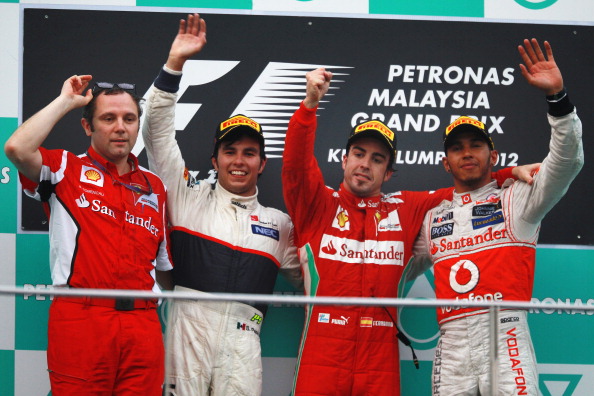 A wet Malaysian GP is probably the craziest race one can get in F1. That's exactly what we got today. Replete with quick starts, spins, collisions, safety car stints, a red flag, a rolling restart behind the safety car and a result that came completely out of left field, it would be an understatement to call this just an action packed race. Fernando Alonso demonstrated once again why he is regarded as one of the best racers in the wet, but the star of the afternoon, quite undeniably was Sergio Perez with a dogged pursuit of Alonso's Ferrari right through the second leg of the race, reeling Alonso in for the most part and just missing out at the end.
The race started under wet conditions with most of the cars starting on intermediate tyres. Romain Grosjean made arguably the best start, cutting through between Mark Webber and Michael Schumacher to go up to P3 into turn 2. He however misjudged the amount of grip, sliding wide at the exit of turn 5 and into Michael Schumacher's Mercedes, punting both cars to the back of the field. Gorsjean's race came to an end at the same corner a couple of laps further along the way. As the rain intensified, race control deployed the safety car on lap 7 and decided to suspend the race on lap 9 with Lewis Hamilton leading Jenson Button and Mark Webber. The biggest gainer at this point was Narain Karthikeyan in his HRT. Karthikeyan had started on full wet tyres and moved up the order as the lead cars pitted for wet tyres behind the safety car.
With rain forecast for another 30 minutes, the race threatened to be a damp squib amid fears of an abandonment like 2009. The rain thankfully relented in time for the race to restart after a 40-50 minute delay. The restart behind safety car meant that everyone had to restart on the full wet tyres, and it turned into a chaotic melee in the pits to switch back to inters as soon as the safety car came in.
Jenson Button, Kimi Raikkonen and Nico Rosberg pitted right behind the safety car, moving Sergio Perez in the Sauber up to P2 behind Lewis Hamliton. Hamilton pitted on the last lap, and got slightly delayed in the pits by guess who – Felip Massa's pitting Ferrari. That gave Alonso the track position over Hamilton as he passed Weber on track the lap before. As Alonso and Perez emerged from the pits after their respective stops, Alonso passed Perez on track at turn 2-3 to take the race lead. Button meanwhile had a run-in with Karthikeyan who was fighting for track position, dropping the McLaren to the back of the field. An unhappy car with the new set of tyres didn't help his cause as he had to pit again for a fresh set of intermediates. Although Button set some fastest laps on this set, he was well out of contention.
The real battle was developing at the head of the order, with Alonso and Perez pulling away from Hamilton, Raikkonen chasing Vettel, and in turn being chased by Webber, and Rosberg holding them all up behind his Mercedes already starting to suffer from tyre wear. That's when race control enabled DRS, and Rosberg got dropped down the order dramatically as Vettel, Raikkonen and Webber passed Rosberg. Felipe Massa found himself in the middle of all kinds of mayhem as a mistake by the Brazilian meant that the closely following Paul DiResta went through to P7. On the next lap, John-Eric Vergne in the Toro Rosso tried to pass Massa under DRS, and a very opportunistic Bruno Senna made a bid to pass them both. going 3-car wide into turn 2. Massa managed to keep Senna back but had to pit at the end of the lap anyway. He emerged in P16, and had another brilliant dogfight with Jenson Button who managed to pass him after 2 full laps of ducking and weaving. After that though it was a disappointing 16th place finish of the trailing Ferrari.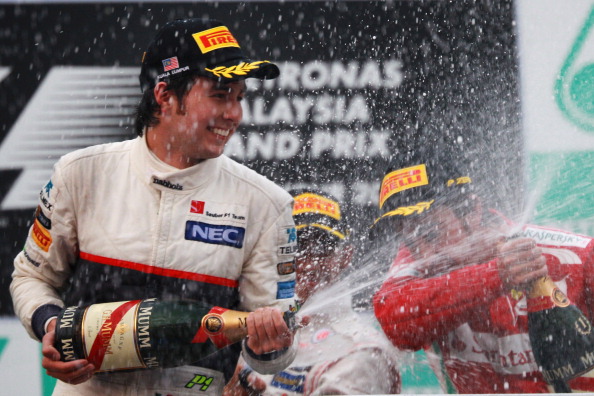 While everyone was tripping over each other, the track was drying out. The McLarens were getting quicker by the lap, Vettel was pulling away from Raikkonen, who was defending against Mark Webber. Michael Schumacher was making his way through the midfield while Rosberg was struggling to keep his track position. But all eyes were on the lead duo. Fernando Alonso was putting together one of his trademark gritty drives to victory from an impossible position. It is the hallmark of a champion racer to exceed the limitations of his machinery and push on when there is even the slightest whiff of victory. Alonso did just that. The moment he had passed Perez on his out lap, Alonso set out to stretch a gap of about 7 seconds over Perez who was running about 6 seconds ahead of Hamilton himself. It was a masterclass in seizing the opportunity, how to set the pace in the wet and on manage one's tyres on a drying track. Alonso is highly regarded as a wet weather racer and the double world champion showed exactly why that is so. The Ferrari was not the quickest car on track, Alonso barely had the fastest lap time for a couple of laps after his stop and Perez was blazing his trail. There was the matter of switching to dry tyres at the optimal moment. Too soon and you would slide out, too late and you'd be gobbled up by those who got it right – and Ferrari got it right. Alonso pitted 1 lap ahead of Perez, and that proved vital in the end as he managed to nurse his medium slick tyres to the chequered flag comfortably ahead of Sergios Perez.
Perez though, was the star of the show. With Alonso leading the way, he managed to stay in touch with the Ferrari, biding his time until the track became dry enough for a charge. As soon as he was comfortable, out came a series of blisteringly quick laps, taking more than a second off Alonso's lap times each time around. In the space of 6 laps, the gap came down from 9 seconds to 2 seconds. This was around that time in the race when there were about 15 laps remaining, with a dry track, but rain expected anytime. Everyone was gauging the best time to switch to slicks, if at all to switch. Toro Rosso blinked first, with Daniel Ricciardo coming in on lap 39 and straightaway taking 5 seconds off the laptimes. Everyone else followed suit and as the dust settled, Alonso who had pitted one lap ahead of Perez managed to open up the gap to 7 seconds again. Mark Webber also gained form the pitlane frenzy, getting the jump on Kimi Raikkonen's Lotus to go up into P5.
The last stint though, proved to be the most exciting as Perez mounted a spirited charge, catching Alonso with 9 laps to go. He had got his Sauber, running on the hard slicks, within DRS distance of the Ferrari after setting another series of blazing fastest laps. It is a rare event in these times, to see actual wheel to wheel racing for the race win in the closing stages of the race. It was shaping up to be just that: a grandstand finish as the Sauber seemed more than capable of shadowing the Ferrari all around the circuit. However, a slight mistake from Perez at turn 13 saw him run wide. He recovered to mount another late charge, but that little margin was all Alonso needed to secure his position at the top. Perez held on to score a very impressive second place ahead of Lewis Hamilton, who had a quiet race to P3. This is Hamilton's second 3rd place finish after starting on pole in 2 races, and he would be desperate to convert his qualifying performances into race wins.
McLaren's consolation came in the fact the RedBulls didn't fare any better. Mark Webber took a solid 4th place finish but Sebastian Vettel suffered first a puncture and then a mechanical problem that saw him retire on the last lap of the race. Jenson Button also had a disappointing race, finishing well outside the points. It was a very different story for the Force India team, as they saw both their cars finish among the points with Paul DiResta taking P7 and Nico Hulkenberg scoring a 9th place. Williams got on the scoresheet with Bruno Senna's place. However, they would be disappointed with Pastor Maldonado's second consecutive last lap retirement from a points scoring position. That allowed Michael Schumacher to move up into the last points scoring position ahead of his Mercedes teammate Nico Rosberg.
With 2 races gone, and the 3rd one scheduled after a 3 week gap, there would be lots of food for thought for the teams. Ferrari may have sneaked a win, but as Fernando Alonso said in the post race press conference that they know that they are in a position they do not want to be in. They don't have the pace to compete for wins just yet, and they need a lot of improvement. After such a chasm between the two Ferrari drivers' results, there will be increasing pressure on Felipe Massa, and the fact that the man widely speculated to replace him at Ferrari is none other than Sergio Perez, will not make things any easier. Mercedes showed that they have a quick car, but their reliability and tyre degradation are still big question marks. Lotus do have an impressive package and two very quick drivers in Kimi Raikkonen (who's made a solid comeback to F1, with two points finishes in two races) and Romain Grosjean, but their limited resources might land them in a situation like last year: standing still in forward moving traffic. It still looks like the actual fight for the title is between McLaren and RedBull, with the roles firmly reversed from last year. How it actually goes, we'll just have to watch race by race.
The final points scorers for today:
Fernando Alonso – 25
Sergio Perez  - 18
Lewis Hamilton  - 15
Mark Webber  - 12
Kimi Räikkönen  - 10
Bruno Senna  - 8
Paul di Resta  - 6
Jean-Eric Vergne – 4
Nico Hulkenberg  - 2
Michael Schumacher – 1
Until Beijing, then!