Red Bull thank Schumacher for giving Vettel sixth
922 //
28 Nov 2012, 18:56 IST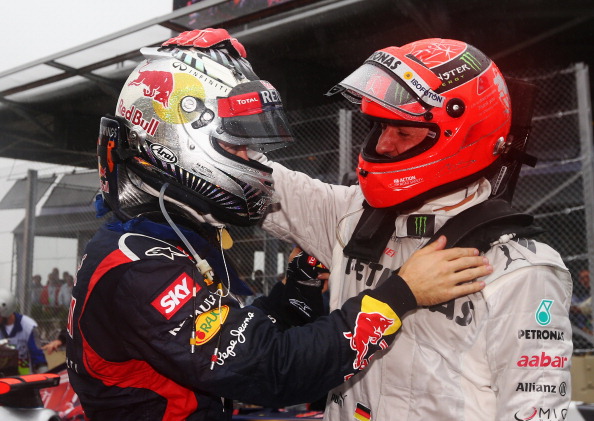 Red Bull team principal Christian Horner has thanked Michael Schumacher for graciously giving away his sixth place to his compatriot and long-time friend Sebastian Vettel during the Brazilian Grand Prix.
Schumacher allowed Vettel to easily pass by him during the latter stages of the race, which according to many was wrong, and might even have angered his former employers Ferrari. However, here is what Christian Horner had to say about the incident:
"Michael very graciously gave him P6 and that was enough to convert his third consecutive world championship," said Horner.
"Michael is renowned for being a tough racer. I think it was his gesture to Sebastian, almost like passing the baton on.
"I'm sure it was not particularly well received at his former employer [Ferrari] but I thought it was very magnanimous of Michael to move out of the way for his fellow countryman."
 Horner also admitted that the team considered telling Vettel to hold his position as Michael is renowned as a very strong racer, and as so the team didn't want to take risks.
"I thought he'd be pretty tough to fight with," said Horner. "We weren't sure whether to tell Sebastian he didn't need that [position] so long as the finishing order was there, so he didn't need to get in a scrap with Michael.
"Michael obviously felt it was something he wanted to do and it was very generous that he moved over in his final Grand Prix."
Schumacher also later admitted that he had let Vettel pass by easily.
"He was a lot quicker and there was no point getting engaged with him," said Schumacher. "I didn't see the point so that's why I moved over and let him through.
"I'm proud of him. He's a good friend of mine."