Sebastian Vettel beats Mark Webber in controversial Sepang win
711 //
25 Mar 2013, 09:45 IST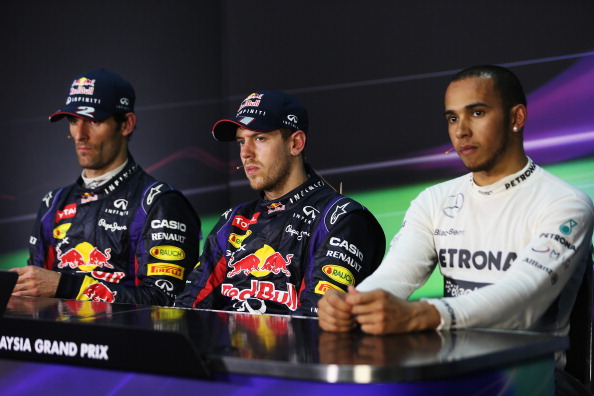 Sebastian Vettel won the Malaysian Grand Prix after a bitter battle with team-mate Mark Webber for the lead that came within inches of disaster for Red Bull.
Lewis Hamilton finished third ahead of Mercedes team-mate Nico Rosberg after a slightly more placid battle for the final podium spot, but earlier in the race his attack on the Red Bulls was curbed by needing to save fuel. Rosberg was continually told not to attack Hamilton towards the end of the race as Mercedes looked to secure a solid points haul and he reluctantly complied.
Felipe Massa finished in a distant fifth place after team-mate Fernando Alonso's fight for victory ended on lap two when his damaged front wing folded underneath his car. In sixth, Romain Grosjean led home the two Lotuses, which showed none of their tyre-saving magic in the heat of Malaysia with Australia race winner Kimi Raikkonen seventh.

Nico Hulkenberg took a solid finish in eighth ahead of McLaren's Sergio Perez, who had to make a late stop for tyres. Jean-Eric Vergne took the final point, making the most of the high rate of attrition.
Vettel and Webber then ran first and second, swapping positions at the pitstops as Vettel's early change to slicks proved slightly premature.
Webber came under increasing pressure from Vettel in the middle of the race, while the Mercedes began catching them both.
This prompted Vettel to urge the team to get Webber out of his way, but the Australian managed to rebuild a lead and Vettel found himself dropping behind the earlier-pitting Hamilton at the third pitstops.
Hamilton lost pace in the next stint, allowing Vettel to reclaim second into the first corner.
The world champion then played the early stop tactic at the fourth and final pit visit, which brought him right back onto Webber's tail when the Australian changed tyres.
They grappled wheel to wheel through the first five corners for two consecutive laps, prompting frantic radio calls from a concerned Red Bull pit wall, before Vettel got decisively in front and went on to clinch another win.
The Mercedes had fallen away by that stage and were involved in their own intra-team controversy. After Hamilton and Rosberg swapped places repeatedly in the DRS zones for several laps, they were ordered to hold station and save fuel and tyres, to Rosberg's clear displeasure.
Ferrari had to settle for fifth with Felipe Massa, who recovered to that position after losing ground in the early stages.
That place would have gone to Jenson Button had the McLaren not lost two minutes in the pits after pulling away with a loose right front and having to stop in the pitlane and wait for his mechanics to retrieve the car.
That was one of a wild array of pit incidents, which also included Hamilton mistakenly pulling into former team McLaren's area, both Force Indias having to retire with wheelnut issues, and Charles Pic and Jean-Eric Vergne colliding amid pitstops.
Lotus claimed sixth and seventh with Romain Grosjean and Kimi Raikkonen, the latter having an uneventful afternoon that included trips off the road and a bitter battle with Sauber's Nico Hulkenberg, who took eighth.
Sergio Perez was ninth for McLaren, while Vergne held off Valtteri Bottas to give Toro Rosso the final point.
Malaysian GP 2013 Results: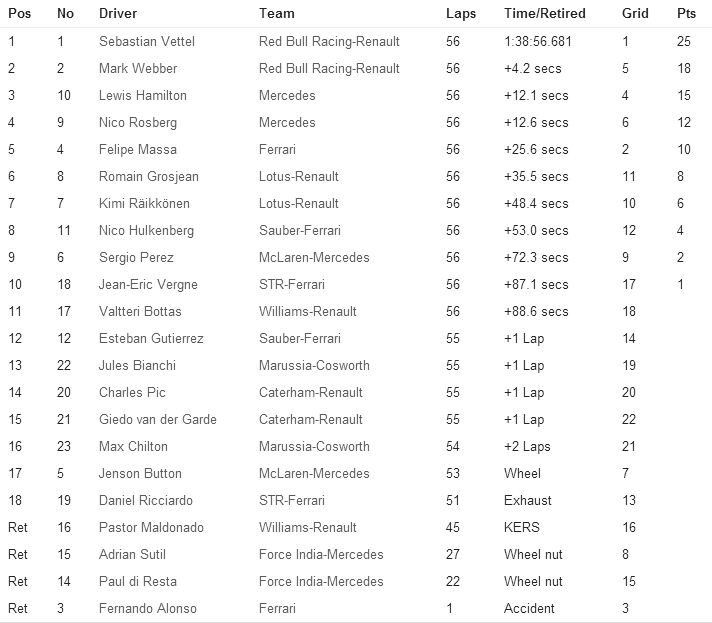 Constructor's Standings: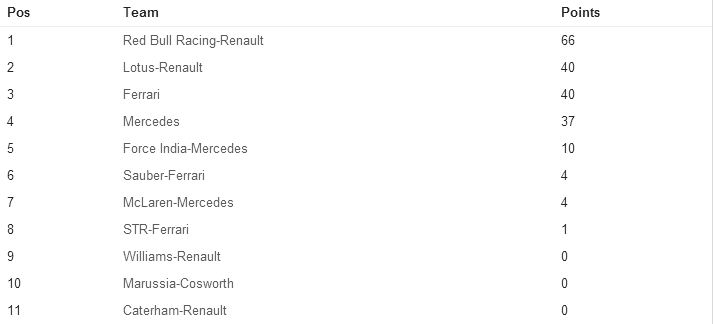 Drivers Standings: