That's All Folks!
787 //
02 Dec 2012, 21:28 IST
Lady Luck screamed, "Hurrahhhh," as Sunday night came upon us. I sat cross-legged in front of the television. My heart rate was inexplicably high; I Tweeted like a woman possessed, and shushed my dad as he tried to have a conversation with me.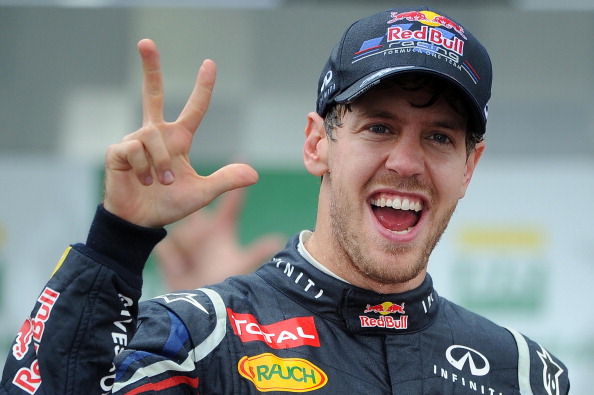 The stakes were high. Fernando Alonso was the last man standing between the Finger and his quest for eternal F1 domination (read grabbing the Drivers' Championship for the third time running). I am not Tifosi, but God is my witness, I wanted Ferrari to work some magic and stop Sebastian Vettel from winning. It did not happen. But with the disappointment came jubilation – complete and utter happiness for a race that remained unpredictable until the very end. Well, actually till the last two laps of the race when the Safety Car came out, but that comes much later.
For now, let me gush a bit. After all, this was the last race of the season – the grand finale we have all been waiting for. We couldn't have asked for more. Race day dawned with news that Pastor Maldonado had received a 10-place grid penalty for failing to bring his car to the weigh bridge when called after Qualifying. Rain was expected and the tension in the air was enough to make everyone jump up and down like maniacs. It lasted through the race that began with everyone playing bumper cars as Bruno Senna and Sebastian Vettel made contact in a racing incident, ending the Brazilian's race before lap 1. Sergio Perez also fell victim to the contact. Vettel slipped down the grid but fought his way back up to end the race in 6th. Jenson Button and Lewis Hamilton duelled for the premier spot, but weather conditions saw the line-up change faster than my weighing scales do when I skip the gym. An unlikely front-runner came to the fore in the form of Nico Hulkenberg, who stayed at the top, until lap 23. The safety car came into the picture and the track was swept clear of debris. It also swept clear the phenomenal lead Hulkenberg and Button had created. Lewis Hamilton gained ground on lap 30 and snatched the lead 18 laps later.
What was happening? My head reeled, but I stayed glued to the television, too scared to look away. Anything could happen and I didn't want to miss even a second.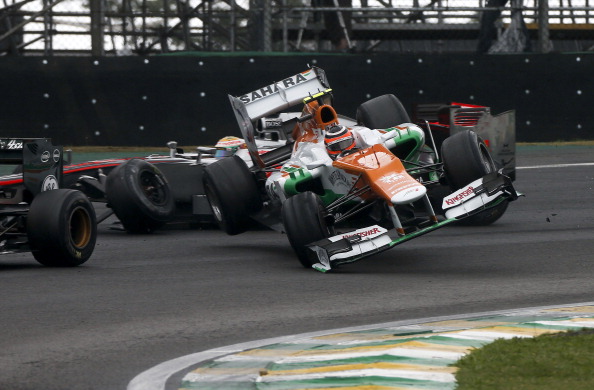 Lap 55 came upon us and that's when the Hulk broke Lew-Lew's heart. He spun and hit Hamilton's left front wheel, ending Hamilton's final race with McLaren. A drive-through penalty left the Hulk in 5th. Meanwhile championship contender Vettel struggled with tyres and grip. I prayed for Alonso but the Red Bull was just too fast, the points gap between the two teams too big. The deal was sealed on lap 64 when Vettel passed Michael Schumacher to take the crown. He won the Championship by 3 points.
Up front, Alonso was trying desperately to win the crown, aided by his able deputy and the man who has made a virtual turnaround this season: Felipe Massa. The Brazilian helped his teammate in every way possible, handing Alonso 2nd spot on the 62nd lap. But it was not meant to be. Vettel became the youngest triple champion in F1 history. Button took 1st place. The season had come a full circle.
But there's so much to this race that can't be explained, that can't be described. Watch it if you can. Don't watch it for the way it ended, but for the sheer racing we saw. Here's why the 2012 Brazilian Grand Prix is going to become one of my favourite 2012 races.
Leave Me Alone, the Ice Man said. It has become an iconic statement. But, Kimi Raikkonen is the ultimate meister. It was lap 52. The Ice Man went off track, tried to get back via the old track, turned back and decided to take a short cut across the grass back into the race. He did it all with style and absolute panache. Oh, and he ended up 10th. He later said, "Where I went off you can get back on track by going through the support race pit lane, but you have to go through a gate. I know this as I did the same thing in 2001 and the gate was open that year. Somebody closed it this time. Next year, I'll make sure it's open again."
The Finger made an appearance yet again. I groaned, moaned, threw a general Sunday night tantrum and then accepted the inevitable. Schumacher may have made it easy for him to pass through, but at least Vettel had to work for his championship. Now that is something isn't it? Cold comfort you say? At least it's better than last year, I say. But as with almost everything, there is controversy to deal with. It all got sorted out. Though, there was hope there, albeit for a minute. Oh well, next year, perhaps?
Hulk Smash, I screamed, as Nico Hulkenberg weaved and nudged his way past the front-runners to grab 1st for a large part of the race. I clapped and cheered. We have so many of the same faces again and again that it felt good to see him right up there, fighting for a spot. He is definitely a man to watch next season.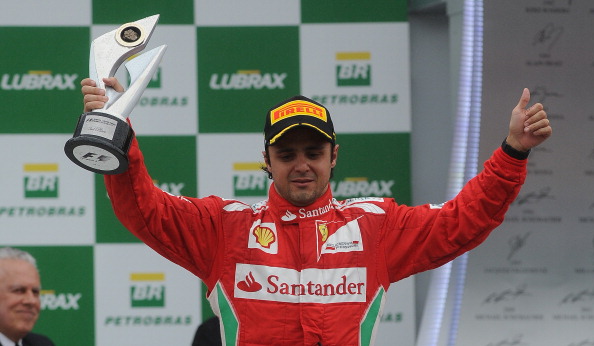 It was Massa attack through and through. We have laughed at him, cracked jokes at his expense, and even snorted in derision. But he is back and, boy is he in form? It's a pity Massa was relegated to being a "team player" this season. But here's hoping that he can match Alonso wheel for wheel in 2013. Plus, it felt so good to see him on the podium, smiling like there's no tomorrow. That, right there, was heart-warming.
Button Up, Button, I shouted at the end. It felt so incredible seeing my favourite boy right up there, holding the trophy high. I almost forgot the Finger! He ran a clean, clear race that spoke volumes of his talent. It was a beautiful end considering he won the first race of the season in Australia. It will be interesting to see him work with Perez next year.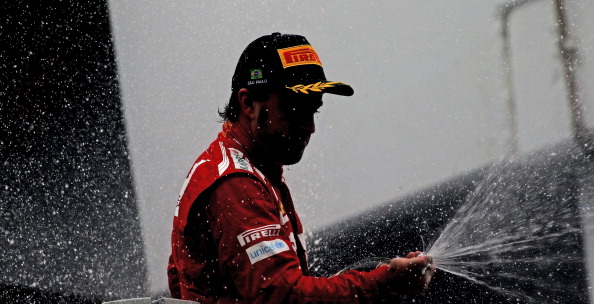 The stars were bright, Fernando, I hummed, as Vettel cruised into the parc ferme, jumped out and waved his hands. The television zoomed in on Alonso and I felt like hugging the Spaniard. He looked exhausted and heartbroken. In my head, I knew he was the true champion. Alonso later said, "I score this season a 10! If we had to repeat these 20 races, I would change nothing done by the team or yours truly: no mistakes, no mechanical problems, zero problems at the pit stops, zero strategic mistakes. We definitely did not lose the title today, as that happened in Spa or Suzuka. We might not have finished the season with the most points, but we won many other things, like everyone's respect and fans and colleagues agree on who was the best this year." Do restrain yourself, in case you have an urge to burst into tears. Alonso said: "Even if maybe we didn't manage to reach the performance level of the best, everyone demonstrated total dedication. I repeat, I am happy and proud, and now's the time to drink a caipirinha!"