The wait is almost over - F1 season preview Part 2
707 //
12 Mar 2012, 02:48 IST
Here's Part 2 of our Formula One season preview.
Lotus
The Enstone-based team have been pretty impressive in pre-season testing but I don't expect them to finish ahead of Red Bull and McLaren in Australia. That said, I can see Lotus fighting the likes of Ferrari and Mercedes regularly this year.
Lotus (which was called Lotus Renault GP last year) started 2011 in fine fashion as they finished on the podium in the opening two races. But the team really struggled in the second half of the season and only just finished ahead of Force India in the Constructors. Consistency is the key for success and last year Lotus were too inconsistent in my view.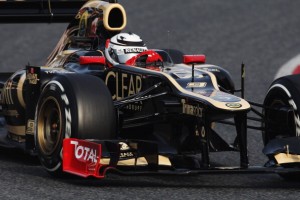 All the attention will be on Kimi Raikkonen as the Finn returns to Formula One after a two-year break. And no doubt comparisons will be made between Kimi's performance on his return to the sport and Michael Schumacher's first year at Mercedes.
It's great to see Kimi back in a Formula One car and he has already proved in pre-season testing that he still has the speed. There are plenty of questions surrounding Kimi and Lotus, though. Can Lotus provide Kimi with a competitive enough car so that the 2007 World Champion can challenge for podium finishes? On the other hand, does Raikkonen have the determination and enthusiasm to succeed on his comeback to Formula One?
I personally feel Kimi has what it takes to win another Drivers title and it's up to Lotus to provide Raikkonen the tools for him to be at the sharp end of the grid. It will be interesting to see how Kimi approaches this season and which Kimi turns up.
Along with Raikkonen, Romain Grosjean will be making a second return to Formula One. And I think the Frenchman has the pedigree and is well-equipped to do well in 2012. I also reckon Grosjean can give Raikkonen a run for his money this season.
Romain was literally thrown at the deep end in 2009 when he replaced Nelson Piquet Jnr at the European Grand Prix. Grosjean failed to make a major impression and struggled for the remainder of the 2009 season.
But having been crowned GP2 Champion last year and done a solid job for Lotus in the Free Practice Sessions towards the end of 2011 season, Grosjean will be bullish about his chances of doing well in 2012.
This is a second chance for Grosjean to establish himself in Formula One and I think this time round he can.
Force India
2012 could potentially be a year where Force India could surprise one or two people and even challenge for the odd podium. With Paul di Resta and Nico Hulkenburg driving for the team this year, the in-team battle at Force India will be very intriguing.
Putting aside what happened off-track, I do have sympathy for Adrian Sutil after he finished ninth in the Drivers Standings and had another decent season in 2011. But Force India have decided to go with di Resta and Hulkenburg for this year.
There is no arguing that Paul di Resta was Formula One's Rookie of the Year in 2011. The Scotsman impressed alongside his experienced team-mate Sutil last season despite the German eventually scoring more points over the year. Di Resta did a superb job in first full season as a Formula One driver; who can forget his qualifying performance at Silverstone where he ended up sixth. And let's not forget his fine sixth place finish in the race at Singapore.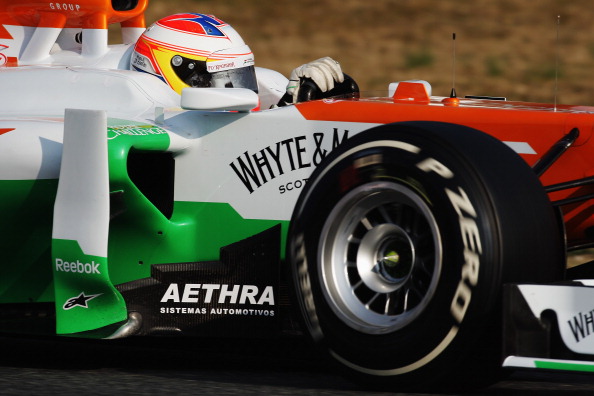 The VJM05 has been pretty reliable throughout pre-season testing without any major problems although Test Driver Jules Bianchi did shunt the car on the third day of testing at Jerez.
If Force India can continue where they left off last season then there is no reason why di Resta cannot have another strong season. And I'm sure Force India will be aiming to battle with the likes of Lotus and Mercedes. The future is bright for di Resta and he is a force to be reckoned with.
Also, the Hulk is back. Not the Incredible Hulk but Nico Hulkenburg. The German, having endured a frustrating 2011 by being on the sidelines as Force India's Reserve driver, now has a race seat for 2012. And it's up to Hulkenburg to grab this opportunity.
I did feel sorry for Hulkenburg when he was ousted from Williams at the end of the 2010 season. That was despite the German qualifying on pole in Brazil and being one of the rookies of the year.
It is a shame that money seems to count more than talent and Hulkenburg was replaced by Pastor Maldonado. Williams' loss was Force India's gain. Hulkenburg will want to prove a point in 2012 and I feel the German will have a solid and successful season.
Sauber
The Swiss team were able to hold off Toro Rosso for seventh place in the Constructors last season. After a bright start, Sauber's form in the second half of the season dipped due to their lack of resources. But like Force India, Sauber have two exciting drivers in their books.
Kamui Kobayashi has been a revelation since making his Formula One debut in Brazil 2009. His driving style has proven to be a hit with many fans but he will be hoping Sauber can develop the car throughout the whole of the 2012 season.
Kobayashi finished in the Top 10 for seven consecutive races (if you discount the team's disqualification in Australia) and things appeared to be looking up mid-way through the season. But post-Silverstone, Sauber were unable to make significant improvements to the car which led to them being overtaken by Force India in the Constructors.
The Japanese driver is only 25 and if he can consistently finish in the points, the likes of Red Bull and Ferrari might take a punt on him in the future. And Kobayashi might well target the Top 10 of the Drivers' Championship this year.
Sergio Perez certainly had an eventful 2011 and the Mexican made a flying start to his Formula One career, albeit Sauber were disqualified from the opening race due to a rear-wing rule breach.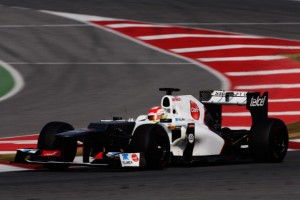 Perez was able to make his one-stop strategy work to bring the car home in seventh but was then later disqualified. However he was fortunate to survive a horrific crash during qualifying at Monaco.
There are plenty of positives Perez can take from the way he performed last year, and he was more than a match for Kobayashi throughout 2011. Perez is a product of Ferrari's Junior Drivers Programme and if the 22 year-old can do a fine job for Sauber this year, he could be in a Ferrari sooner rather than later.
Toro Rosso
Helmut Marko and the Red Bull hierarchy were ruthless in getting rid of both Sebastian Buemi and Jaime Alguersuari. Harsh in my view because I thought Buemi and Alguersuari performed well in 2011.
But the decision has been made and Daniel Ricciardo and Jean-Eric Vergne will form the new driver-line up for the team.
There has been a lot of hype surrounding Ricciardo and now it is time for the Australian to prove he is worth a place in Formula One. I was surprised by how well Ricciardo did at HRT; he was able to get the better of Tonio Liuzzi on many occasions.
Finishing in the points at his home Grand Prix would be a dream start for Ricciardo and no doubt he will want to get the better of his team-mate right from the start of the season.
A lot has been said about Ricciardo being the new Sebastian Vettel and this year is a massive season for the 2010 Formula Renault 3.5 runner-up. If Ricciardo can perform well consistently in 2012 then who knows he might be in a Red Bull in 2013 or 2014.
It is always a good idea to give youngsters a chance and Jean-Eric Vergne has now been given an opportunity to shine. Fernando Alonso started off at Minardi and now look where he is. Anything is possible if you take your chances.
To be honest, I haven't seen much of Vergne apart from the practice sessions he participated in for Toro Rosso towards the end of the 2011 season. The Frenchman must have done something right in the practice sessions and Formula Renault last year for Toro Rosso to take him on this season.
JEV will face the same pressure as Ricciardo in trying to deliver results for the team and take Toro Rosso forwards. Franz Tost, Helmut Marko, Dietrich Mateschitz along with the Red Bull hierarchy will be expecting big things from Ricciardo and Vergne this year. Along with Mercedes, Toro Rosso are another team who are under pressure to improve this year.
For part-1 of this preview click here
For part-3 of this preview click here