The wait is almost over - F1 season preview Part 1
800 //
10 Mar 2012, 10:32 IST
Excited, ecstatic, elated: Terms that can be used to describe how Formula One fans are feeling ahead of the new season. At this time of the year, there is always going to be a buzz amongst the fans and the teams.
2012 promises to be great year for Formula One and I believe this year might be closer than you think. Yes Sebastian Vettel ran away with the Championship last year. However Red Bull and Vettel's rivals will be very determined to get the better of Seb this time round.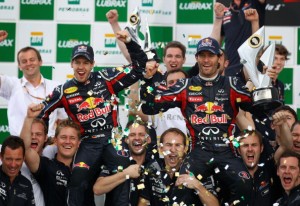 Six Champions on this years grid, new regulation changes, the likes of McLaren and Ferrari looking to beat Red Bull, the return of Kimi Raikkonen: Plenty of reasons to look forward to Formula One in 2012.
Pre-Season Testing
If I am being brutally honest, I don't think you can take any major conclusions from Pre-Season testing.
Its all about testing new parts on the car, getting as much data as you can from long runs but also getting familiar with the Pirelli tyres. But no doubt there will be those who disagree with me about not taking any major conclusions from the Pre-Season tests.
Lotus for sure will be delighted with the form shown by both of their drivers Kimi Raikkonen and Romain Grosjean at Barcelona and Jerez. Will they be topping the majority of Qualifying and Free Practice timesheets this year? No is the simple answer. But the signs from Pre-Season are positive for Lotus and maybe they can look to compete for fourth in the Constructors against Mercedes.
We also saw the likes of Williams, Sauber and Force India top the timesheets. Its not about finishing quickest. Its more about the drivers getting use to the new car and seeing what improvements can be made.
The only real conclusion I can personally take from the Pre-Season tests is the fact that McLaren appear to be much closer to Red Bull. Pre-Season in 2011 was not a great one for McLaren and there were fears that 2011 could have been another 2009.
McLaren have certainly had a better Pre-Season this year compared to last season. Will they be able to challenge Red Bull from the word go? Only time will tell.
I think we will get an idea of the pecking order when it comes to the Free Practice Sessions in Australia. The usual suspects of Marussia and HRT will be at the back. But it will be interesting to see if Caterham are any closer to the established midfield teams, who will come out on top in the midfield battle and will Ferrari and McLaren be ahead of Red Bull before Qualifying gets underway?
2012 I reckon will be another great year for Formula One and I for one am very much looking forward to seeing all 24 cars line up for the start of the season in Australia. Here are my thoughts on all the teams and drivers competing in 2012.
Red Bull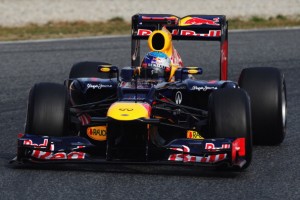 Red Bull will be hoping the RB8 is the car that will secure a third Consecutive Drivers and Constructors title. Without doubt they are the team to beat and I'm sure the majority of neutrals do not want to see Sebastian Vettel and Red Bull go off into the distance like they did in 2011. They do have the pressure of maintaining their position as the No.1 team in Formula One but you wouldn't bet against them adding another Drivers and Constructors Trophy to their Trophy cabinet.
2011 was a majestic year for Sebastian Vettel and there is no reason why he cannot achieve his third title this year. 11 wins, 15 pole positions, one retirement and only one finish outside the podium, 2011 really was Vettel's year and a season in which the German totally dominated the rest of the field.
Christian Horner has already come out and said there is more to come from Seb. If that is the case then I dread to think how good Vettel will be this year. Vettel's one finger celebration was probably annoying for most neutrals and even for his main rivals.
To stop Sebastian from doing that on a regular basis throughout 2012, the likes of Lewis Hamilton, Jenson Button, Fernando Alonso and Mark Webber will have to be at their very best. There will be times this year where Vettel makes mistakes and its down to his main rivals to pounce on Vettel's mistakes. But then again if Sebastian continues where he left off last year, it is difficult to see how the German will be beaten.
Winning the final race of the 2011 season in Brazil will have psychologically done Mark Webber the world of good. Lets face it, the Australian was beaten comprehensively by his younger team-mate last year.
Mark still has what it takes to challenge for race wins and I would love to see him challenge for another Drivers title. We want to see Webber take the fight to Vettel more often in 2012 and winning the opening race in his homeland would be a fairytale start to the season.
Webber has the same machinery as Sebastian so there is no reason why @AussieGrit cannot challenge for a race win in front of his home crowd. I still believe we have yet to see the best of Mark Webber in a Red Bull and I hope I'm proved right.
McLaren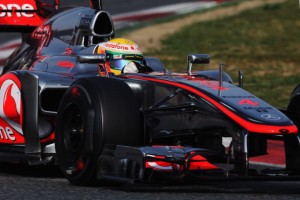 They might have won eight Constructors titles but the last time McLaren won the Constructors Championship was back in 1998. That is a hoodoo McLaren will certainly want to break this year. Plus Jenson Button and Lewis Hamilton will be aiming to win their second Drivers title in 2012.
If there is one team who can take the fight to Red Bull you would have to say that team is McLaren. We saw last year both Lewis and Jenson can beat Vettel and Red Bull but it was not as often as we would have liked.
However 2011 was a decent year for Button and no one will ever forget his phenomenal performance and race win in Canada. That race sums up Formula One. Absolutely anything can happen.
Jenson has continued to improve season after season since his World Championship winning year and based on what we saw last year in a largely error-free season, Button may well turn out to be Vettel's main Championship rival.
I predict 2012 will be another solid season for Jenson and I'm going to put my head on the chopping block and say Button will be crowned World Champion in 2012. I've got a funny feeling this year could be a year to remember for Jenson. And if his performances at Hungary, Canada and Japan in 2011 are anything to go by, Button could be a contender for the Drivers Championship this year.
2011 as I have already said was a great year for Button but the same cannot be said for Lewis Hamilton. Both on and off the track, 2011 proved to be a difficult year for Hamilton.
But winning at Abu Dhabi will have lifted Lewis and given him a boost heading into the winter break. His father Anthony is already Paul di Resta's manager but would Lewis would benefit from having Anthony as his manager again?
This year we want to see the Lewis Hamilton we saw in 2007 and 2008. Lewis is without question one of the most gifted and talented drivers in Formula One. Remember his outstanding overtake on Fernando Alonso around the outside at the Nurburgring, remember his qualifying performance in Korea where he managed to get pole.
If Lewis can avoid regular collisions, not let his frustration boil onto the track and control his aggression then perhaps Hamilton could have a strong 2012. Every sportsman and sportswomen have a bad patch where they not performing at their very best or things are simply not going for them. Thats exactly what happened to Lewis last year but I believe Hamilton will bounce back this season and we will see the best of him this year.
Ferrari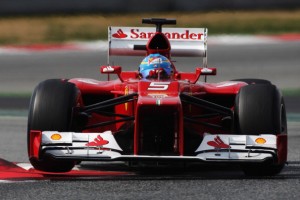 Every year we always say this year is going to be a big year for Ferrari. But 2012 really is a massive year for the Maranello team and this season must be a huge improvement from 2011. One win in the entire 2011 season was simply not good enough for a team like Ferrari. Stefano Domenicali, Luca di Montezemolo and the Ferrari fans will be demanding better results in 2012.
Fernando Alonso did not have the car to challenge for the Championship last year. But what the Spaniard did consistently throughout 2011 was bring the car home and get the best out of the Ferrari even if it wasn't good enough to win races.
Alonso is a class-act and if he is given a competitive Ferrari from the word go, he along with Button could be a real threat to Red Bull. Do not underestimate Ferrari and Alonso. They are a formidable force in the making.
The two-times World Champion looks set to remain with the Prancing Horse for many years to come, so it is up to Ferrari to give Fernando the car for him to challenge Red Bull and McLaren on a regular basis.
2012 is definitely a make or break year for Felipe Massa. The Brazilian had a poor 2011 season by his standards and spent most of last year colliding with Lewis Hamilton.
On any given day Felipe is capable of winning races but since his near-fatal crash in Hungary 2009, he has struggled which is a massive shame. Having to allow team-mate Alonso to take that infamous win at Hockenheim in 2010 will have shattered Felipe's confidence and self-belief.
Felipe is one of the most likeable characters in the paddock but if he doesn't deliver this season, Luca di Montezemolo and the Ferrari hierarchy may well look at other drivers to partner Alonso in 2013. I hope like Hamilton, Massa can bounce back from a disappointing 2011 and start delivering strong results. Its now or never for the Brazilian.
Mercedes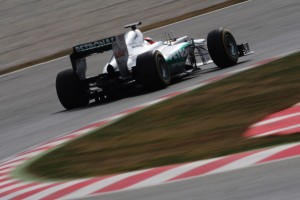 Similarly to Ferrari, 2012 is a massive year for Mercedes. They will be aiming to break into the Top 3 and at least challenge for regular podiums and dare I say it race wins. Bringing in Bob Bell, Geoff Willis and Aldo Costa: Mercedes really do mean business.
Considering the F1 W03 made its first appearance at the second Pre-Season test, it will be interesting to see where Mercedes end up in the Free Practice Sessions in Australia and whether their gamble to launch late was the right decision.
Michael Schumacher had a decent season last year in my view and finishing fourth in Canada and fifth in Belgium after starting the race from the back of the field were probably the highlights of his season.
Schumacher will have been hoping to challenge for race wins on his return to the sport. But so far it hasn't turned out to be a fairytale return and the Mercedes car in the last two seasons has not had the pace to compete for race wins.
Will Schuey be around in 2013? Well that depends on how well Mercedes perform this year. If 2012 turns out to be a season where Mercedes do make significant improvements then perhaps the seven-times World Champion will stay around.
Six years in Formula One and yet Nico Rosberg has still not won a race. But you could argue he has not been given a car in which he can secure that elusive first win. Nico will win a race, its a matter of when.
Rosberg Jnr has already demonstrated he does have the talent and speed to do a solid job for any team. But he will be thinking when can I get that first win and can Mercedes give me the car to do that.
I just wonder if Massa fails to deliver for Ferrari this season, could the Italian team approach Rosberg and would the German be interested in a move to Ferrari. Who knows but I'm sure Rosberg is part of Mercedes long-term plans.
The aim for the former Williams driver is to finish on the podium. Winning a race would do wonders for Rosberg but will his first win in Formula One come this year? I'm not so sure.
For part-2 of this preview click here
For part-3 of this preview click here