Top 20 Greatest F1 Racers: Alberto Ascari
1.27K //
22 Feb 2013, 17:07 IST
"Ascari was the fastest driver I ever saw. And when I say that, I include Fangio." Mike Hawthorn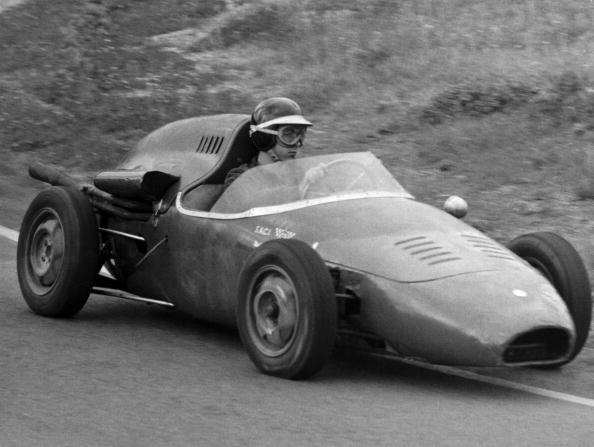 Having a racing background certainly is an advantage. Not only will you get a quick break in the sport, but you also have someone to fall back on in case you need tips or support. Alberto Ascari had exactly that. He came from a family where his father was a successful Grand Prix driver and he started early in his career. The only problem was that his famous father had died when he was just seven years old.
But that did not stop him from having a career in racing. In fact, his famous surname got him a seat in motorsport, albeit in 2 wheelers, in the Bianchi motorcycling team. Soon after, in 1940, the legendary Enzo Ferrari, who was a close friend of his father Antonio, gave him a drive in the 815 Spyder that participated in the Mille Miglia.
The World War II put paid to any further steps forward in Formula One, but he picked up right after the war ended. Initially though, he was a bit sceptical about racing again as he got married and also had 2 children. But Luigi Villoresi, who was his business partner during the war when they were supplying fuel to the army depots, convinced him to re-enter the sport. Together, they made the Enzo Ferrari team.
It turned out to be the right decision, at least in the short term, as Alberto Ascari became the first racer in Formula One history to win back to back drivers' championships, which he won in the years 1952 and 1953. But before he could achieve this, he had to struggle a bit in the Ferrari team, with his first race win coming only in his second season in the 1951 German Grand Prix. But once he broke his duck, he imposed himself on to the F1 scene! The 1952 season saw him winning 6 out of the 7 races, allowing him to win his first title with ease.
If there were any doubts about his racing abilities, the next season completely erased them for the critics' minds as he once again completely dominated the season with 5 victories to win back-to-back titles. He was respected by his peers, not just because he had an illustrious surname, but purely because he demonstrated skills that any fellow racer would be proud of.
While one can understand the reason for his peers to like him, what is interesting is the kind of adoration he received from the fans of that time. Many sporting champions usually exuded confidence, arrogance and superhuman abilities that were perhaps not possible for the fans to even think of emulating. The only way to celebrate their achievements was by putting them on a pedestal. But with Ascari, it was completely different. The fans felt he was one of them.
When you see a champion who is chubby and very obviously humble, you can do little else but start loving him. And that is exactly the case with Ascari as well. He also had some superstitions which endeared him to the fans. For example, he would be nowhere near a black cat and was terrified of unlucky numbers. More importantly, he would never let anyone else carry his briefcase. What was so important about his briefcase? It contained his racing attire, which included his lucky blue helmet.
One of the greatest things about Ascari was that he knew his limits and stuck to them. He knew what was safe and what wasn't, how much his car could take and how much he could control. He kept himself in these margins. But his driving style was so smooth that you knew he had the skill in case he committed any mistakes, which in itself were very rare. He was very particular to not go out of his safety zone because, more than anything else, he loved his family a lot. However, he was careful not to show too much affection, because, as he told Enzo Ferrari, "I don't want them to love me too much. Because they will suffer less if one of these days I am killed."
These prove to be prophetic words.
After his second title win with Ferrari, he moved to Lancia as they were willing to pay more money than Ferrari. However, this move would turn out to be disastrous in the end. He did not compete for most of the 1954 season as the Lancia car wasn't ready for racing. But in the 1955 campaign, in the Monaco Grand Prix, he qualified between Fangio and Stirling Moss. During the race, he fought them hard until both retired from the race. With only 20 laps to go, he was in the lead and was favourite to win the race. However, at the chicane, his brakes failed and as a result, he and his car were thrown into the nearby harbour. For half a minute, everybody thought he was dead; but he came out swimming with a broken nose and was later treated for shock. He was thankful for his miraculous escape.
Everyone was expecting him to relax and recuperate at home, and so were surprised to see him at the testing of a Ferrari sports car that he was supposed to be using during an endurance race scheduled for later that year. What was even more surprising was that he announced that he would like to do some test runs himself. Not having his lucky blue helmet with him at that time, as he was not dressed to race, what happened later would make all his superstitious traditions relevant.
He was wearing a suit and a tie, and he put on the white helmet of the test driver. He did 2 laps after which tragedy struck at an easy but fast left hander. The Ferrari crashed inexplicably and, as a result, he got thrown out of the car and died on the spot. Nobody knows what happened to cause the crash as Ascari was never known to make mistakes. Whatever may have been the cause, his death left thousands of fans bereaving his loss. During his funeral, which was held in Milan, the entire city fell silent as the procession of his body went through the city as a sign of respect for the great man. With the number of wreaths showered on his body, it required 15 carriages to remove them all – an indication as to how much he was loved and revered.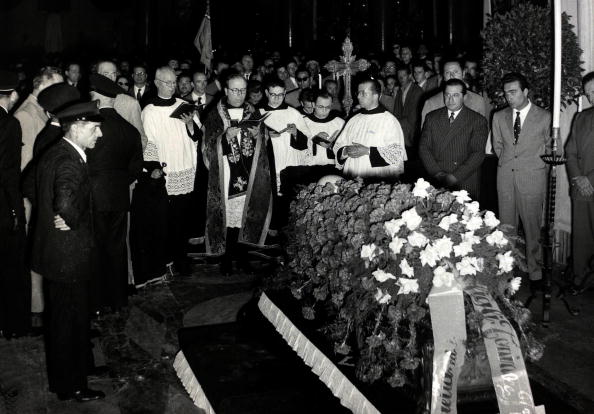 Even after his death, Ascari did not fail to leave a mark. His death was eerily similar to that of his father. Both father and son died when they were aged 36 and also won 13 Grand Prix during their lifetime. Their fatal accidents had come exactly 4 days after having another serious accident. Also, both had crashed at the exits of easy but fast corners. Finally, both left behind a wife and 2 children.
The reaction of the racing fraternity and the fans tells the story of how much this great racer was revered. If he hadn't died so prematurely, who knows how many more championships he would have dominated!