Top 20 Greatest F1 Racers: Fernando Alonso
1.69K //
Timeless
"I might not be fastest, or the most technical but I am consistent."
That is what Fernando Alonso is in short – consistent. He has the extraordinary ability to push the car to its limits lap after lap and on quite a few occasions – many of them in 2012 – he has had to put in qualifying laps, every lap throughout the race. No wonder the Spaniard took the title race right down to the wire in a car which was about 1.5 seconds slower at the start of the season and well over half a second slower towards the end of the season.
Having been born in a middle-class family, there weren't much racing facilities in and around the small village of Oviedo from the outset. Also, his parents couldn't provide the money required to make it into the top tier of motorsport. This fact makes his achievements even more special and it becomes clear that whatever he is today, he has done it on pure merit.
He made his entry into racing with a kart originally built for his elder sister. His sheer talent came to the fore with his impressive performances at a very young age and it was not long before somebody from mainstream motorsport would notice this young lad. Ex-F1 driver Adrian Campos was the first to do so and thus Fernando was given a race seat in the World Series by Renault (then known by a different name). That he could perform at the highest level under immense pressure became absolutely clear when he overcame a 19 point deficit to Manuel Giao by winning and setting the fastest lap in the final race and as a result, also clinching the title.
In a test for Minardi, the Spaniard set a laptime which was 1.5 seconds faster than anyone else. The bosses were so impressed that they wanted to lock Fernando into a ten-year contact before bigger teams notice and poach him with a much higher salary.
He entered Formula 1 with Minardi and although he couldn't score any points, his qualifying performances were extraordinary. On his debut, he outqualified teammate Tarso Marques by 2.6 seconds. Later that year, he outqualified the two Benettons on two other occasions. Not only that, he was even on provisional pole in Indianapolis in the poorly performing PS01.
Renault team principal Flavio Briatore always had an eye for Fernando and he made his move by making the Spaniard a test driver for 2002. But recently, it also came out that Fernando had impressed not only Briatore but also Ferrari team boss Jean Todt with his pre-F1 drives. Todt couldn't sign him because the flamboyant Italian had done that before the Frenchman, even though Ferrari had reached at a prior agreement with the driver's manager. This explains why Fernando was never approached by Ferrari as long as Todt was there. However, what happened after Todt left and how Fernando became current boss Luca di Montezemelo's darling is history.
With a car not a match with the Ferrari and the McLaren, 2003 and 2004 were years where Fernando spent most of the time in the midfield. But that didn't stop him from moving into the limelight – he achieved 8 podiums during those two years and also became the youngest pole sitter at the 2003 Malaysian Grand Prix. He became the youngest winner too in that period, with an impressive pole-to-flag drive at Hungaroring – the same track at which a few years later his relationship with McLaren would be in tatters.
2006 saw Ferrari back on track but in the first 9 races, it was pure Alonso dominance – he won 84 of the possible 90 points, a feat which even Schumacher in his dominant 2004 season had not been able to achieve. But then, the tides turned with Ferrari bringing major aero upgrades, along with Renault's innovative mass damper being banned. The seven time world champion started making inroads into Fernando's lead but it again came down to Suzuka to effectively decide the championship – the same track where famous battles between Senna – Prost and Schumacher – Hakkinen had taken place in the past. Schumacher's Ferrari engine blew for the first time in 6 years and that handed Fernando a 10-point lead going into Brazil, which he easily defended with a comfortable 2nd.
While signing a McLaren contract in 2005, Fernando had said that his dream team since childhood had always been McLaren. However, that dream turned into harsh reality, a period which even if he tries to forget he wouldn't be able to. There was no doubt that the MP4-22 was the car to beat but it all was undone by the acrimonious relationship between him and McLaren. Fernando always wanted a No.1 status and had McLaren given it to him, the 2007 championship would have been a cakewalk. But young kid on the block, Lewis Hamilton, and team principal Ron Dennis had other ideas. The first signs of tension between the two drivers started to appear at Monaco when Hamilton was told to keep a safe distance to Alonso in the lead and the Briton seemed disappointed with that.
Things started getting worse as time passed and the lowest point in both the drivers' careers arrived at the Hungarian Grand Prix. During qualifying, the team told Hamilton to let Alonso through, which he didn't obey and in turn Alonso waited in the pits for a longer period so as to prevent provisional pole-sitter Hamilton from doing a final flying lap. Fernando qualified on pole but was given a drop of 5 grid positions. During that time, McLaren fell into more trouble when "spygate" came into the picture. Finally, with all these allegations, the FIA took away all of McLaren's constructors' championship points and disqualified them from the WCC. Among all this, McLaren decided to part company with Alonso at the end of 2007 itself.
Alonso returned to Renault for a further two years but now the team was nowhere near the performance it had when Alonso left. Even then, he had two wins at Singapore and Japan in 2008; the Singapore one was a very controversial one but Alonso was deemed to have no involvement in race-fixing and was let off. 2009 proved to be worse, with only one podium in Singapore and the Spaniard finishing way down in 9th position.
Ferrari finally came calling and it all started perfectly with a win in the first race of 2010 – Fernando thus becoming the fifth driver in the history of the sport to win on debut with Ferrari. With three more wins – one of the most dramatic ones in the treacherous conditions of Korea – his title bid was back on track with a 13 point lead going into the final race in Abu Dhabi. No one thought Fernando could lose the championship from that point but a major strategy error from Ferrari forced him to be stuck behind the slow Vitaly Petrov; Vettel won the race and the championship by 4 points.
With two near-misses in 4 years, Fernando was determined to win his 3rd title in 2011 but his hopes were shattered by Adrian Newey, who mastered the exhaust blown diffuser concept to produce an absolutely dominant RB7, with which Vettel sweeped the championship easily. Again in 2012, Vettel beat Alonso to the title by a mere 3 points but this time around, he surely won more accolades and respect than the new triple champion, courtesy of stellar drives throughout the season in a dog of a car whose performance was always transcended by Alonso's magical abilities.
Three near-misses in 2007, 2010 and 2012 and many more possible titles had he accepted Ferrari's offer in the early 2000s or joined Red Bull in 2008 does not lower his confidence or determination – he brushes away all that by saying "I have the titles I deserve". After all, we have seen that one doesn't need to win the championship to be respected by one and all – some of the most famous examples being Sir Stirling Moss and Gilles Villeneuve. But one thing is for sure – with the F138 "200 times better" than the F2012, we can expect F1′s samurai to give it his all in pursuit of the 3rd title which has eluded him for so long.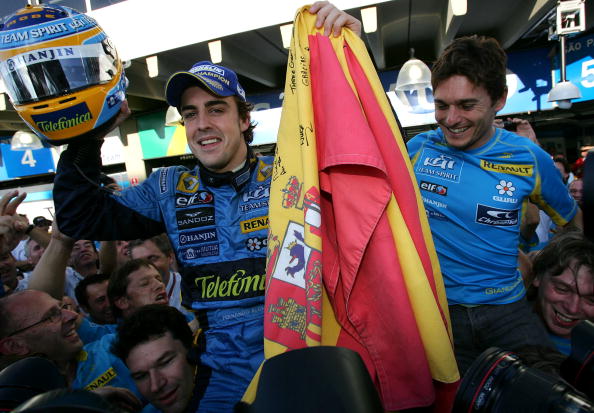 Why the guy who is famous for bringing "6 tenths" to McLaren is considered one of the best drivers ever:-
- The ability to push to the limit, lap after lap, whatever the situation.
- His abilities in an under-performing car are unmatched.
- With a good car, he can completely blow away the opposition – earning 84 of the possible 90 points in the first 9 races of the 2006 season.
- He does not lose hope in the most difficult situations: even after being 47 points behind the lead in 2010, he believed he could win the championship, and he almost did in a car which was not a match for the RB6.
- Has the ability to make himself the centre of attraction inside a team.
- With his never-say-die attitude, he can lift a team's spirits and make them perform to the maximum.
- A very smooth driver on track: very rarely makes mistakes and gets penalised- 0 times in 2012.
- He always wants to stay absolutely fit: this year he trained like an Olympian – in three weeks he completed "936 kms bike, 91 kms run, 8 hrs swim, 7 hrs gym, 14 hrs various (ski, tennis, soccer etc.)"
- Made into Formula 1 on pure merit impressing various motorsport personalities on the way with his performances.
- He is a very nice person and being the brand ambassador of UNICEF, helps needy children all over the world.