Top 20 Greatest F1 Racers: Juan Manual Fangio
1.75K //
Timeless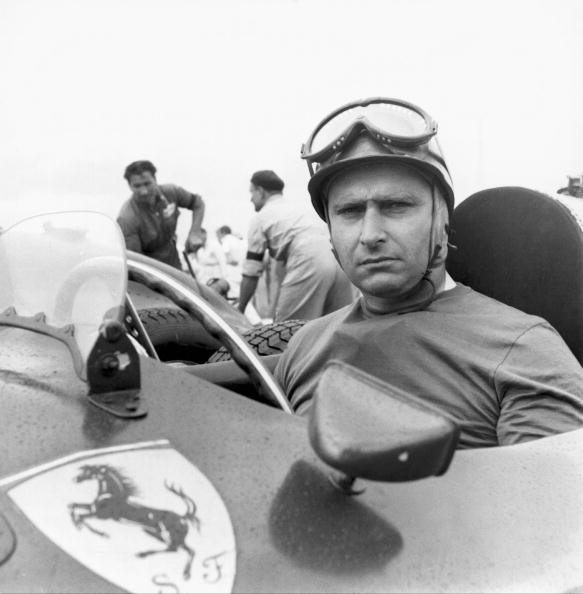 If there is one man to whom no Formula 1 driver likes to be compared to, it is the Wizard from Argentina, Juan Manual Fangio.
In an era where more drivers were killed than any other, Fangio not only walked out alive, but also won 5 world championships in the process, a record which would stand for almost half a century. But that's not why he is special.
He won his first world championship at the age of 41, an age where most drivers were well into retirement. However, that's not what makes him a champion.
He was a man of the machine, a proficient mechanic capable of performing complex repairs on his car midway during a race when other drivers would have retired. Well, that's not the reason he is revered.
Juan Manual Fangio was called 'El Maestro' for a reason. Along with the qualities he possessed, what made Fangio a Leader among Men was the way he conducted his life on and off the track. Fangio showed the world what racing could be. With his grace and charisma, coupled with his legendary speed, it was poetry in motion in a car. This is the story of the Incontrovertible Racing Phenom, Fangio.
Formative Years
Born in Balcarce city in the Buenos Aires province to Italian immigrants, young Fangio, having dropped out of school at a young age of 13, worked as a mechanic. It is in the workshop where his understanding of the working of the car and  love for racing slowly started to show. He learnt the secret of engines working from this garage. He frequently took his customers car for test drive.  At 16, he took part in a race riding as a mechanic for one of his customers. Unfortunately, illness prevented him from getting into a car the next year. After his compulsory Army Service, he and his brother set up a garage where Fangio spent late nights studying his client's cars.
Early Racing Career
In 1936, Fangio started racing in the infamous dirt tracks of Argentina; it was a profession which scared his mother, and for good reason. The dusty tracks reduced the visibility to a minimum and killed numerous drivers. His driving prowess led him to 2 national championships in 1940 and 1941. One of his best pre-Formula 1 races came at the the Gran Premio del Norte, a 10,000 kilometres long race through Buenos Aires,  from the Andes to Lima in Peru and back again. The long and arduous, nearly 2 week race had rules that prohibited outside mechanics from repairing the car. Any damage to the car had to be repaired by the driver or the co-driver. Displaying uncanny race craft  to go with his expertise as a mechanic, Fangio won the race. Thankfully his ability was not overlooked. Influential figures in the government took notice of his talent and finally when the dust settled on the second World War, Fangio was sponsored by the Argentine government to race in Europe. By that time, he was already in his late thirties but now was the start of journey that would make him the undisputed champion of the world.
Formula 1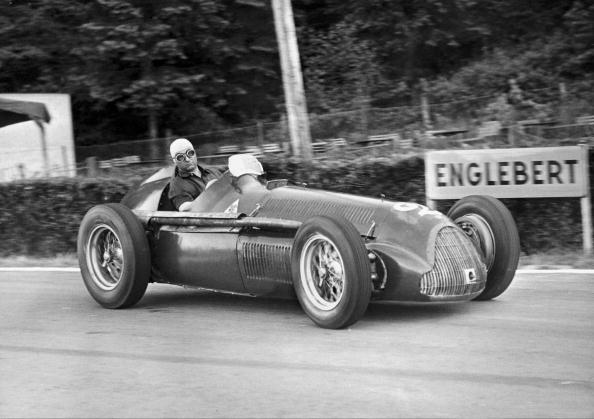 Having experienced the treacherous circuits of Argentina, Formula 1 would prove to be an easier transition than most expected. In the inaugural championship in 1950, driving for Alfa Romeo, he finished behind his team mate and eventual world champion, Guisseppe Farina. Although both won 3 races each, Farina won the title owing to a 4th place finish in Belgium.
In 1951, Fangio showed his genius by winning the championship in a closely contested battled with Alberto Ascari, even though Ascari in his Ferrari had a quicker car compared to Fangio's Alfa Romeo.
Tragedy struck Fangio before the start of 1952 season. Fangio was supposed to race back to back at Budapest and Monza for Maserati. However, he missed the connecting flight and drove overnight from Paris to Monza taking his place on the grid minutes before the start of the race. Owing to his tiredness, he made a rare mistake in the 3rd round; his car went into slide, resulting in a broken neck and a near fatal accident. He missed the entire season.
In the off-season, it was believed that a comeback was highly improbable, but Fangio came back to drive for Maserati.  Yet again, Ascari won the championship in his superior Ferrari. Although the title was sealed, the final race at Monza saw spectacular finish with Ascari and Farina ahead of Fangio in the final laps. Ascari made a mistake, forcing Farina to evade swiftly and paved the way for an attack by Fangio who pounced on the opportunity to take a famous win.
For the next season, he moved to Mercedes. However, the Mercedes W196 wasn't ready at the beginning of the season. Fangio raced in his Maserati for a few races before the switch. Showing the hallmark of his ability to adapt, Fangio was right on pace and won the title for the next two years, the second one alongside Stirling Moss, his teammate and also his biggest fan. Moss benefited deeply by working with Fangio . Such was the spirit of the man that he sometimes allowed Moss to stay right behind him, giving Moss first hand experience of his technique.
Fangio vs Enzo Ferrari
When Mercedes left the sport at the end of the season, Fangio decided to join Ferrari. The clash of ideologies between him and Enzo Ferrari is well documented. Enzo was a man who was deluded to believe that his car was the real star. For him, anyone who drove it could win the title. The driver was just a medium for the car to show its true magic. But when Fangio walked into the Maranello outfit,  Enzo Ferrari could not come to terms with the fact that the driver in his team was more popular than the car itself owing to the kind of reception he got from the mechanics and fans. Nevertheless, Fangio took the title in 1956; but it came at a cost. His relationship with Enzo had fallen apart resulting in his move back to Maserati, which would prove to be a master stroke and lead him to a fifth world title.
At the beginning of 1957, it was generally acknowledged that Fangio was considering retirement. That did not dwindle his spirit and he took the championship once again.
The same year, he won the German Grand Prix at Nürburgring, now acknowledged as one of the greatest drives in Formula 1 history. The Nurburgring track of the time was a monster, almost 23 km long and with 172 corners. Running on a half tank in the early stages of the race, Fangio saw his lead vanish when he drove  into the pits. The Ferraris of Hawthorn and Collins built a 45 second advantage. But Fangio was on a mission. Bit by bit, he shaved off the seconds. In one lap, he took nearly 11 seconds off the lead. At that point, he was regularly clocking speeds faster than his qualifying. In the dying moments, Fangio overtook the 2 Ferraris. This win gave him an unassailable lead in the championship. In his own words, Fangio commented,
"I have never driven that quickly before in my life and I don't think I will ever be able to do it again. Nürburgring was my favourite track. I fell totally in love with it and I believe that on that day in 1957 I finally managed to master it. It was as if I had screwed all the secrets out of it and got to know it once and for all. For two days I couldn't sleep, still making those leaps in the dark on those curves where I had never before had the courage to push things so far".
This would be his last championship before his retirement in 1958.
In Fangio's words, this race was the silver lining of his illustrious career.
Such was the reverence other drivers had for him, Mike Hawthorn refused to overtake Fangio in his last race just as he was about to lap him, allowing Fangio to cross the line first. Stirling Moss believed Fangio was unbeatable in a racing car. He is one of the rare world champions who had virtually no enemies on or off the track.
Kidnapping By Fidel Castro's Men
Even the notorious hostage incident, when he was  kidnapped by Fidel Castro's men, ended up with a public apology by Castro's second in command Faustino Pérez. Fangio even refused to expose his kidnappers and had a mild case of Stockholm Syndrome.
Any discussion on Formula 1's greatest drivers of the past or even in the future cannot be complete without the mention of Juan Manual Fangio.
Even though no justification is needed to stake a claim for Fangio's presence in this list, here goes a few
Unlike many drivers of the time, Fangio had an innate understanding of the car's working. Having been a mechanic before, he was well known to give inputs to develop the cars and also carry the parts to be fitted in the car.
A man so big in stature, yet so modest, he was loved by all.
Following his races in the dangerous tracks of Argentina, by the time he entered Formula 1, his race craft was an education for all the other drivers. Even with the unreliable, poorly handling cars of his era, he still mustered tremendous pace. His racing was almost scientific. He knew the corners and the speed with which they needed to be attacked and at what angle.
A big factor in his wins was his patience and stamina. He could churn in lap after lap without slowing down. If he didn't have the fastest car, he could wear the opponent down with his consistency.
Over the years, Fangio drove for multiple constructors and won the championship with all of them. The reason for that is simple. As Stirling Moss pointed out "Because he was the best bloody driver! The cheapest method of becoming a successful Grand Prix team was to sign up Fangio."
His dominance was so complete that Fangio's win percentage of 46.15% will probably never be broken again.
They say the champions of each era are interchangeable. They say the winners possess similar traits, a similar outlook to racing, which separate them from the rest. They must win at all costs. In fact, many of them were so obsessed with winning, they forgot the ethics that are attached to racing. They disregarded their competitors and incorporated a Do or Die attitude. Fangio's legacy is that he towers over these champions with his character. Ever likeable, ever so unpretentious, there is hardly any facet of his driving which was dirty. On the contrary, the amount of bravery needed to tame the wild machines of the 50s, more than any other era, is something modern champions can only imagine and appreciate. In this regard, he is a champion for all generations.
In the words of Michael Schumacher "Fangio is on a level much higher than I see myself. What he did stands alone. I have such respect for what he achieved. You can't take a personality like Fangio and compare him with what has happened today. There is not even the slightest comparison."
El Maestro. Juan Manual Fangio.
Here are a few glimpses of Fangio's glittering career.
Who else made to the list? Find out here: SportsKeeda's 20 greatest F1 drivers