"If God had meant for us to walk, why did he give us feet that fit car pedals?" – Sir Stirling Moss
Whenever there is talk of the greatest F1 racers of all time, there is perhaps only one person who ever makes it into the list even though he hasn't won the Drivers championship, and that man is Sir Stirling Moss. Throughout his career, he won a lot of races in a lot of different disciplines, but the one thing that he did not have on his plaque was a championship.
Stirling Moss started his career in professional racing as an 18-year-old when he convinced his father, who himself was an amateur racer, to buy him a Cooper 500. He used the car in many national and international races, winning many of them. It was at this time that he started competing in Formula 3 races, gradually moving towards Formula 2 and finally Formula One.
In 1954, he joined Mercedes-Benz but was refused a drive as he was asked to first prove himself in a competitive car. Therefore, he drove the Maserati for that season. Although it was a disappointing season, considering that it was a car that wasn't in competition with the top teams, his strong showing in the Spa Francorchamps, where he finished 3rd, convinced Mercedes to team him up with the legendary Fangio.
It was probably the best thing to have happened to Moss. He had a fantastic relationship with Fangio, with the older man teaching the younger prodigy the skills of racing an F1 car. His first Grand Prix win was the British GP in 1955. However, there have been a lot of debates on whether Fangio had let him win that race. Irrespective of whether or not it was true, Moss finished 3rd in the Drivers' championship that season and helped Fangio win the title. Not only that, he competed in the Mille Miglia and finished in a record time of 10 hours, 7 minutes and 48 seconds, which was more than half an hour faster than Fangio, who came in second.
After the Le Mans crash in 1955, Mercedes pulled out of Racing and so Moss had to go back to Maserati in the 1956 season. However, he fared better that season, winning 2 races and finishing second in the Drivers' championship, behind Fangio. The next season saw him moving to a British team, Vanwall, but would once again finish the championship behind Fangio. At the end of the 1957 season, Fangio retired from professional racing. This was Moss's chance to finally win that elusive title.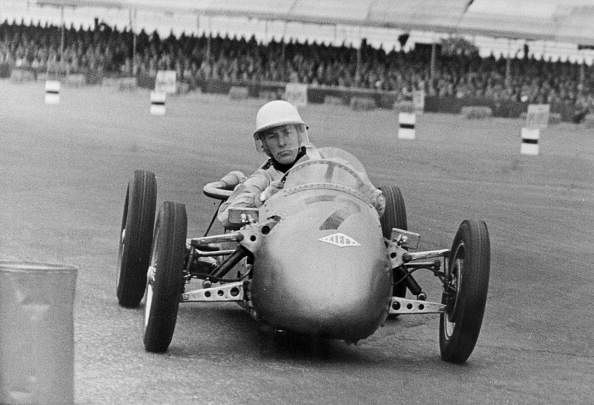 The greatest thing about Sir Stirling Moss was the fact that he just did not want to win, but to do it in the right spirit. This aspect of his character would come to the fore in the 1958 season. In the Portugese GP, he was leading the race with Mike Hawthorn close behind. However, Hawthorn had problems with the spark plugs in his car and slipped down to third, with his car stalling. However, he recovered and finished the race in second place, behind Moss. But a complaint was filed against Hawthorn alleging that he had moved the car in the opposite direction in a bid to restart the car, which was an illegal offence at that time. However, Moss, as soon as he heard about it, went to the stewards and told them it was he who suggested to Hawthorn to do that so that he could restart his car. He also told them that he was on the pavement and not on the road, so it wasn't an illegal offence. On the basis of Moss's evidence, Hawthorn was allowed to keep the 7 points that he had earned (6 points for coming 2nd and 1 point for the fastest lap of the race). This would prove to be pivotal in the final analysis, as at the end of the season, Hawthorn won the Drivers' Championship, by one point, making it 4 straight seasons in which Moss finished second.
From 1959 to 1962, he drove for Rob Walker Racing Team, winning 46 of the 70 races that he completed. For 3 seasons, he finished 3rd in the Drivers' Championship. He refused to drive for Ferrari, saying, "Better to lose honourably in a British car than win in a foreign one". In the Monaco GP of 1961, he fought off 3 Ferraris that were on the attack behind him while he was driving a very under powered Lotus, but still went on to win that race. The Guardian, in honour of that performance, had this to say, "It is doubtful any other British or foreign driver could have defeated this attack."
The greatest thing about Sir Stirling Moss was the fact that he was not a one-trick pony. He would take part in all kinds of different car races throughout the year. In fact, in a calendar year, he would race in as many as 60 races, and many a time it would be more than one race in a day. His achievements in all the other types of races truly made him a legend.
- He was only one of 3 racers to have won the Coupe d'Or (Gold Cup) for 3 continuous times without any penalties on the Alpine Rally
- He was the first foreign driver to have ever won the 12 Hours of Sebring with teammate Bill Lloyd
- He also won the Nassau Cup in 1956 and 1957. He also won the Grand Prix at the Pescar Circuit, which was 25 kms long and was the longest circuit to ever host a race.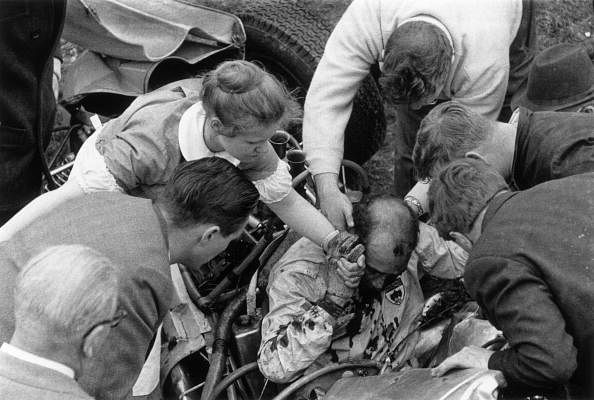 But in April 1962, his professional career came to a grinding halt at Goodwood circuit. Competing in the Formula One Glover Trophy, he had just come out of the pits and was behind Graham Hill who had lapped him. Seeing an opportunity to overtake him at a fast corner so that he could un-lap himself, he tried to take the narrow line knowing full well that Hill always preferred the wider line. However, Hill came in a little bit more than Moss anticipated and with Moss running out of road, he went straight into the earth bank, crashing his car.
The wreckage was so bad that the ambulance, in spite of reaching there as quickly as it could, had to work for 45 minutes so that they could move Moss out of the wreck. He had broken his back and legs, was paralysed down the left and went into a coma for a month. Thankfully, he could recover from his injuries, but he had to shelve his plans of racing till his 40s and retire at the age of 32.
People always wonder what he might have achieved had he not suffered that crash. He had finished 2nd in the Drivers' championship 4 times and 3rd three times in a row. It was obvious that he would win the title sooner rather than later. Also, how many titles would he have won if he had taken up offers from Ferrari and other manufacturer-based cars?
"I need you; tell me what kind of car you want and I will make for you in six months" – Enzo Ferrari.
And that says it all about the brilliance of this great man.