Top tips for being a good World Champion
644 //
15 Dec 2012, 09:20 IST
Tip 1: Don't accuse your team of bias
Has qualifying not gone your way? A bit annoyed that your team-mate is on pole position and you're not? Well a good tip would be not to criticise him and accuse the team of being biased.
Lewis Hamilton
made this 'simple mistake' back in September when
Jenson Button
grabbed pole at the Spa-Francorchamps circuit. Lewis, the 2008 World Champion, was not happy and tweeted the following, 
"Damn, WTF!! Jenson has the new old wing on, I have the old. We voted to changed, Didn't work out. I lose 0.4 on the straight alone"
. This tweet served with a dessert of Jenson's telemetry in one nice picture on twitter, made McLaren furious and an embarrassed Hamilton was forced to take the tweets down and apologise.
One would be mistaken for believing that this was the end of the Lewis/Jenson saga. But just before the Japanese Grand Prix Lewis made a fool of himself again, tweeting 
"Just noticed that @JensonButton has unfollowed me, that's a shame. After three years as team-mates, I thought we respected each other but clearly he doesn't" 
. Now correct me if I'm wrong, but I was pretty certain that chivalry and respect didn't include following one another on twitter. Again, Hamilton was forced to tweet a correction, after realising that Button had actually never followed him and he had again messed up. Nice one.
Tip 2: Don't lose your temper
Long day at work? Are you the reigning world champion, having won two championships in a row and now in a new team? Completely convinced that the team hate you and are trying to make you lose? Well they're not. Yet, the voices in Fernando Alonso's head led him to believe that McLaren completely hated him and that they were trying to make him lose. Were they? No. Probably not.
Yet poor old Fernando got a wee bit stressed out after the speed difference between him and Hamilton in qualifying and smashed down a door in the McLaren motorhome as he put on a production of "I am Fernando, hear me roar". The team didn't take too kindly to it and added to the controversies of the Hungarian Grand Prix where Alonso parked in the pits to ruin Hamilton's qualifying. It was time to go. Thankfully, Fernando has seen the light and is now fully deserving of a championship.
Tip 3: Try not to take people off the track
Yes, your hero Ayrton Senna may have done it, but if he jumped off a cliff, would you? Yes Michael, you won the championship by jumping over Damon Hill in Adelaide 1994 but that doesn't mean you should try the same thing in 1997. True, if your rival didn't score points in the race, you'd win the championship. But you should not make it blatantly obvious by 'accidentally' turning into his car and taking yourself out in the process. Whoops. A disqualification from the season was a bit harsh, but reflected the stupid decision.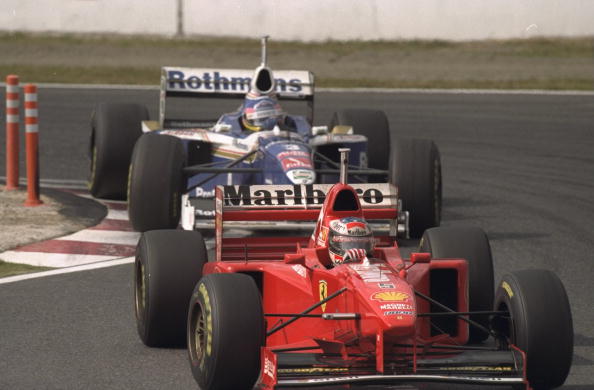 Tip 4: Don't join Arrows
Just because you've just won the championship in an unbelievably quick Williams' doesn't mean you will win the championship in a backmarker car. Here's a handy rule: If they haven't won in 20 years, they probably wont win with you. On the rare occasion that Damon managed to finish the race, he was mingling with the guys at the back, ideally not where a world champion should be. A crestfallen Damon Hill was left frustrated and counting down the seconds until the season ended and he could flee to Jordan for 1998. Lucky for him, mayhem at the start of the Belgian Grand Prix would prove the perfect opportunity to return to the top of the podium the following year.
Tip 5: Don't hit your team-mate
This one is a biggie: "A means to an end" is fairly across the board. Except, hitting your team-mate is probably one of the things you should do when trying to win a race. A young Sebastian Vettel should've taken this advice when racing in turkey. Yes, you're charging after your team-mate and you really want to win. And yes, the team has even given you some help by putting your team-mate in fuel saving, so essentially it was stealing candy from a baby. Except, he forgot exactly who his team-mate was. Mark Webber doesn't like team orders and in a remarkable coincidence, he quite likes winning. Vettel forgot this when overtaking in Turkey 2010.
A good sub-section for this tip would be check your mirrors. When Vettel made the overtake he forgot that his team-mate wouldn't lie down and take it and seemed genuinely surprised when he spun out of the race and cost Webber his 1st place. Instead, he handed McLaren a nice 1-2. Ok, Vettel wasn't a champion at this stage but it was his championship year. Combining the above with taking himself out again while trying to squeeze Webber into the barrier in Silverstone, and crashing into Jenson Button in a straight line in Belgium leads to one being dubbed "The Crash Kid".
Tip 6: Be original
If you have the sudden urge to go exploring, don't be afraid. Doing doughnuts in a marshall's area combined with some classic team-radio messages such as "Leave me alone, I know what I'm doing" as well as "Why do I get all the time blue flags" is the perfect recipe for an original world champion. Kimi Raikkonen, the 2007 world champion, has this great trait which a lot of people would be afraid to show.