Thursday's driver's press conference ahead of this weekend's Belgian Grand Prix saw Max Verstappen give his reaction on the announcements made over the summer break.
At the beginning of this month, Verstappen's teammate Daniel Ricciardo shocked the Formula One community by announcing a move to Renault at the end of the season.
Monday was the news of Toro Rosso's Pierre Gasly becoming Ricciardo's successor at Red Bull Racing in 2019.
Verstappen and Ricciardo have been teammates since the 2016 Spanish Grand Prix when the Dutchman swapped with Daniil Kvyat's seat.
When asked about his thoughts on Ricciardo's departure, Verstappen was stunned by the Australian's decision: "I think everybody has moments in their careers where you are frustrated or you are not happy with the current situation.
"I think everybody here wants to win races and wants to win championships but sometimes it doesn't work like that and you need to be patient and work hard for it."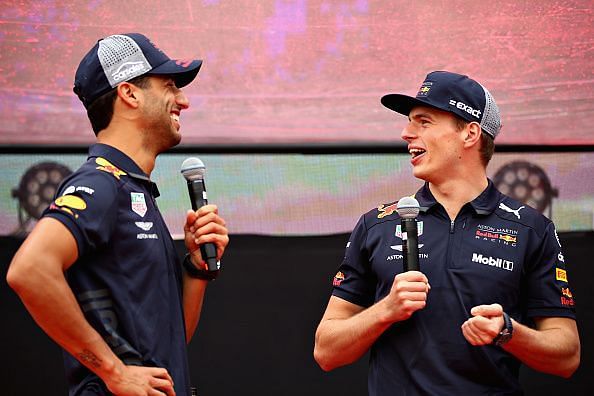 Ricciardo has so far picked up seven race wins since joining Red Bull from Toro Rosso in 2014 but has been short of competing for the driver's championship.
Despite Red Bull's championship drought over the last five years, Verstappen is confident the team provide a championship winning car.
Verstappen added: "Sometimes you need the whole package to come together and I think that is what Red Bull is working on at the moment and I'm confident that they can deliver a car that is capable of winning every race.
"We just need the whole package and we are working towards that so that's why it was also a little bit of a surprise for me that he (Ricciardo) left.
"If it is then a change of scenery then I'm not sure if it is the best scenery to go to."
Verstappen's future teammate will continue to race for Toro Rosso until the curtain closer at the Abu Dhabi Grand Prix in November.
Both Verstappen and Gasly are good friends off the track as the 20-year-old had a lot of positives to say about him, he said: "He's a great guy, I know him already since we were go-karting together.
"Even the beginning of this year he was, for one week, staying in my apartment in Monaco so we were playing FIFA in the evening. We have a good relationship and I'm sure he's very quick as well and I think it's good for the team."
In terms of going forward with Ricciardo out of the Red Bull picture, Verstappen doesn't believe in the speculation that he is now seen as the leader.
Verstappen reacted: "I think with Red Bull we have always been treated equally so I don't really see a difference in that. And I also don't really feel like a leader - I just try to do the best I can and the best possible job for the team and for myself.
"Of course, I have more experience than him (Gasly) so I'll just try to use that to my advantage."
How can you see Verstappen and Gasly's future partnership going? Comment below...
---
Follow Sportskeeda for the latest F1 News, Results, Standings, and Schedule