Why do we love Formula 1?
1.10K //
16 Mar 2013, 10:49 IST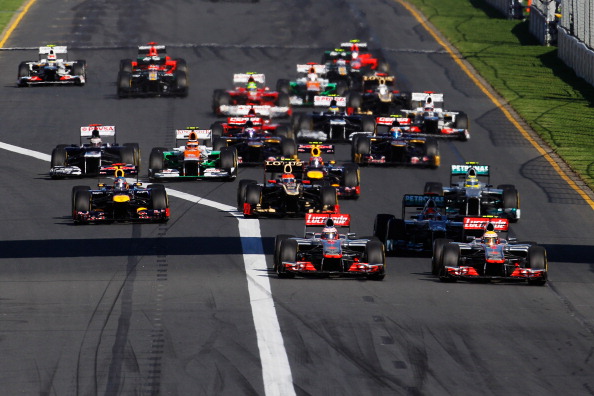 Some claim that Formula 1 is not a sport but a mere engineering competition. Others claim that various other motor sport competitions like NASCAR, Rally Racing and Formula 2 are way more competitive than Formula 1. Some view F1 as a wonderful business model, an entertainment package and a billion dollar industry.
But is F1 as engaging as its motor sport counterparts, let alone other sports? No. Then why is F1 this popular? Why do we love it this much?
As a whole, watching a Formula 1 race is boring. There, I said it.
But we still love it. NASCAR is the most followed motor sport in the United States of America but Formula 1 is the second most followed sport in the entire world, only behind Football.
We people from India are obviously not exposed to NASCAR or any other motor sport racing competitions. That is probably because competitions like NASCAR takes place only in the United States while F1 takes place on 19 countries in 5 continents. That is one reason why F1 is very popular. They are a brand and they take no shame in promoting themselves. NASCAR, if you ask me, is technically and physically very difficult than F1. It is very engaging, the lead is always changing and all the cars are technically the same. In Formula 1, the aerodynamics play a very important role, meaning that the faster car will always win.
Formula 1 is engaging in its own way. It is a team race fought by individuals. Once the race gets started, the individual controls the race but no matter how good you are, you cannot win without your team mate and team. (Fernando Alonso – Lewis Hamilton, 2007, ring any bells?)
Imagine Nokia, Apple, Samsung and Sony are participating in a direct competition to determine who can build the greatest mobile phone. The equivalent of that is what is happening in Formula 1 every year. Red Bull, Ferrari, McLaren, Mercedes, Williams and all other great car manufacturing companies are not taking part in a race, they are taking part in an engineering competition to determine who can build the greatest car. And this great car usually wins the championship.
Tennis has four Grand Slams, Football hates technology, Cricket has only one Tendulkar. These are the things that will never change with any of these sports. Every sport has some set of predefined rules by which they operate. This does not apply to Formula 1. We have more than 100 years of Grand Prix racing history and in that time, we have had innumerable rule changes. The face of F1 racing is ever changing and that draws the crowd. One thing that every single team uses this year could be banned the next year.
We all love Formula 1 because racing is exhilarating. We love Formula 1 because it puts the ultimate debate of Man vs Machine into actual perspective. There are very few actual sports in which the player has an imminent danger of death and Formula 1 is one of them. The amount of human will-power that is required to race a Formula 1 car is staggering.
No other competition takes you to a desert, an island, an airfield and a busy street. Formula 1 is unique and it brings the aesthetic beauty into a sport which, otherwise, is stereotypical.
Formula 1 may be technical. But, there are no referees who make wrong calls, there are no score cards, there are no time limits and there is no acting. It puts companies, individuals, nations, men and machines together. That is why it is so popular. In Formula 1, despite all this, the first man to cross the line wins. That is why we love it.