The Birmingham Phoenix and the London Spirit will face off in the 32nd and final group stage match of The Hundred Men's 2023 on Thursday, August 24, at Edgbaston in Birmingham.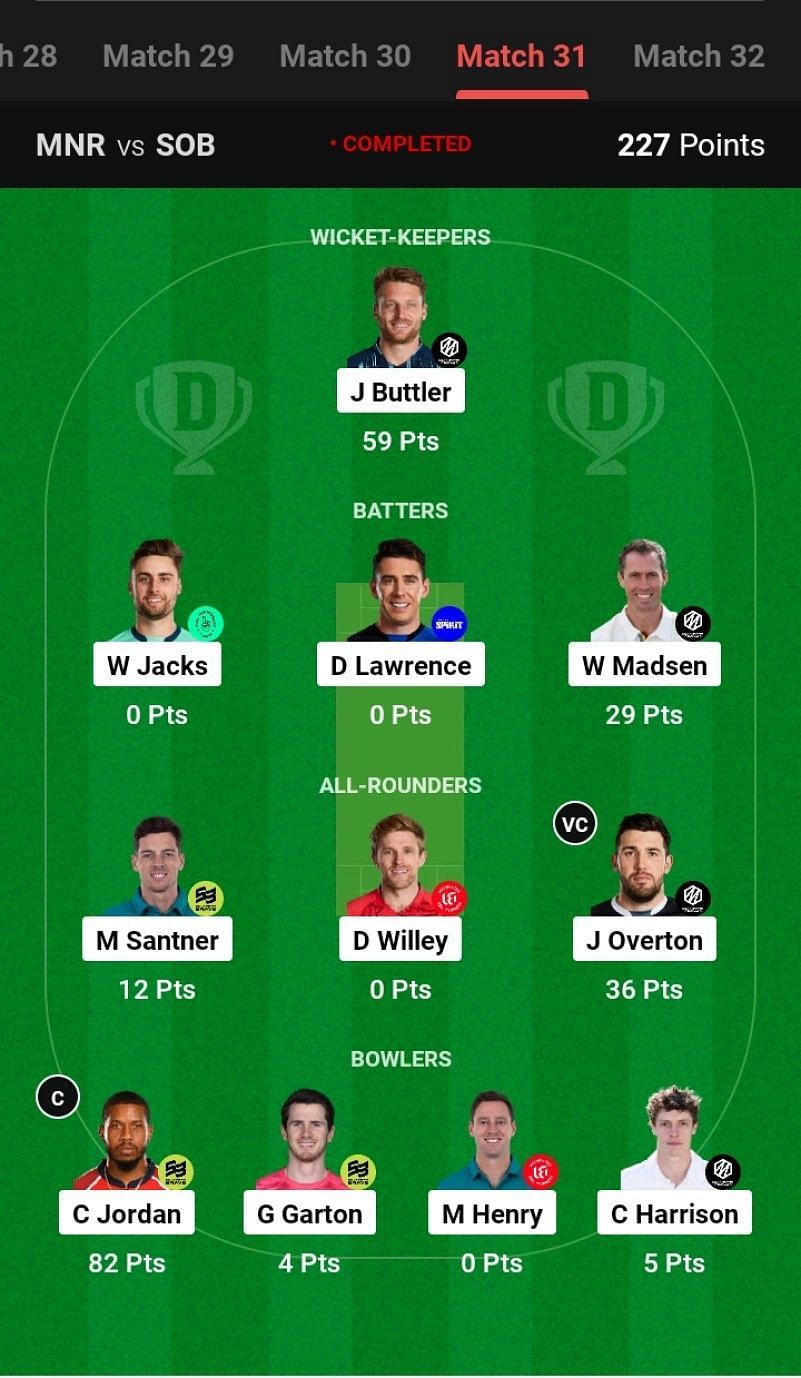 I made one extra transfer and deviated from my original transfer plan quite a bit, and it didn't end that well. I have only one player from today's fixture and should make five transfers.
Transfer Deadline: 06:30 pm BST, 11:00 pm IST on Thursday, August 24.
Note: The team suggested in the article is subject to change post the toss and any subsequent team news. Any such changes will be updated in the articles for the next Matchday.
---
Transfers
Transfers Made: 5 | Transfers Remaining: 12.
1) Mitchell Santner (ALL) (SOU) - OUT | Ravi Bopara (BAT) (LON) - IN
2) Wayne Madsen (BAT) (MAN) - OUT | Ben Duckett (BAT) (BIR) - IN
3) Matt Henry (BOWL) (WEL) - OUT | Moeen Ali (ALL) (BIR) - IN
4) David Willey (ALL) (WEL) - OUT | Daniel Worrall (BOWL) (LON) - IN
5) George Garton (BOWL) (SOU) - OUT | Adam Milne (BOWL) (BIR) - IN
These have been the two weakest sides in the tournament, which also extends to the strength of their Dream11 Fantasy options. With not much to play for either side, they could put out any lineup, but for the purposes of this article, I'm expecting them to go with more or less the same team.
The wicket should be a batter-friendly one and I'm backing Ben Duckett to come good against the Spirit bowling attack. Ravi Bopara and Moeen Ali could also shine in this match as batters, with their handy bowling ability also likely to come to the fore.
Adam Milne has been sharp throughout the tournament and has arguably been the Phoenix's best bowler. The same can be said about Daniel Worrall for the London Spirit, and I'm expecting the two to make the most of any early assistance on offer.
As for the transfers out, Welsh Fire players are a must with them knocked out of the tournament. The remaining three are from the MAN-SOU match-up, but with 12 transfers remaining post this, I'll be able to get them back easily.
---
Dream11 Multi-Match Fantasy: The Hundred Men's 2023: Best Fantasy XI for Match 32 - BIR vs LON: Team Selection and Captaincy Tips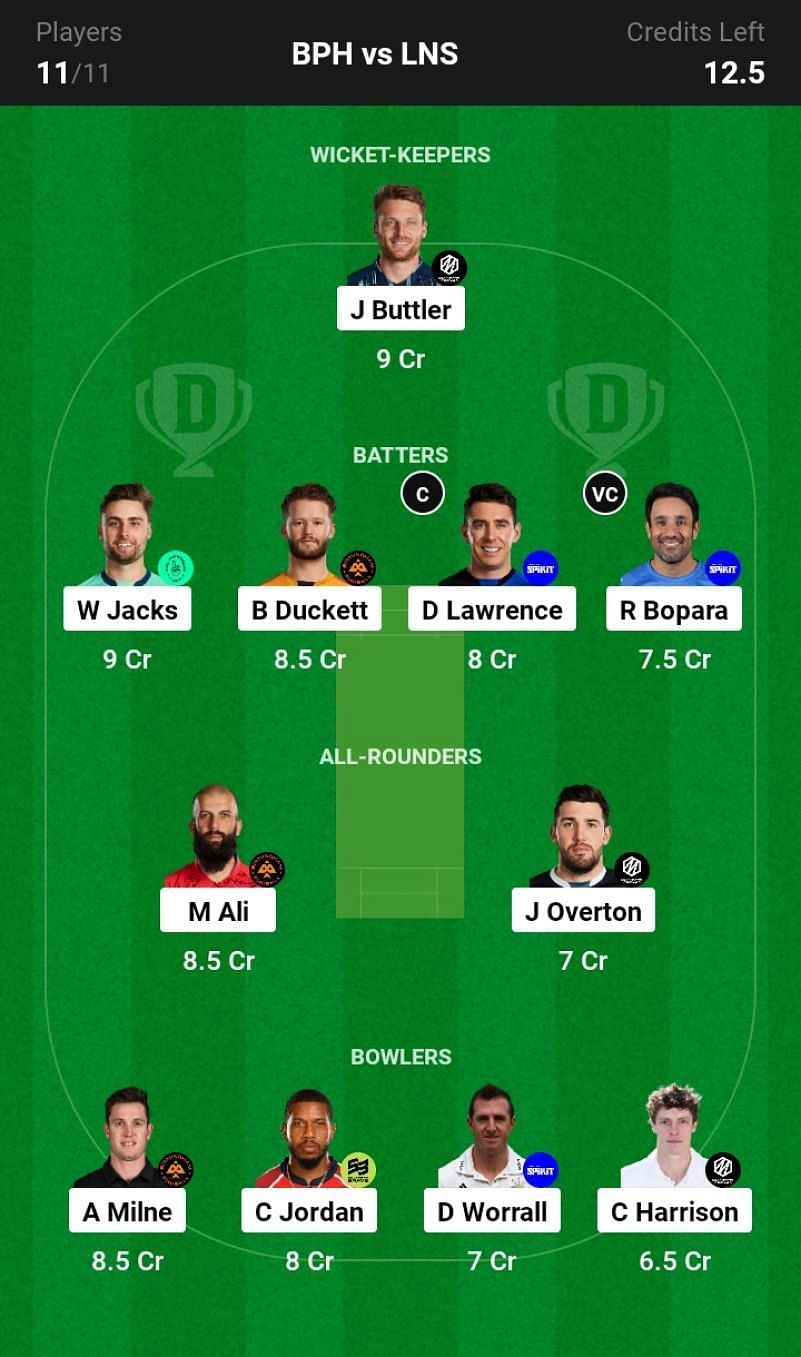 Players playing in Match 32: Dan Lawrence (BAT) (LON), Ben Duckett (BAT) (BIR), Daniel Worrall (BOWL) (LON), Adam Milne (BOWL) (BIR), Moeen Ali (ALL) (BIR), and Ravi Bopara (BAT) (LON).
Given how inconsistent the fantasy options from these two teams have been, anyone could be a good Dream11 captaincy pick and my final decision will have to be based on the toss and the pitch report.
---
Other players
Jos Buttler (WK) (MAN) | Next Fixture: vs SOU, Match 33
Jamie Overton (ALL) (MAN) | Next Fixture: vs SOU, Match 33
Calvin Harrison (BOWL) (MAN) | Next Fixture: vs SOU, Match 33
Chris Jordan (BOWL) (SOU) | Next Fixture: vs MAN, Match 33
Will Jacks (BAT) (OVI) | Next Fixture: vs TBC, Match 34