Observations from the Arsenal vs. Barcelona game
1.51K //
10 Mar 2011, 01:46 IST
Before this game, there was much optimism in the air for Gooners and why wouldn't they be optimistic. They had witnessed one of the greatest European nights at The Emirates three weeks back when their team came from behind to inflict a rare defeat on a Barcelona side brimming with talent and self-confidence.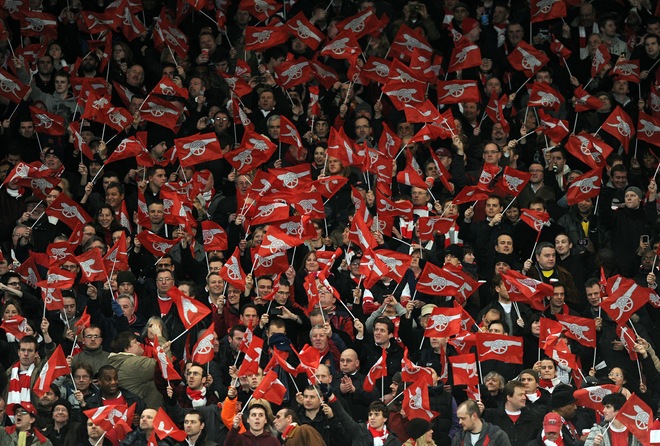 But there was also an air of cautiousness, because they knew that the tie wasn't over and they had to overcome Barca at the Nou Camp in front of 95,000 intimidating fans to get through to the next round. Arsenal were given a huge boost a day before the game when striker Robin van Persie was included in the squad to face Barcelona. Captain Cesc Fabregas also recovered in time to face the club where he started his career. But Theo Walcott and Alex Song were ruled out. Barca had their own problems too as they had to overturn the deficit without regular center backs Gerard Pique (suspended) and Carles Puyol (injured).
The game started with high expectations but Barcelona almost made a mockery of the Gunners as they dominated the game with their high tempo passing game and merely gave away the ball to Arsenal. Messi, Xavi and Iniesta were immense and so were Dani Alves and Adriano, who made daunting runs to trouble the Arsenal back four time and again. Creative source Nasri was thus forced to constantly defend and avoid Alves from getting the ball in the box. For much of Barca's dominance and possession, they struggled to find the opening goal. Fabregas, who was totally anonymous during the first 45mins produced a moment of magic in 1st half injury time, but at the wrong end of the pitch. He tried to be a bit too clever by trying to back-heel the ball to Wilshere at the edge of the box when a wild clearance would have cleared the danger which found Iniesta instead and he expertly passed it to Messi, who finished it with aplomb. The goal helped Barca to level the tie on aggregate but Arsenal knew they had to do much better in the 2nd half because if the score remained constant, Barca would have advanced on the away goals rule.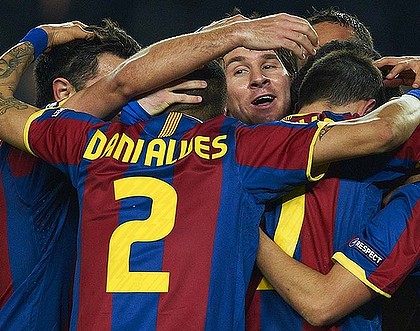 The second half started in a typical fashion with Barcelona constantly looking dangerous. Arsenal, somehow, managed to get a corner in the 53rd minute and form the resulting corner they equalized. Nasri lifted in a corner, Abou Diaby rose high but the ball clipped Busquets, which left Valdes wrong-footed. But Arsenal's joy was short-lived when Robin van Persie was sent off for allegedly kicking the ball away after he was flagged off-side. Van Persie insisted he had not hear the whistle which TV timed as coming only a second before his shot, but the ref was in no mood to hear his plea.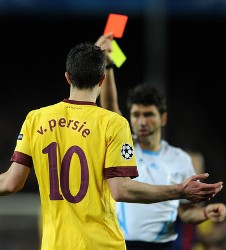 Struggling due to the numerical disadvantage, Arsenal were soon put to the sword when a well worked move between Villa and Iniesta found Xavi in the box who expertly finished it. Two minutes later, Koscielny fouled Pedro inside the box and Messi converted the resulting spot-kick calmly to secure a passage to the Quarter-Finals.
Below are the 9 things which I observed during the game. Although it's a bit biased towards Arsenal, Barcelona has been credited too.
1) Insane possession and pressing from Barcelona.  The pace and vigour with which they pressed without the ball and the skills they displayed with the ball are beyond this world.
2) Pressing as a team: Arsenal need to learn how to press like Barcelona, they don't give you any time on the ball and gain possession back so fast.  One of the greatest strengths of Barcelona.
3) 0 shots on target on Arsenal meant Victor Valdez wasn't troubled at all, except for the own goal from Busquets.
4) Nicklas Bendtner is and will ALWAYS remain a shitty striker. Not happy with missing 7 sitters on Saturday when he could have sealed things off against Sunderland, he follows it up by missing a 1 v 1 two mins from time to win the tie!
5) The refree clearly changed the game at 1-1 sending off Arsenal's ONLY striker on, knowing a 2nd away goal would kill the tie. Agree that Koscielny deserved to get sent off too but I guess the ref realized his mistake of sending off RVP and so made it up with not sending off the ex-Lorient defender.
6) Wilshere has a heart bigger than any Barca mouth!  He put in a brave shift in midfield trying to battle with Barcelona's pass masters.
7) With little room to create, Nasri turned into a superb engine, harrying Barcelona  all over the park tirelessly.
8) Johan Djourou was solid as a rock at the back and continues to impress.
9) Almunia was immense and showed the form of the quarter final 1st leg last season prior to the first goal when he made a series of saves to deny Barcelona.  And now seeing that he is the only fit goal keeper for the gunners (as of now, waiting to hear about Szczesny), he better keep up this form and not get back to his usual self.