11 German gems for football clubs to scout
You can really argue that Bundesliga is one of the top leagues in Europe, if not the best in the world. That is in no small part due the quality of young players that are plying their trade in the league. We have already seen the likes of Mesut Ozil, Thomas Muller and Marco Reus make their mark on the world stage; they are not the only ones who we are going to hear about in years to come. The country is bristling with young talent that is expected to capture the imagination of the world.
Here is a list of 11 German players (an XI) that are still learning the game, have tremendous potential and are going to be the envy of various football clubs and managers in years to come. The players in the team have been selected in the very modern 4-2-3-1 formation. The players in the line up are: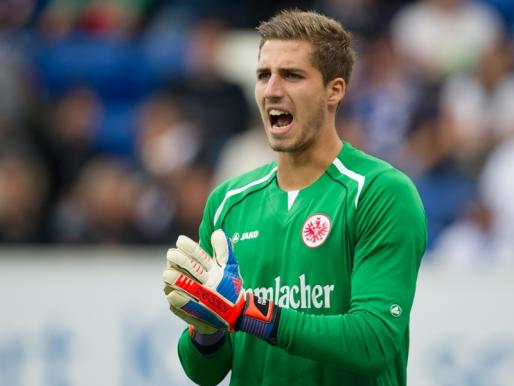 Kevin Trapp – Kevin Trapp is a 22 year old goalkeeper who joined Eintracht Frankfurt from FC Kaiserslautern in 2012 after they were relegated and Frankfurt were promoted. At Kaiserslautern (German Red Devils), Trapp was coached by Gerald Ehrmann, who has also coached other German goalkeepers like Tim Wiese and Roman Weidenfeller. Trapp is a German youth international who has represented Germany at Under-18, 19 and 21 levels. So far this season, Trapp has been outstanding for Frankfurt and one of the prime reasons why they are doing so well in the Bundesliga and could qualify for Champions League. Trapp has a good record at saving penalties too, having saved 5 of the 16 penalties that he has faced.
Sebastian Jung – Sebastian Jung is a 22 year old right-back who also plays for Eintracht Frankfurt and has been a regular for them since the 2009 season. He recently became the first Frankfurt player to be called into the German national team since 1999. Jung too has been a regular for the Germany Under-21 squads and has 17 caps at that level. His strengths include his passing and ability to hold on to the ball in tight areas. Though he is little susceptible in the air. Everyone at Frankfurt is excited about the progress Jung has made at the club and have high hopes from him in the future.
Antonio Rudiger – Another one of those German youth internationals, Rudiger is what you would describe as a perfect utility player. Although a centre back by trade, he can also play as a right back and a defensive midfielder. His current club VFB Stuttgart signed Rudiger from defending Bundesliga champions Borussia Dortmund in 2011, aged just 18. Since then, he has represented Stuttgart first and second elevens and of course, German youth teams as well. His strengths include passing the ball out of the back and not diving into reckless tackles. One area where the player can improve is his discipline, avoiding unnecessary bookings.
Matthias Ginter – The 19 year old centre back came through the academy of his current club SC Freiburg, where he played in a variety of positions including attacking midfield. Ginter won the Fritz Walter gold medal in U-18 category last year. The medal is given by The German FA to the upcoming youngsters. Ever since making his debut for the 'Breisgau Brazilians', he has been a regular for the team. He has everything that a defender needs; he is good at passing, has good aerial ability and is a good tackler.  Ginter is a future German International in the making for sure.
Oliver Sorg - Oliver Sorg is 22 year old full-back who can play in either the right or the left full back positions. Sorg joined the SC Freiburg's youth academy in 2006 and played for the Freiburg II for three years where he was also the captain. He has been a regular for the club over the last few seasons. Sorg is renowned for his composure on the ball, his tackling ability and his dribbling skills, though he needs to work on his aerial ability and crossing. Sorg is a cracking prospect and one to watch out for.
Sebastian Rode – Rode is a 22 year old central midfielder who currently plays for Eintracht Frankfurt and has been described as one of the best talents to have come out of the club. Rode is what one would describe as a complete midfielder; he can pass, he can tackle, he is good in the air and good in challenges. He has been a regular youth international for Germany at all levels. Though he is still unknown outside of Germany, his star is on a rise in Bundesliga. Rode has been linked with some of the biggest German clubs including Bayern Munich.
Moritz Leitner – Leitner is a 20 year old midfielder who currently plays for defending Bundesliga champions, Borussia Dortmund. Leitner can play as a deep lying creative midfielder or as an attacking midfielder. Leitner made his professional debut at the tender of age of 17 in the second tear of Bundesliga football, playing for 1860 Munich. Leitner has been capped at youth levels by both the German and Austrian national teams. Leitner's strengths lie in his crisp passing ability, tackling and long range shooting. One area where he needs to improve is his aerial ability. Given the number of high profile midfielders that Dortmund posses, Leitner could be available rather easily.
Amin Younes – Amin Younes is a 19 year German footballer of Lebanese descent who plays as an attacking midfielder or as a right winger for his club Borussia Monchengladbach. Dubbed as one of the best talents in the German football, Younes has consistently been capped by Germany at all youth levels. 2012-13 has been the breakthrough season for the youngster. He has an eye for a pass and can tackle well. However, at 19 he is still a bit raw and needs nurturing. Younes recently scored his first Bundesliga goal against Borussia Dortmund.
Emre Can – Aged 17, his coach in 2011 at the U-17 World Cup in Mexico described him as the most complete player he had ever seen. Can is a 19 year old left sided attacking player who currently plays for the German giants Bayern Munich's second eleven. He can play as left wing-back and has occasionally played at centre back too. Consistently capped by all German under-age teams, Can won the prestigious Fritz Walter gold medal in 2011 in the U-17 category. Even though Can has yet to make his Bundesliga debut, it's only a matter of time before he does so and takes the game by storm.
Tolgay Arslan – One player who has come on leaps and bounds in the season of 2012-13 is the Turkish born German midfielder, Tolgay Arslan. The 22 year old has put in cracking displays for Hamburger SV against some of the top sides in Bundesliga. Even though his natural instinct is to be an attacking midfielder, he is happy to do the defensive duties as well. Despite earlier representing Turkish U-19 and 21 sides, Arslan has now decided to represent Germany and has played youth football for Germany. Arslan is a strong runner with the ball, a good tackler, an excellent passer and has a very adaptable game. It's only a matte of time before we hear more of this young German.
Kevin Volland – Kevin Volland is a 22 year striker who plays for the Bundesliga side TSG Hoffenheim, whom he joined from 1860 Munich. He too, like many others, has been capped by Germany at all the youth levels and has won the Bronze Fritz Walter medal in the U-19 category in 2011. The player's strength lies in his dribbling ability, crossing and playing clever passes. He has one of the highest assists for Hoffenheim this season. There are areas where does need to work on, but he has already improved a lot due to his determination, versatility and overall ability. Just a bit of polishing and he will be a superstar, which is only a matter of time.
Given the personnel selected, the following will be the look of the team, and this team will be capable of beating many a team.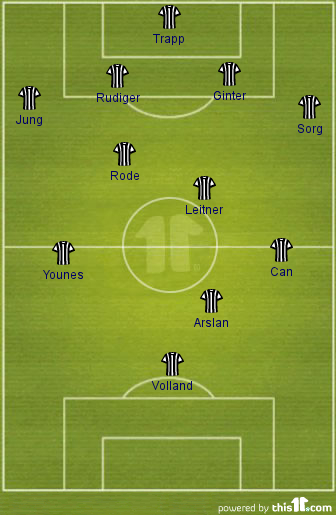 These 11 players may not be available at bargain prices. However you can't argue that they are not value for money.