3 reasons for Spain's shyness in front of goal
1.18K //
28 Mar 2013, 10:59 IST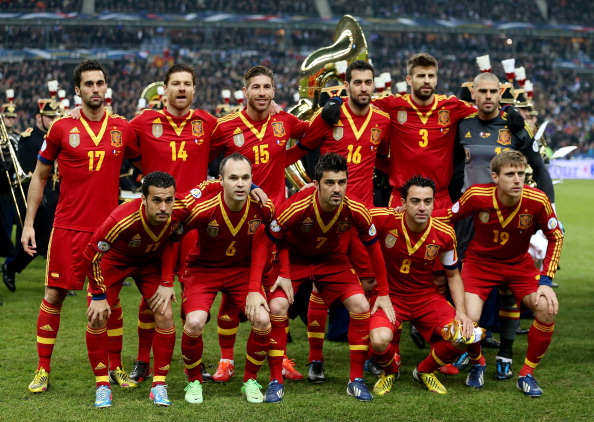 Vicente del Bosque's Spanish team has been cruising at the peak of success since the time they won the Euro 2008 Competition. From there, they have gone on to win the 2010 FIFA World Cup followed by another Euro title in 2012. They are now the most feared team in world football, terrorizing teams with their incredible and unmatchable possession-based style. The have an almost telepathic connection between each player that favours their pass-and-move play in neat triangles, which makes every individual gaze at them in awe. They are very much the Barcelona-type team, with the same ideology.
However, in spite of tasting such huge success, one thing that has always bogged me down is how such a team has not been able to score goals more frequently just like other great teams like Germany, Brazil, Italy do. Most of their matches end in a 1-0, or at most, 2-0. Except the 4-0 thrashing of Italy in 2012 Euro finals, where the Italian team was dog-tired, they have not been get to the score sheet more often. Below, I have discussed some of the key reasons for this.
1. A natural gifted out-and-out striker
Although Spain possess the same ideology and playing style of Barcelona, what differentiates them from Barca is just one name – Lionel Messi. Probably the best player the game has ever seen, Spain duly misses a player like him up front for them. He may not be a natural striker, but he certainly is much more than that for Barca. His goal scoring spree, which has continued to 18 consecutive matches in La Liga is unprecedented. To be very fair, Torres, Negredo, Llorente and Soldado are the only natural strikers in the current Spain squad, and all of them have struggled in front of goal. David Villa is past his prime. This has been a major problem for them to score more.
2. Too much reliable on midfield
With the likes of Xabi Alonso, Xavi, Iniesta, Fabregas, Mata and some others, Spain boasts of the most supreme and star studded midfield in the world. As you can see, most of the teams who are rated highly will surely have a Spanish magician in their ranks. For example, Arsenal has Arteta and Cazorla, Chelsea has Mata, Man City has Silva, Bayern Munich has Martinez, Barca has Iniesta, Xavi and Fabregas, Madrid has Alonso, Swansea has Michu and the list goes on. And all of them have been instrumental in their team's success over the past seasons. Spain, too, seem to rely mostly on its midfield for chance creation as well as chance conversion. Most of the goals of Spain come from these midfielders. However, they also do not possess that finishing quality and class in front of a goal as a striker does. Obviously, midfielders do not score goals much, strikers do.
3. Defensive approach of the opposition
With Spain already crowned the perfect team for possession-based football, it becomes next to useless for the opposition on the field to fight for possession. And they just sit back, defend and look for the perfect opportunity to get whatever little possession they get and counter-attack. Now, when a team executes this plan perfectly, it becomes difficult for Spain to rip apart their defence, especially with midfielders playing as strikers. With almost 10 players of the opposition in the defence, Spain's 'tiki-taka' play becomes a little dull. They have to wait for some magic from their players to open up the goal. This has been another major reason for the last 3 years.
However, Spain's style of play is still regarded as one of the most eye-catching and intricate style in most parts of the world. I am a big fan of them and I have been supporting Spain for the last 5 years. I just hope that their strikers will return to their original form as quickly as possible, so that we can again see a flurry of goals from this Spanish side, this time from natural goal scorers.