Football matches are often decided in midfield. The battle at the center of the pitch goes a long way towards dictating who is going to have the final say. Therefore, midfielders are one of the most important factors in football.
The midfield cannot be covered or patrolled by an individual. There needs to be a unit of midfielders, each with a task of their own. There are defensive midfielders who relentlessly snap at the heels of the opposition, break up their play and recover possession for his side.
Then there are the central midfielders who wriggle out of tight spaces, keeping the ball moving with their precise passing. They are generally excellent with the ball at their feet. There are also attacking midfielders whose defensive duties are limited and are given the freedom to assist the frontline in their forays into the final third.
A midfield unit needs all types of midfielders. It's difficult to get the right combination going but some teams have been lucky enough to get the perfect players in each position. Without further ado, let's take a look at the five greatest midfield trio of all time.
---
#5 Didier Deschamps, Edgar Davids and Zinedine Zidane (Juventus)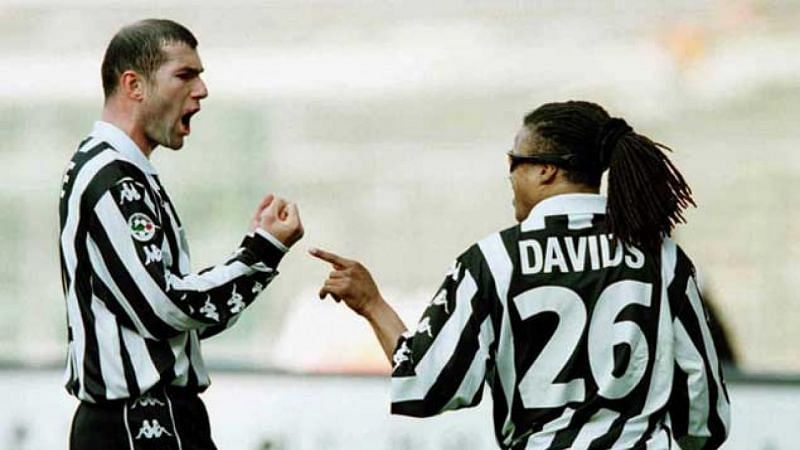 Juventus were a force to be reckoned with in the final years of the 20th century. Central to their exploits at the time were the midfield trio of Didier Deschamps, Edgar Davids and Zinedine Zidane. The star-studded Bianconeri side, coached by Marcello Lippi, reached two consecutive Champions League finals in a row but lost both times.
Deschamps was excellent as a defensive midfielder. His exceptional reading of the game, which has now helped him become a wonderful coach, enabled him to impede opposition attacks to great effect. He was also good with the ball at his feet and was a reliable distributor of the ball.
Playing in front of him was the duo of Edgar Davids and Zinedine Zidane. Dutchman Davids was an all-action midfielder whose tenacity and dynamism made him one of the greatest of all time. He was not only great at winning the ball back but also shone going forward thanks to his vision and passing range.
Davids was such a natural with the ball at his feet and was known as "The Mayor of the Street" in his younger days. The magical Zinedine Zidane completed the trio. Zizou is one of the greatest footballers of all time. He skated all over the football field and it's hard to find a midfielder more imaginative than the Frenchman.
Zidane had an incredible passing range, dribbling ability, vision and impeccable technique. Together the trio only played two seasons, but it was enough to leave an indelible mark on the game.
#4 Lothar Matthäus, Pierre Littbarski and Thomas Hassler (West Germany)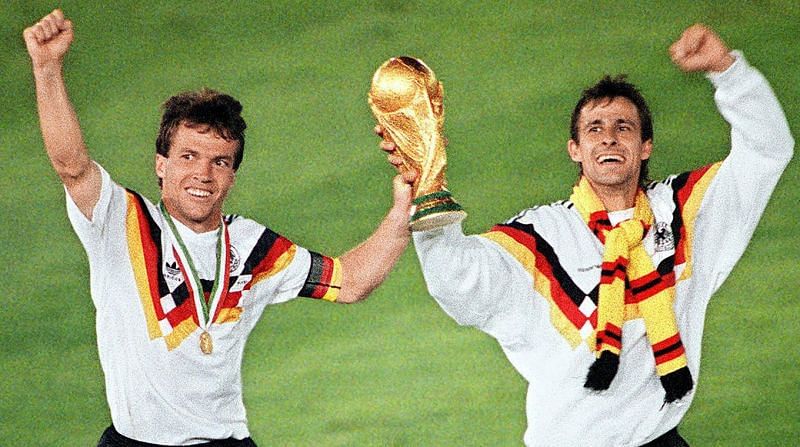 What sets the trio of Lothar Matthaus, Pierre Littbarski and Thomas Hassler apart from the rest is that none of them were 'destroyers' or 'spoilers'. This simply means that none of them were known for their ability to break up opposition attacks.
Destroyers are a feature in midfield trios. But the West Germany side that won the FIFA World Cup in 1990 had three technically brilliant midfielders who dominated every side they came up against.
Lothar Matthaus was the designated destroyer of the three but to call him the muscle would be a great disservice to his immaculate ability on the ball. A brilliant tackler and a tireless worker, Mathaus was tactically intelligent and an excellent passer of the ball.
Littbarski, known for his great sense of humour, was one of the greatest dribblers at the time. Though he played much of his career on the wings, he thrived as a central midfielder for West Germany thanks to his technical ability.
Thomas Hassler was the quintessential number 10. He was a world-class playmaker who had quick-feet and the agility to wriggle out of cul-de-sacs and score just as well as he could assist his teammates. Together, the three were unstoppable and they led West Germany to a World Cup triumph in 1990.
#3 Gennaro Gattuso, Andrea Pirlo and Clarence Seedorf (AC Milan)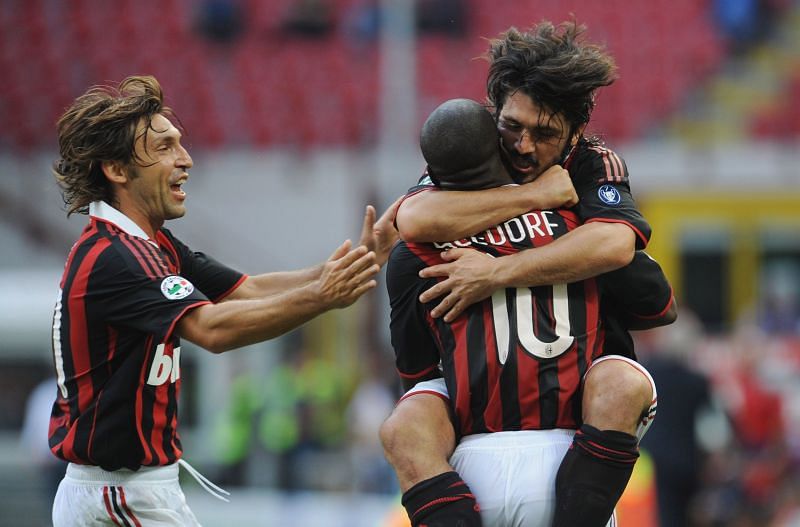 There's an argument that the midfield unit of Gattuso, Pirlo and Seedorf was incomplete without Kaka's magic. However, if you watch how AC Milan played in the first decade of the 21st century, it'll be evident that Kaka had an attacking role with limited defensive responsibilities.
Gattuso was the engine of AC Milan's midfield. He was an intimidating presence on the football pitch. A relentless and aggressive defensive midfielder with a temper problem, Gattuso hounded opposition until they gave up. He was an intelligent footballer with a great sense of positioning and complemented Pirlo well for both club and country.
Clarence Seedorf, also known as "Il Professore", was athletic, technically adept and a great striker of the ball. Seedorf was all class and went about his game in a methodical manner.
Andrea Pirlo is one of the best deep-lying playmakers of all time. His vision, passing range and control over the ball ought to be studied by young players. Together, the trio won two UEFA Champions League titles, two Serie A titles, one Coppa Italia, two Supercoppa Italiana and two UEFA Super Cups.
#2 Casemiro, Toni Kroos and Luka Modric (Real Madrid)
The achievements of Casemiro, Toni Kroos and Luka Modric are impossible to ignore. Together the trio have dominated the Champions League like no other. Casemiro, who started off as a purely defensive minded midfielder, honed his technical abilities under Zidane and has become the destroyer-in-chief for Real Madrid.
The Brazilian is not only great at winning the ball back but also at distributing it. Toni Kroos and Luka Modric are two of the greatest central midfielders of the modern era. Kroos goes about orchestrating play from deep without so much as breaking a sweat. He is one of the most accurate passers the game has ever seen.
Luka Modric is just as technically proficient but is more of a ball-carrier as well. He is also the perfect partner for Toni Kroos. Though Real Madrid's recent success has a lot to do with their forwards as well, the contributions of their midfield trio cannot be overlooked.
Together, Kroos, Modric and Casemiro have won three Champions League titles and two La Liga titles.
#1 Sergio Busquets, Andres Iniesta and Xavi (Barcelona/Spain)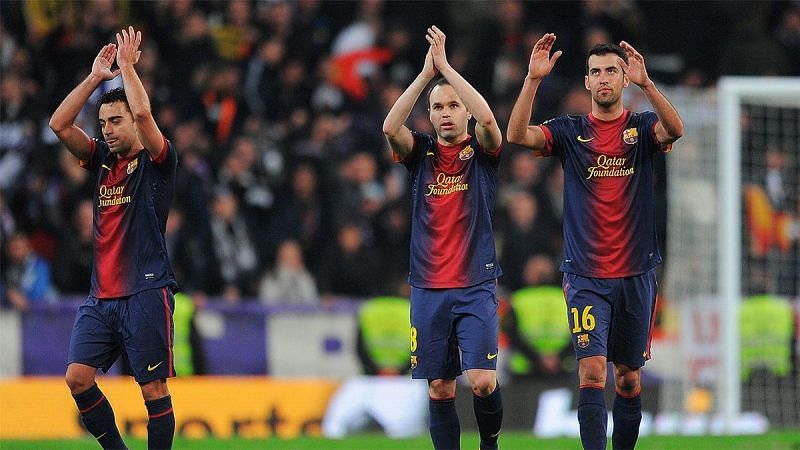 There really ought to be no debate. No midfield trio has frustrated oppositions and mesmerized football fans as consistently as Busquets, Iniesta and Xavi. Three of the finest midfielders of their generation were able to bring out the best in each other.
Busquets played the deepest role among the three. He was the pivot. Though he is not built like destroyers usually are, Busquets made up for it with his tactical intelligence and sense of positioning. He was also as technically proficient a defensive midfielder as any we have seen.
Xavi and Iniesta were impossible to shake off the ball. They could play incisive through balls that could upend entire defences with just one pass and could also dictate the tempo of every match they played. Individually, all three were exemplary midfielders and they were even better together.
Together, they won three Champions League titles, five La Liga titles and three Copa Del Reys at Barcelona. They did not exactly play as a midfield trio for the Spanish national side, with Xabi Alonso playing alongside Busquets in a double pivot. But they were just as effective and won two European championships and the FIFA World Cup in 2010 with La Roja.