| | |
| --- | --- |
| Founded | 1897 |
| Ground | Allianz Stadium |
| Owner(s) | Agnelli Family |
Juventus History
Juventus FC is a big name not only in Italian football but also a big name in world football. The dream club of many upcoming young footballers was started by a group of Torinese students in the year 1897. Juventus was called Sport-club Juventus when it was formed but it changed its name to Juventus when the club made its Serie A debut. The club is owned by the industrial Agnelli family since 1923.
Juventus FC is the second oldest active club of Italy with the oldest being Genoa (formed in 1893). Juve have been consistent and have never relegated to Serie B except for the year 2006 when Juventus were among the five clubs linked to the Italian Football Scandal of 2006. They were also stripped off the 2005 Serie A title.
Juventus are the most successful Italian club and have experienced some great victories. The biggest victory was when they crushed Cento by 15-0 in the year 1926-27. Juventus faced a tough time in early 1910s when they suffered their worst defeat at the hands of Torino in the year 1913.
Juventus Logo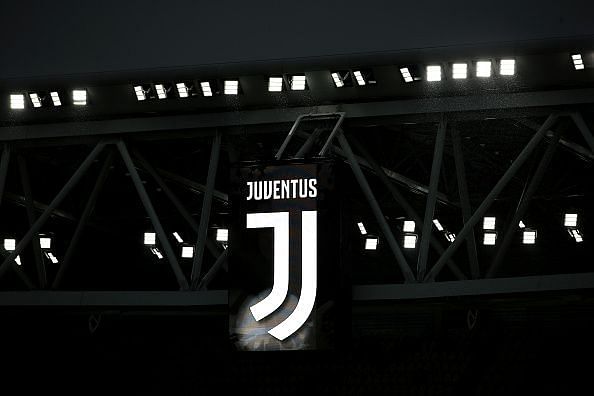 Juventus logo consists of two 'J' in capital written in different fonts with a little gap between them such that the combination of both the 'J' also looks like a J. The background of the J written in black is white or vice versa. Both black and white are the signature colors of the old lady.
The previous logo of Juventus was an oval shield with black and white stripes having three black and two white stripes. The new logo was presented in January 2017 by Andrea Agnelli with the statement that it represents "the Juventus way of living". It is believed that the logo was changed to make Juventus look like a bigger brand while the previous logo made it look like a sports club.
Juventus Stadium - Allianz Stadium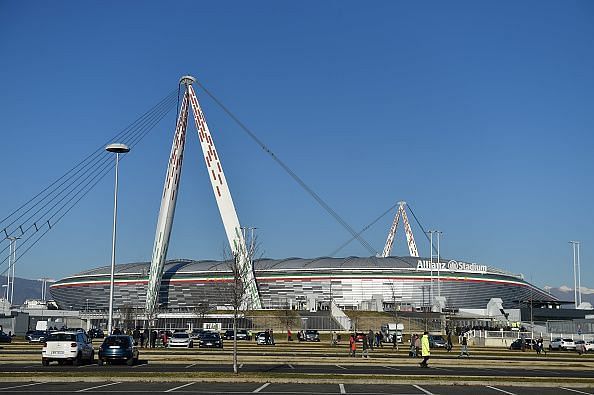 Juventus have faced a lot of problems with their home ground. The old lady never had a ground that it could call its own until the construction of Allianz stadium. The stadium was opened in the beginning of 2011-12 season and is their home ground since then.
Due to its sponsorship terms with Allianz, the Juventus stadium is known as the Allianz stadium since 1st July 2017. These terms and the name of the stadium are valid for six seasons i.e. till 30 June 2023. The Allianz Stadium which has a seating capacity of 41,507 had a construction cost of around $195.4 million.
Juventus Manager - Maurizio Sarri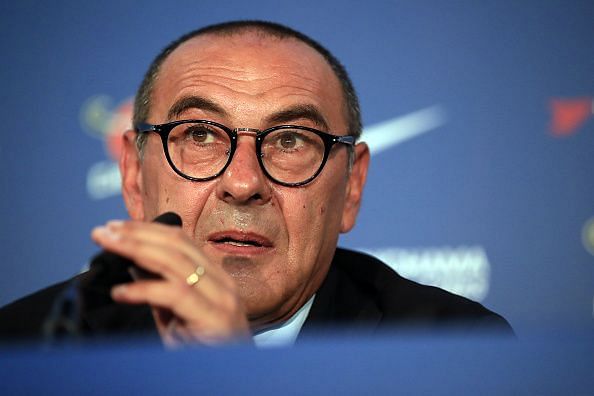 Maurizio Sarri had an ambition to play as a professional footballer but he never cleared the trials he gave for Torino and Fiorentina. He then took banking as a job but continued to play football at amateur level after his job hours.
At the age of 30, he decided to start his career as a coach and worked on it everyday. Sarri started his managerial career with USD Stia 1925 in the year 1990 and since then the Italian has managed 19 clubs, Juventus to become the 20th. He has also managed some big clubs like Napoli and Chelsea FC. His overall winning percentage, until 16th July 2019, is 46.2 while at Napoli and Chelsea it was as high as 66 and 61.9 percentage respectively.
Sarri was recognised as the best manager in Serie A for Napoli in the season 2016-17.
Juventus Owner


Agnelli Family
The Agnelli family owns and manages the club since the year 1923. The Agnelli family is an Italian multi-industry dynasty which was founded by Giovanni Agnelli in 1899. The Agnelli family takes a huge amount of interest in the club proceedings and also organises a pre-season match every year between the A and B teams of Juventus FC at the ground near the house of Agnelli family. The current chairman of Juventus FC is Andrea Agnelli who also presented the current club logo in January 2017.


Juventus Nickname - Bianconeri
Juventus are also known as Bianconeri which in english translates to Black and White. 'Bianco' is an Italian word which Translates to Black and 'Nero' translates to White, hence the Nickname Bianconeri which Means Black and white.


Juventus Slogan - Forza Juve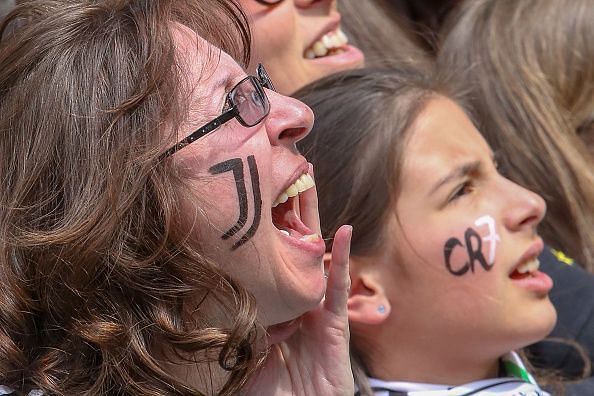 The Bianconeri fans can often be seen chanting the words Forza Juve to support their club. Forza Juve has a literal meaning Go Juve as the fans want the old lady to keep moving ahead and achieve everything possible. The posts on social media related to Juventus are always seen with a ForzaJuve hashtag.
Juventus All time top scorer
Alessandro Del Piero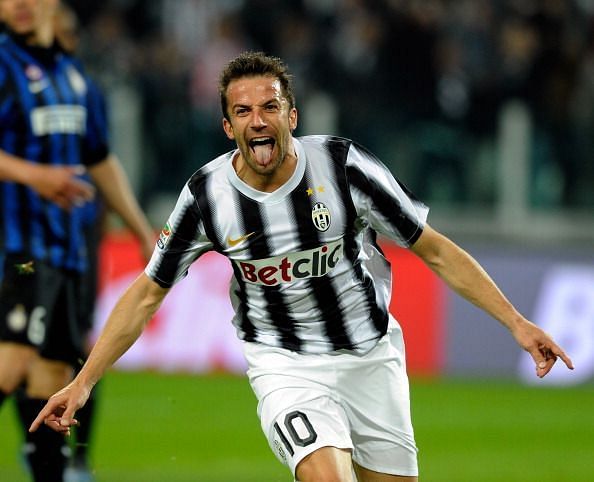 Serie A is considered as a defensive league which has witnessed some legendary defenders and Scoring past these Defenders was considered as a big achievement. But Alessandro Del Piero, the Italian forward sneaked past the opposition's defense very often. He managed to score 290 goals in 705 matches.
The Bianconeri legend played for Juventus from 1993-2012 and was one of the most loyal players of the club. He didn't leave Juventus even after they were relegated from Serie A in 2006.
Juventus Trophies
Juventus is undoubtedly one of the most successful clubs in Italy with 35 Serie A, 13 Coppa Italia and 2 UEFA Champions League Titles to its name.
Juventus Serie A Titles (35)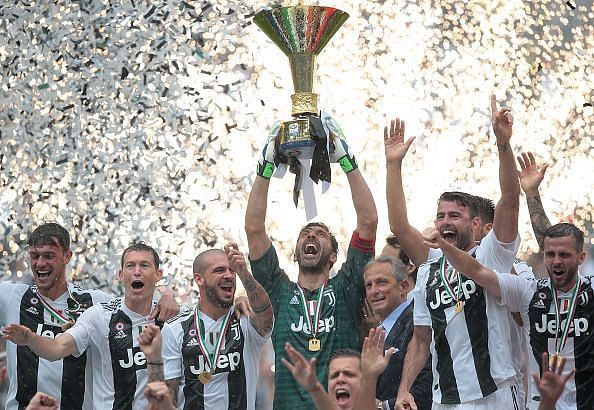 | | |
| --- | --- |
| Decades | Juventus Serie A Title By Year |
| 1900s | 1905 |
| 1920s | 1925-26 |
| 1930s | 1930-31, 1931-32, 1932-33, 1933-34, 1934-35 |
| 1940s | 1949-50 |
| 1950s | 1951-52, 1957-58, 1959-60 |
| 1960s | 1960-61, 1966-67 |
| 1970s | 1971-72, 1972-73, 1974-75, 1976-77, 1977-78 |
| 1980s | 1980-81, 1981-82, 1983-84, 1985-86 |
| 1990s | 1994-95, 1996-97, 1997-98 |
| 2000s | 2001-02, 2002-03 |
| 2010s | 2011-12, 2012-13, 2013-14, 2014-15, 2015-16, 2016-17, 2017-18, 2018-19 |
Juventus Coppa Italia Titles (13)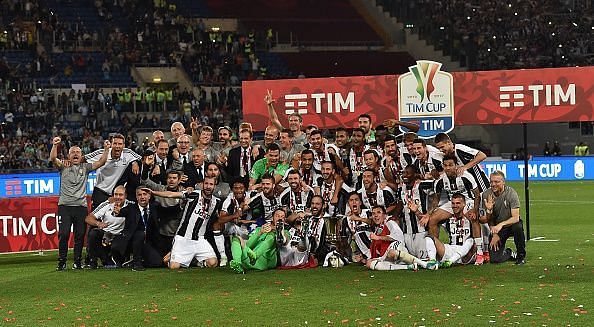 | | |
| --- | --- |
| Decades | Juventus Coppa Italia Titles by Year |
| 1930s | 1937-38 |
| 1940s | 1941-42 |
| 1950s | 1958-59,1959-60 |
| 1960s | 1964-65 |
| 1970s | 1978-79 |
| 1980s | 1982-83,1989-90 |
| 1990s | 1994-95 |
| 2010s | 2014-15, 2015-16, 2016-17, 2017-18 |
Juventus UEFA Champions League/European Cup (2)
| | | |
| --- | --- | --- |
| S. NO | Juventus Champions League Titles | Runner - Ups |
| 1 | 1984-85 | Liverpool |
| 2 | 1995-96 | Ajax |
Juventus Champions League Top Scorer
Alessandro Del Piero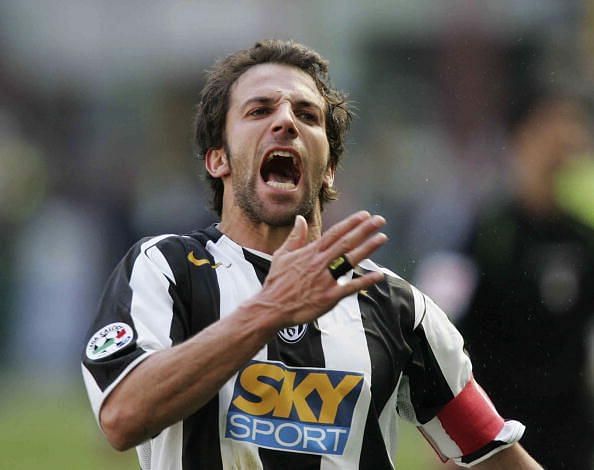 When it came to scoring goals, Del Piero always stood up for the Bianconeri be it the domestic league or the European Competitions. The Italian forward who played for the old lady from 1993-2012 scored 42 goals from 89 matches in UEFA Champions League for Juventus. He also won the league with Juventus in 1995-96.
Why is Juventus called Old Lady ?
Juventus, the club name means youth but the irony is that it is nicknamed as the old lady. To understand the reason of this nickname, it has to be broken into words :-
OLD- Juventus is the second oldest club of italy and it believes in having old and experienced players as a part of the team above the aggressive youth.
LADY- The Bianoccerni fans are believed to love the club in the same way as a man loves his lady, therefore, it is termed as the lady.
and hence the nickname 'old lady'.
What are Juventus fans called ?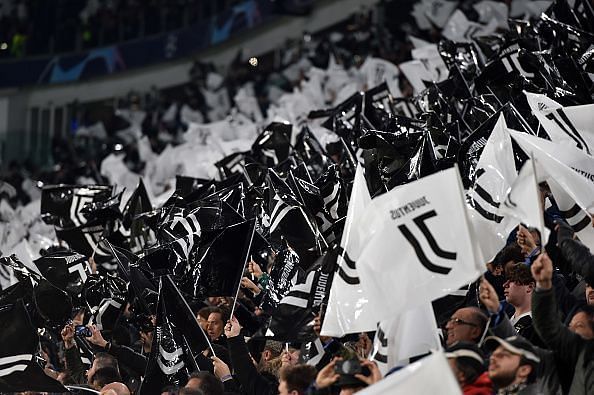 Juventus fans are often called as Drughi Bianconeri which means Black and White Droogs. This name is inspired by Beethoven loving Alex and his juvenile delinquent cohorts named Droogs.