The 2017-18 Serie A season has been an eventful one for Napoli as Maurizio Sarri's men are in tremendous form and are looking like serious contenders for lifting the title after beating Juventus 1-0 recently in a thrilling contest. Though Napoli did not make it to the knock out rounds of the 2017-18 Champions League, the team will take heart from the fact that they are 2nd in the points table in the ongoing Serie A season with 84 points in their kitty and have a chance of breaking Juve's hegemony.
There have been some superb performances from some of the key players Napoli have in their ranks who could play crucial roles in the weeks ahead.
Let's take a look at 5 such players who have impressed the most in the ongoing Serie A season.
---
#1 Dries Mertens
The 31-year-old has been in prime form this season and has produced some magnificent performances. The Belgian has troubled the best defence with his lightning pace, while his finishing has looked immaculate. Mertens has also teamed up well with the midfield.
His ability to expose the gaps in the opposition's half with his clever moves has looked quite sharp. He has been quoted as saying that the manager Sarri has always allowed him to play freely without tinkering with his natural game. Mertens has set really high standards on the field as far as his attacking style of play is concerned which has made Napoli's forward line quite sharp.
The Belgian has scored 17 goals in 32 Serie A games this season and will be looking to continue with his excellent run of form.
The manager has stated that Mertens' intensity on the field has inspired some of the younger players to give their best during crucial situations.
Lorenzo Insigne's presence has surely upgraded the quality of Napoli as the 26-year-old has been an influential figure for them. Insigne has combined well with Mertens, as the duo has formed an effective strike partnership. The Italian's ability to keep the rival's defence occupied with his swift moves has been appreciated by many.
The diminutive Italian can also run through the rival's defence with his aggressive runs. Insigne has also shown great application when it comes to his clever passes and counter-attacking style of play. Insigne has scored 7 goals in 28 matches and has 8 assists to his name. Insigne has always delivered during crucial situations for Napoli.
His ability to hold the possession of the ball can unsettle any opposition. Insigne mostly operates from the left flanks and is a smooth operator during set pieces. The midfielder is known for his creative moves and has the knack of creating chances. Insigne is a versatile player and is tactically strong.
#3 Marek Hamsik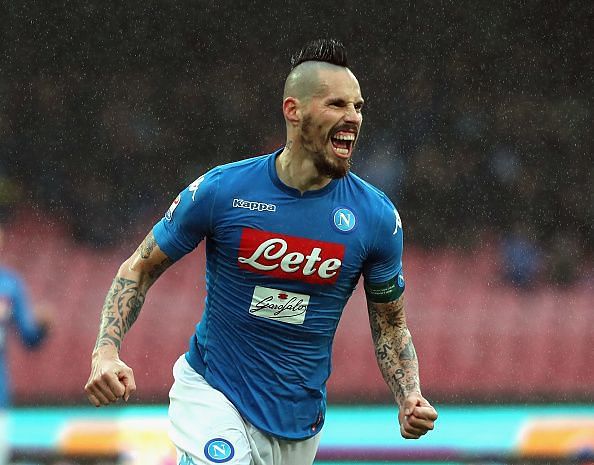 Marek Hamsik has not been in the best of form like the last season where he totally dominated the opposition's defence with his creativity, but the Slovakian is still a threat inside the box because of his ability o pick a pass and finishing. He has score scored 6 goals in 32 matches and has contributed one assist.
The 30-year-old has shown his class with some smart passes which have often puzzled the opposition. The midfielder has looked good during aerial duels and also while playing long balls. His deceptive movements inside the box have caught the opposition's defence off guard.
The Slovakian can also play as an attacking midfielder. Hamsik has this tendency of dropping deep which enables him to create chances. He has got this unique ability to get into good positions thus making it difficult for the opposition's defence to keep a check on him.
#4 Jose Callejon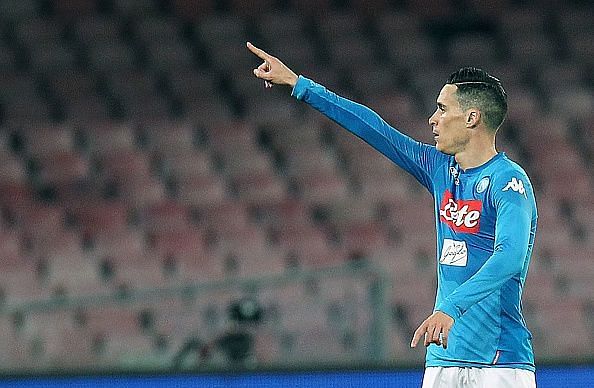 The Spaniard is known for his versatility as he can play as a winger, striker as well as an attacking midfielder. Jose Callejon provides a much-required balance as the 30-year-old has combined well with the midfield line as well as the forward line. His creative moves have outfoxed the best defences right throughout the season which was praised by Maurizio Sarri.
Sarri has stated that the winger remains an integral part of the team and has been instrumental in their team's success in recent times. Callejon can also unsettle the best of defences with his pace on the counter-attacks. He has netted 8 goals in 28 Serie A matches this season and has 8 assists to his name.
Callejon can play on both sides of the flanks and can link up play between the midfielders and forwards.
#5 Piotr Zielinski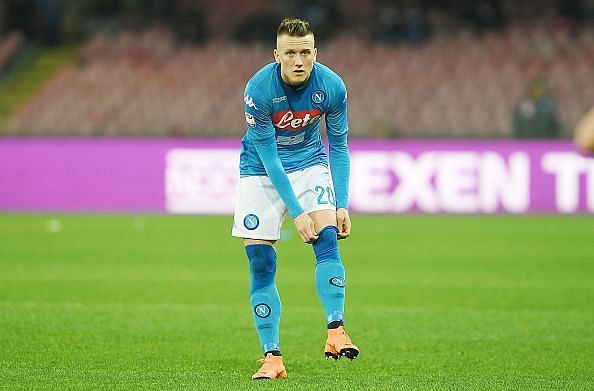 The Polish international started his career with Udinese, but since his arrival at Napoli the 24-year-old has improved quite well technically and provides depth to this Napoli outfit. The 24- year-old is known for his ability to play as an attacking midfielder and has been influential in the midfield because of his ability to win aerial duels. His smart moves inside the rival's territory have often puzzled the best defences.
Maurizio Sarri has said that his presence always helped his teammates to take their intensity to the next level which enables them to do well during crunch situations. His never say die attitude has brought a lot of difference in the team's attitude.
Zielinski has scored 5 goals so far in the Serie A season in 27 games and has 2 assists to his name. He is one of the most promising stars Napoli have in their ranks and has been quite reliable as a midfielder.