Real Madrid fans were in for a surprise when Cristiano Ronaldo decided to part ways with the club. Just days before his decision former Real Madrid player and manager Zinedine Zidane decided to resign from his post as the manager of the team. Real Madrid ended the 2017-18 season on a high as they once again captured the Champions League after beating Liverpool in the final. Real Madrid won the title for the 3rd time in a row.
They finished 2nd in 2017-18 the La Liga season behind leaders Barcelona. Los Blancos have a new manager this season in the form of Spaniard Julen Lopetegui and the Spanish giants will be hoping to replicate their performances of the last season. Lopetegui has stated that winning the Champions League along with the La Liga will be his team's topmost priority.
Real Madrid started their Champions League season on a positive note with a 3-0 victory over the Italian side AS Roma. Julen Lopetegui had expressed disappointment after Real Madrid's lost 3-0 against Sevilla on Thursday, but the manager went on to say that his side will make a comeback. Real Madrid's next game against Atletico Madrid yesterday was a goalless draw.
The addition of the Dominican Republic's Diaz will add a lot of width to their forward line because of his attacking style of play. He also scored a goal against AS Roma in his very first Champions League match for real Madrid which will do his confidence a world of good. The addition of Thibaut Courtois can give Los Blancos much more reliability under the bar.
Real Madrid fans have expressed disappointment after Ronaldo's move to Juventus and have stated that after Ronaldo's departure the team's combination in the forward line might get affected, but Real Madrid team management have stated that their side has many players who can match Ronaldo's class and have the ability to deliver during crucial situations. We take a look at 5 such players who could be crucial for Real Madrid in the ongoing season.
# 1 Gareth Bale
After living under the shadow of Cristiano Ronaldo, Gareth Bale will be eager to prove his worth under a new manager. After Ronaldo's departure, Bale had stated that playing alongside the charismatic Portuguese always helped him improve his game and allowed him to grow as a player. In the absence of Ronaldo, Bale will be the guiding force of the Real Madrid forward line.
The 30-year old's partnership with Karim Benzema will be crucial when Real Madrid play against teams who are defensively strong. The Wales international has the ability to shut out the best defenses with his accelerating pace. The striker has highlighted his ability to score from difficult positions that can puzzle the best defenses. His superb bicycle kick in the 2017-18 Champions League final against Liverpool was simply brilliant.
Bale scored 16 goals in 26 La Liga games with 3 assists to his name in the last season and will be eager to improve his goalscoring performances. Bale started his Champions League season a decent note as he scored a goal in Real Madrid's win over AS Roma which could motivate him to do well in the rest of the season. Bale has already scored 3 goals in 6 La Liga games in the ongoing season.
# 2 Karim Benzema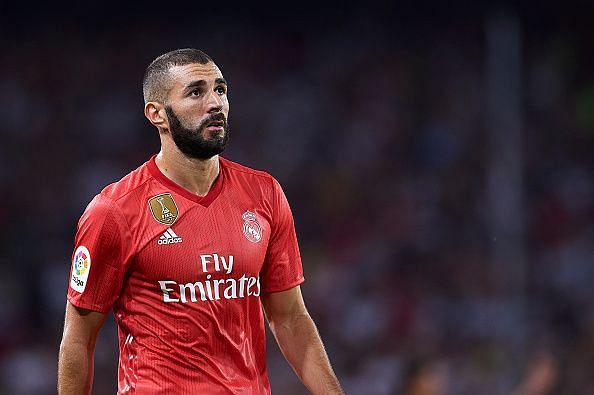 Karim Benzema holds a very key position for Real Madrid as a striker. The 31-year-old will be the core of Real Madrid's forward line along with Gareth Bale. After being from the national team in the recently concluded World Cup in Russia, Benzema will be eager to showcase his class.
Every team knows that the Frenchman can be a real threat with his blistering pace and electric counter attacks. His aggressive runs and his ability to penetrate the opposition's defense with ease can unsettle the best defensive outfits. The striker's goal scoring rate has looked quite impressive since the last 3 to 4 seasons and Julen Lopetegui will be banking on his experience to produce the desired results.
The manager had lamented that it is hard to find a player of Benzema's calibre as he is a kind of player who can outclass any opposition with his individual brilliance. Though Benzema could score only 5 goals in 32 games in the last La Liga season he contributed with 11 assists in the entire campaign.
He also scored 5 goals in 9 Champions League games in the last season. In the ongoing La Liga season, the Frenchman is looking good as he has registered 4 goals in 7 games.
# 3 Luka Modric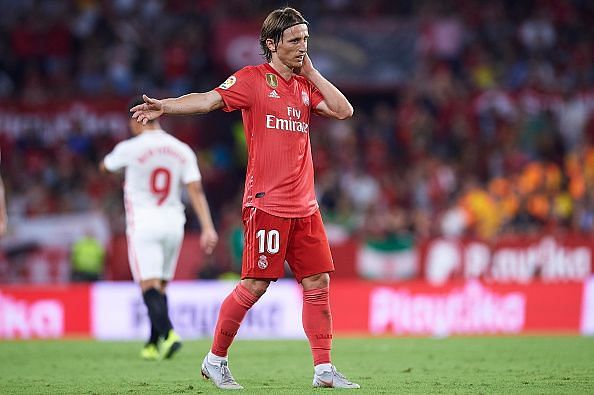 After an eventful World Cup campaign, Luka Modric will be aiming to continue with his fine run of form. The 33-year-old is a versatile player who can play offensively as well as defensively. The Croatian can be dangerous as he can open up the rival's defense with his smart moves and precise passes.
His coordination with strikers Gareth Bale and Karim Benzema will be crucial for Los Blancos. Modric is known to be a swift mover and his deceptive moves have often unsettled the opposition. After winning the FIFA player of the year award Modric had stated that he is positive that he can produce many more match-winning performances. Modric has also shown his ability to win aerial duels and has shown tremendous control inside the box while keeping the ball in possession.
His delightful long crosses will surely be quite a handful while feeding the forwards. Modric will definitely be a vital cog in Real Madrid's wheel. Modric is considered one of the best midfielders in World Football at the moment. Modric surely adds a lot of value in Real Madrid's midfield because of his vast experience.
# 4 Marcelo Vieira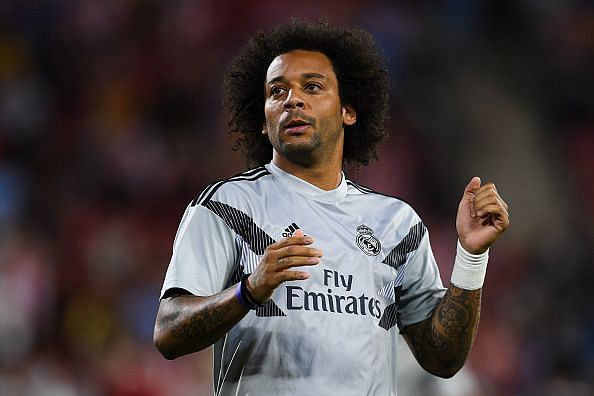 Marcelo Vieira holds a very crucial position in Real Madrid's defensive unit. The 30-year-old has been the rock of Real Madrid's defense since the last 3 to 4 seasons and this time too, the Brazilian will be expected to contribute during crunch situations.
Marcelo had expressed his disappointment when Brazil lost against a much disciplined Belgium in the quarterfinals of the recently concluded World Cup. Marcelo has also showcased his ability to scored goals more frequently and has shouldered the responsibility of Real Madrid's defense with aplomb.
He has also looked sharp when it comes to winning the ball from the opposition combined with his intelligence to cut out a dangerous move from the opposition with his precise tackles. He can also win aerial duels with his brilliant tackles and has shown his brilliance during set pieces. Marcelo is also a clever operator at the flanks too.
The defender was included in the FIFA FIF pro world XI recently. His partnership with skipper Sergio Ramos and Dani Carvajal will be the key in holding Real Madrid's defense together. Marcelo scored only 2 goals in the last La Liga season with 6 assists to his name. He also scored 3 goals in 11 Champions League games with 4 assists to his name.
# 5 Isco
Isco has been a revelation for Los Blancos since his arrival at Real Madrid. The Spaniard has shown that he can score goals at a faster rate and is dangerous upfront because of his frightening pace.
The 26-year-old can also play as an attacking midfielder and adds a lot of depth in this Real Madrid. His penetrative runs and deceptive moves can cause a problem for the best defenses. Isco is a kind of player who has the knack of creating chances combined with his precise short passes. It will also depend on how the midfielder plays while playing against a team that strong defensively.
Isco can be a big threat because of his vicious finishes and can score goals through unusual positions. Isco scored 7 goals in 30 games in the last La Liga season and contributed with 7 assists. Isco can also be dangerous with his precise long crosses. Isco will be a vital player along with Casemiro in the midfield for Real Madrid.