5 shockingly wrong refereeing decisions in Football
1.91K //
06 Mar 2013, 21:55 IST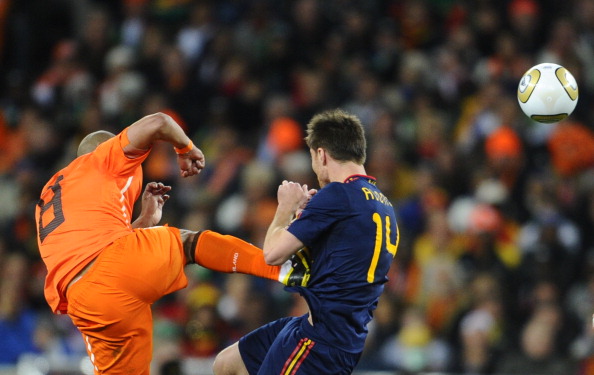 While all the controversy in the world centers around whether Nani was to correctly sent off or not, I would put in my two cents and say that maybe it wasn't that horrible a decision. Yes he was watching the ball, and yes his foot did go into Arbeloa's chest, but then it was a fine line.
But it did get me thinking about 5 most shockingly wrong refereeing decisions, and this is what I came up with-
5. De Jong (Chan) - The match started. It was a cagey affair, but it seems Nigel de Jong had been watching either Jackie Chan or more likely Cantona. He came out and started well, but decided that he did not like Xabi Alonso, so he went out and kicked him in the chest. That was not shocking, the shocking thing was that the then referee Howard Webb failed to produce a card of any sort despite being in a great position. Spain won, but the Netherlands player would have been counting his lucky stars. Cantona went to jail for his kung-fu kick, Nigel did not even go off.
4. Lampard scores or doesn't he? - Germany led 2-0 and England were trying their very best to come back. Lampard hit a ferocious shot at goal. The ball bounced off the crossbar and fell atleast half a metre inside the goal and bounced out, but the linesmen did not see it, neither did the referee. England went on to lose 4-1, but we never know what might have been…
3. Ovrebo prevents a repeat - Ask any Chelsea fan and they would spit out unheard expletives as soon as they hear Ovrebo's name. In the 2008-09 UCL semifinal 2nd leg, Chelsea were ready to go to Wembley to meet United for the second year running. Ovrebo had other ideas though, as he denied four valid penalty claims. Some were so blatant that even a 10-year-old (as my brother was) could tell that 2 were clear penalties.
2. Henry hands it for Les Blues - It was extra time in France vs Republic of Ireland in a World Cup play-off. Ireland were dominating. In a rare attack, Henry could not receive the ball cleanly and handled the ball blatantly to control it and promptly scored. I still remember the faces of Shay Given and Robbie Keane as they protested against the referee. Keane's tears after they lost to the goal summed up what a nation felt.
1. Hand of God - Now, I never knew what the fuss was all about. I had just seen the goal of the century, so I looked for "Hand of God", and my first reaction was full-bellied laughter at how the referee could have missed such an obvious handball. I mean we can see it in black and white blurred videos but how the referee could not see it remains a mystery. And of course, Maradona being Maradona, unforgettably proclaimed it as the Hand of God.