5 talking points: Everton 1-0 Man Utd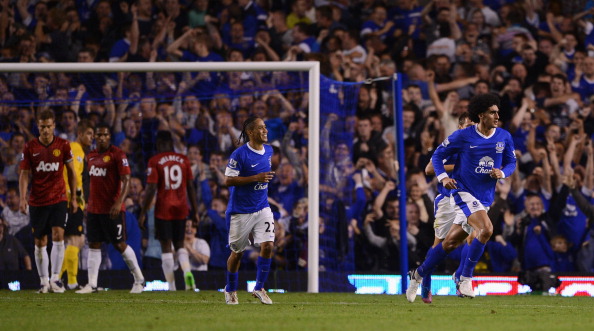 A fiesty, bruising encounter saw Everton beat Man United at Goodison Park in the first Monday night encounter of the 2012/13 EPL season. In no specific order, here are the 5 main talking points from the game:
1) It took 3 minutes for the first yellow card to be brandished as Nani opened Man Utd's account for the season with a badly-timed tackle. With Everton packing the middle with 3 men in Neville, Gibson and Osman, both set of midfielders were in close proximity, which led to a scrap-fight in the centre. Paul Scholes took it upon himself to "get stuck in", but by the end he was very lucky to be still on the field. A 13th minute leg-swipe on Darren Gibson earned him his first yellow, which was quickly followed by 2 more Scholesy-specials. By the end, he had racked up quite a tally of mistimed tackles, and only the ludicrous leniency of the referee spared him from an early shower.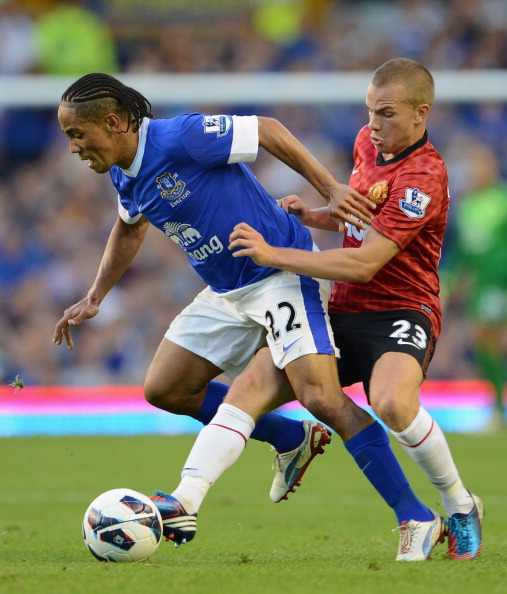 It did make for mild entertainment in a tightly-contested first half though, which Everton edged with 2 shots that crashed into the crossbar.  David de Gea, who seems to have put on some much-needed muscle, was being his acrobatic self, saving comfortably from Pienaar and Jelavic. The make-shift defense held on, but barely. Vidic flattened Jelavic while contesting a header, so it was business as usual for United at halftime. Everton had done the early running, and after conceding the first quarter of the game, United seemed to be getting into a rhythm.
2) If United did get some sort of hold on the game, Shinji Kagawa was the man handling the reins with some neat flicks and delightful one-two's with Rooney, Cleverley and Nani. For a while, Kagawa enjoyed space in between the lines, and a couple of throughballs were enough proof of his quality. Composed in possession and always looking to burst through, Kagawa at times appeared to be too quick for a clueless Welbeck and an out-of-sorts Rooney.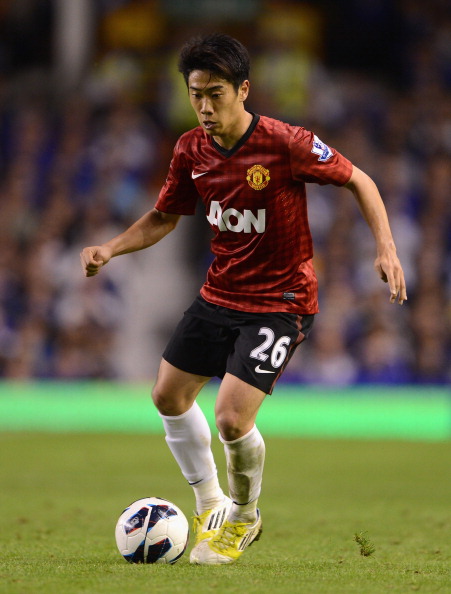 Deployed in a leftsided attacking role, Kagawa's natural drift with the ball landed him in an already cluttered central midfield, and United were shorn of width on the left side. All Everton had to do was keep it narrow, and United were trying to get through instead of going around. Patrice Evra had acres of space ahead of him at times and although he did get a lot of time on the ball, his crosses were often harmless.
3) Welbeck and Rooney took turns to move out wide, but with all naturally right footed players in the front 4, the left flank was an area that Everton were willing to concede. Fellaini exploited this by constantly moving into that vacant area created by Kagawa cutting in and Evra moving forward, and that was Everton's out-ball whenever they got into trouble. Lump it up in the general direction of Fellaini and the big man did the rest.
Fellaini won almost all of his aerial battles, and always had men breaking forward to collect the lay-off. Simple but effective route-one football by Everton. Scholes and Cleverley were outfought and outwitted, whereas Carrick was comprehensively outjumped. The goal was coming, and once again it was from a set-piece. With Vidic marking Jagielka, Carrick took up Fellaini; an unwise decision which ultimately led to an avoidable goal. The best aerial threat from his team, Vidic should have been marking the Belgian, who was clearly having an easy time against Carrick.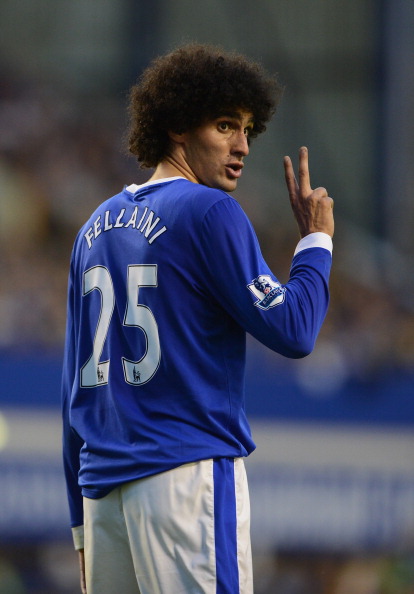 4) Valencia and Nani had the right flank sorted, and Leighton Baines was not a major threat as a result. Nani, though had a poor day by his standards, misplacing crosses and sending in some truly awful corners. How was he even allowed to take so many after failing to get a single corner over the first defender? "Rusty" is the word used to describe players and teams on the first day of the season, but at times Nani was just plain bad.
United enjoyed the majority of the possession in the last 30 minutes, but there did not appear to be a clear gameplan. Scholes was allowed time on the ball by the Everton midfielders who had dropped back by now. The idea seemed to be to get Rooney on the ball, but he was always surrounded quickly and never allowed to do anything of note. Ashley Young  came on, but the pattern didn't change. United were still too narrow on the left, and Howard was only beaten once, but Jagielka cleared off the line from a Cleverley shot.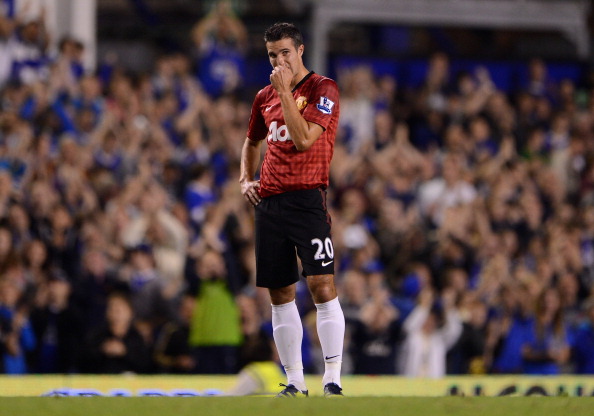 5) Now for the obligatory Van Persie update, as it seems these days, and maybe for the next few, you can't bring up Manchester United without giving your opinion on the Dutch striker. Low-key is the word that can be used to describe his substitute appearance, and apart from a few good runs which went unspotted by his teammates, Van Persie was largely a sidenote in an otherwise engrossing encounter.
Everton deservedly take home the points after a tough encounter, while Man United's season starts next Saturday at home against Fulham.