5 talking points: Spurs 2-2 Basel
709 //
05 Apr 2013, 17:06 IST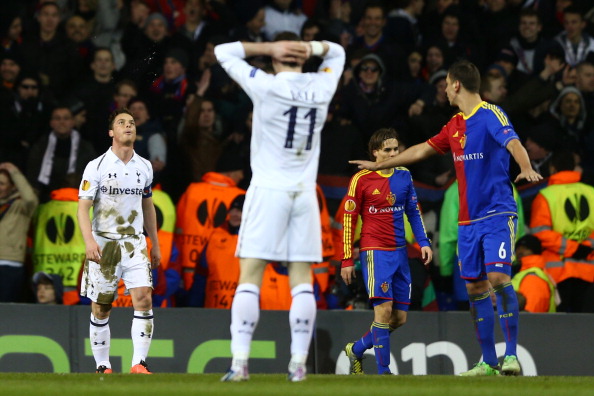 1. Spurs' wings clipped - With Lennon going off injured in the first half and Bale likely out with a seemingly serious injury, Spurs are woefully exposed on the flanks. A long term injury to any of these two, especially Bale, could lead to another implosion from Tottenham. With Holtby having a tendency to drift in from the left and the lack of any winger of decent quality, the absence of Bale could increase the pressure on the fullbacks and the under performing striking duo of Defoe and Adebayor.
2. Spurs lack quality defenders - Why AVB keeps going to Gallas is a mystery to all concerned. Clearly past his prime, Gallas is devoid of pace. His reading of the game has deteriorated greatly, as evident throughout the match. Other experienced men like Vidic and Terry do that brilliantly. Strellar in particular exposed Gallas time and again. He first outpaced him to get a stinging shot away at goal, and then even out-jumped Gallas several times. The first goal though was a direct consequence of Naughton's weak defensive play, as his non-existent marking gave Stocker the chance to slot into an empty net. The second they conceded was due to Vertonghen's error. He flicked Stocker's corner into the path of Frei who headed it beyond a helpless Friedel.
3. Basel love the big stage – This team has, over the last couple of seasons, acquired the reputation of giant killers by defeating Bayern and Manchester United. This match was no different, and with one of the most passionate travelling support, Basel played extremely well and some of the attacking play was world class. Particularly impressive were Frei and Sommer. Stocker though was magnificent all night, scoring one and setting up the other.
4. Parker is past his prime - This man looks a shadow of the player who won the Player of the Year award for West Ham. He missed a golden chance, with the goal gaping, that would have given Tottenham the win. But more than that miss, it was his overall play which left a lot to be desired. He attempted ludicrous balls all evening, misplaced simple passes and his tackling was below par. In fact, had Gallas not played, Parker would have been the worst player on the pitch.
5. Basel are a dangerous opposition - The Swiss champions are a force to reckoned with. With players like Frei, Strellar and Stocker already attracting interest from major European clubs, Basel should go from strength to strength.