5 things Arsenal learned against Liverpool
2.14K //
04 Mar 2012, 11:59 IST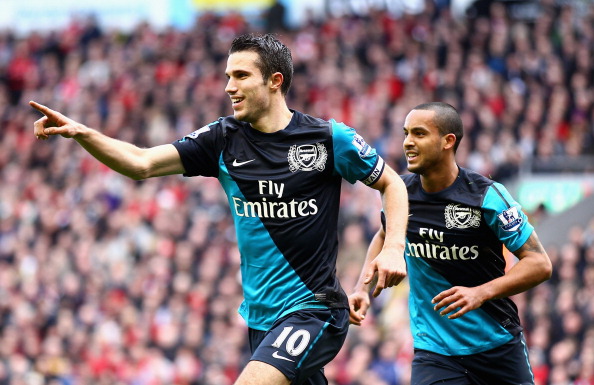 Third comeback win of the year and peaking at the right time. All the right things that we have envied Manchester United for over the years, were visible at Anfield today. Without elaborating much, I would like to throw light on what we learnt from the game against Liverpool.


1. Arsenal have all the ingredients to finish third


Four consecutive wins after a torrid January, Arsene Wenger voted as the manager of the month for February and the sun is shining brightly in the red half of North London.
Brilliant characters, superb leadership on the pitch, grit, passion and God's left foot, are surely enough ingredients to help us finish not only in the top 4 but also ahead of Spurs.
Just 4 points separate the two teams, and with one glance at the fixture list, it is safe to say we will surely be hot on the heels of the lily-whites.


2. Van Persie the difference between the sides


His finishing reminds me of Shearer a decade back. Robin kind of epitomizes what Liverpool lack, a clinical striker. Two chances and two goals, compare that to the innumerable chances for the home team, and yet they needed an own goal to get on the scoresheet.
While Liverpool and Chelsea are struggling to get goals, Arsenal have a trump card in the flying Dutchman, and he sure makes it count.


3. The curious case of Songinho


Alex Song has 11 assists this season, 8 in the league. To add to that, he has completed more through balls than the most impressive midfielder in the league, David Silva. Some of his passes have cut open defenses. The Everton game pops up in mind. But even when not assisting, he averages almost 1.4 key passes per game, which is extremely impressive for someone who is a defensive mid.
Which brings us to the most important part, is he defensively solid enough when having to contribute so much to our offensive game? Or is it time for Arsene to play him higher up the pitch?


4. Szczesny is world class


One penalty stopped, five saves from open play, and numerous clearances. He played as a sweeper, and was bloody good at it. He has got that air of confidence around him. You can sense it. Despite the odd error here and there, he has had an extremely commanding presence and has been beastly as the last line of defense.
His excellent shot-stopping abilities, good reading of the game, confident when one-on-one and naturally instinctive interceptions, have elevated him to one of the most promising goalkeepers in world football today.


5. Arsenal are in a much better state than Liverpool


A Mickey Mouse cup, won against a Championship side, that too on penalties. The Reds are a stagnant club with some really average players, and a transfer policy that is a total joke.
I have to say we are lucky to have Le Prof in charge rather than that Kenny clown, who in my opinion has taken the club back to where it was when he took charge.


Written by Debarshee Mitra
Follow him on Twitter @goonerstar_deb