A look at the Key battles in the Manchester derby
1.05K //
08 Dec 2012, 21:24 IST
Last season's loss to City at Old Trafford stung. It stung United real badly. Think of it like a boxing match. City hit United flush in the face, and drew first blood. Manchester United weren't ready for it, and it took them the entire season to get over it.  It's well known that Sir Alex Ferguson is continuously driven by revenge in his pursuit of excellence. And this rivalry for bragging rights in Manchester has now turned into a full fledged grudge match. City will be looking to forget their failures in Europe with a dominant victory over their arch rivals. That would soothen their frayed nerves to no end. Enough said. Let's have a look at the some of the key individual battles that could shape the course of the game tomorrow.
Yaya Toure vs Wayne Rooney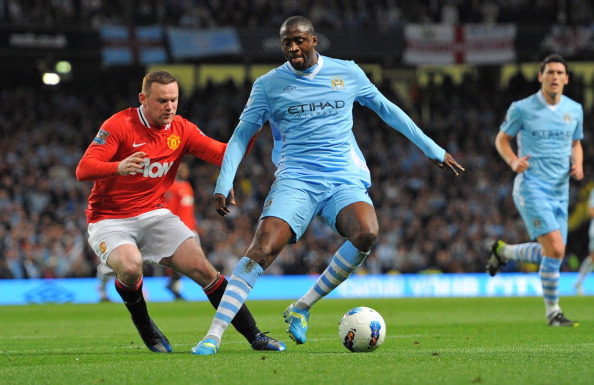 The last two seasons have seen United fail to answer and effectively deal with the threat posed by Toure. His power, pace and ball control is unparalleled, and United have no one in their ranks to match his strengths. United have a small squad in terms of size, with no midfielder player similar in stature and strength to Toure. So, the threat he poses is the most dangerous kind, as his direct running and power have been key to City doing the double over United last year, and the FA Cup semi final victory in 2010. The last player United used to man mark him was Park Ji-Sung, and he could hardly keep up, and kept getting shrugged off repeatedly. Cleverley did a great job in the Community Shield last year, but he will miss the game tomorrow due to injury. So, the need is to counter his runs right when they are about to start, close to the halfway line. Looking through United's line up, its clear as daylight that the only player possibly capable of marking Toure is Wayne Rooney.
Rooney has reveled in the slightly withdrawn role that he has been given this year, with his performances being absolutely first class. His work rate and link up play has been spotless, and in recent weeks, his defensive work has been immense. Coupled with the fact that he is the strongest and fastest of all of United's midfield options, it seems logical that he be the guy to hassle and harry Toure, and at the same time, provide the offensive spark that catalyzes United's attacking play.
Gareth Barry vs Michael Carrick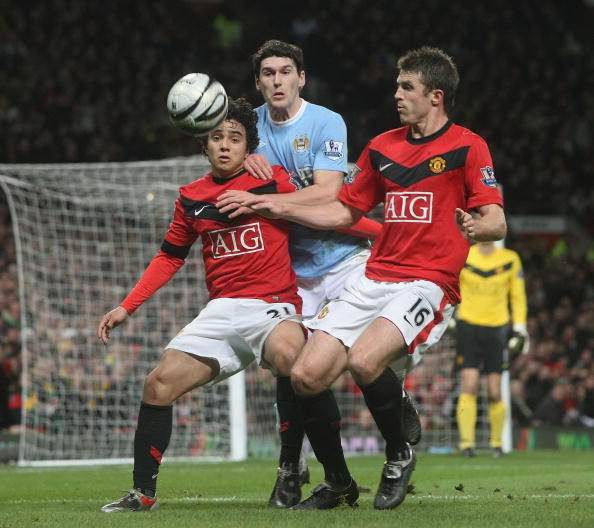 Both Barry and Carrick play a very important role as a defensive shield for their respective sides. However, they go about their duties with a highly contrasting approach. Barry helps intervene and break up opposition attacks primarily, and then plays the ball out, mainly sideways. Carrick on the other hand, acts as a deep lying playmaker, utilizing his brilliant passing range, and helps provide a seamless transition between defense and attack. They both are not the fastest movers on the field, but help bring composure to the play. Barry has a very good left foot, and is also of use when it comes to taking set pieces, with his deliveries more often than not creating problems for the opposition.
Carrick has improved greatly in the air, him being one of United's principal threats off set pieces. His role on set pieces is to rush to the near post, and provide clever flick ons for the players crowding the six yard box. Apart from being a threat offensively, his role on defense cannot be underestimated, as he provides all the running to cover for the defense when they are out of position. His understanding of situations is crisp, and he is always available to receive the ball.
The last couple of times Van Persie has faced Belgian central defenders, he has had pretty good games. He was excellent against Arsenal, tormenting Vermaelen, and against Spurs, he continuously made Vertonghen toe the line, but could just not find the finish to match his performance. Tomorrow he comes up against probably the best defender in England, in Vincent Kompany. The captain of both his club and country, he has been a colossus in defense, and is one of the primary reasons that City have been able to keep 6 clean sheets. His performances have been top notch, and he has helped organize a City defense ravaged by injuries very well. His match up with Van Persie should prove to be critical to the outcome of tomorrow's game.
Van Persie has added a new dimension to the already vaunted United attack. His ability to play multiple positions, coupled with his timing of runs and finishing has helped United sustain themselves at the top of the League. His added threat from set pieces has added to United's options. He has shown that he can stay out of trouble with injuries, and that he is one of the best in the world at what he does. His link up play with his back to goal has been nothing short of phenomenal, and it is this facet of his game which defenders have found difficult to handle.
Silva/ Nasri/ vs Evra/ Rafael
The flexibility that City possess is in their midfield options, with both Silva and Nasri capable of switching positions on the flanks, as well as playing through the middle. Although they haven't really performed to their potential so far this season, the derby is a one off, and for players like them, it takes less than a split second to conjure up some magic. Nasri with his direct running and dribbling skills, and Silva with his impeccable ball control and his eye for producing a defense splitting pass, are the danger men as far as United are concerned.
Rafael this season has produced some sterling displays, and has given a lot of indications of his growing maturity. His performances have been the only silver lining for the United defense, but he will have his task cut out against both Nasri and Silva. Additionally, he is a big threat going forward, and his wing play will force the City wingers to fall back and defend, which demands a lot from attacking players like Nasri and Silva. Patrice Evra has had an alright season so far, his performances having fluctuated from really good, to downright disappointing. He will need to bring his A-game tomorrow, otherwise he stands to see himself embarrassed repeatedly. His play going forward has been good, and gives United penetration on the flanks.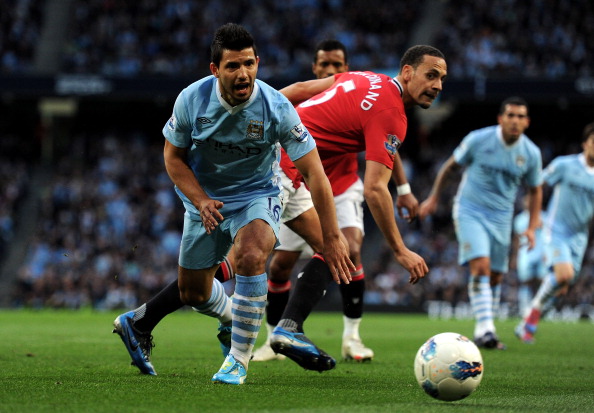 Aguero is still City's most dangerous striker, and although his play has been patchy, he will be up for the game tomorrow. He might have scored only 5 goals so far, but then he remains their most dynamic forward, with his blistering change of pace, and excellent positional awareness. He will be under a lot of pressure to produce in the game tomorrow, but he has shown himself to relish such situations. Having graduated from the Madrid derby to the Manchester derby, he will not be fazed by any of the spotlight.
Ferdinand has adapted his style of play to suit his body's needs. He might have lost his explosive pace, but he now relies on his positioning and organizational prowess to marshall the United defense. His performances this season, along with most of the United defense has been suspect, but trust him to raise his game in time for the derby. His experience has been a guiding light for the other young central defenders in the squad, and he will have to muster each and every ounce of his know-how to control Aguero and the rest of the City attack tomorrow.