A statistical review of Manchester City's season
1.93K //
21 May 2014, 20:30 IST
102 goals, a double, a less volatile manager and a seventh-placed finish for their endlessly successful city rivals. In terms of business done within the homeland, Manchester City have had a tremendous season.
Here's a breakdown of the reigning champions' 2013/14 campaign.
Best Moment – Man City 6 – 0 Spurs
Not only does a six-nil thrashing of a team that were genuinely touted for a title tilt prior to the campaign represent an enormous debagging of a supposed rival, in this case City's home annihilation of Tottenham triggered a 12-league-game unbeaten run, which included only one draw.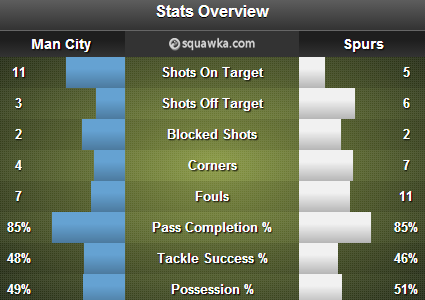 Commentators also observed at the time that the Sky Blues had even done so without having to hit top gear. City managed a smaller share of possession, played fewer successful passes than Spurs, won fewer corners and attempted a comparable number of shots and, yet, the scoreline suggests an absolute hammering.
It was a ruthless efficiency in creating and putting chances away that sent a terrible warning to City's title rivals, ultimately. Jesus Navas opened the scoring with one of the fastest goals of the campaign (13 seconds), which was followed by a Sandro own-goal and Sergio Aguero's first going into half time. After the interval, the Argentine striker completed his brace before Alvaro Negredo and Navas rounded off the rout.
Worst Moment – Man City 0 – 1 Chelsea
The beauty of having won the league is that your lowest points come to resemble hiccups in hindsight, though this one may still sting.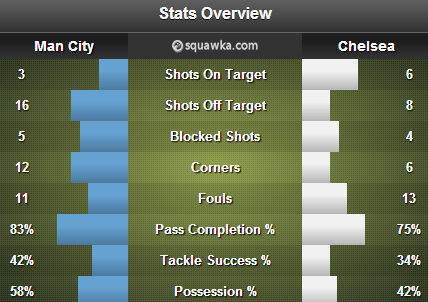 After having won convincingly during each and every one of their previous home games, Chelsea brought Man City's mid-season unbeaten streak to an end with a smash-and-grab win at the Etihad through a Branislav Ivanovic low, driven effort.
The result triggered the mother of all Mourinho love-ins among social media, which, interestingly makes it the worst point of the season for football in general, too.
Best Player – Yaya Toure (Squawka Performance Score: 1380)
Although Samir Nasri's late-season form appears to have gone strangely unremarked upon, there's almost no contest for this particular accolade.
Yaya Toure became only the second midfielder to have clocked up 20 goals during the Premier League era – Frank Lampard being the other, of course. Additionally, the gangly Ivorian assisted nine goals and a managed 90% pass completion rate.
Most concerning for Man City fans, amid Toure's curious Twitter outburst, is that despite now, quite famously, being 31 years old he may actually be at his peak.
Best Transfer – Martin Demichelis (827)
No doubt a controversial decision, but there's genuinely to decent case to be put forward that Martin Demichelis has been Manuel Pellegrini's signing of the season.
Alvaro Negredo, though he had scored some crucial goals, tailed off massively during the second half of the season. The swaggering Spanish front-man has scored only one goal in 2014, a gift, essentially, given by an exposed Newcastle determined to level the scoreline after a Cheick Tiote wonder-strike had been harshly ruled out.
And while Stefan Jovetic had seen his debut season interrupted by injury and a glut of competition in City's striking department, Jesus Navas had been unable to quite have quite the necessary impact to be singled out among a team of superstars.
Performance-wise, though, you'd have to say Fernandinho has been peerless in terms of new additions. Yet, he cost £30 million and the most interesting thing about the best transfer award is that cost becomes a decision-making factor.
Martin Demichelis, meanwhile, was signed for around £4m in September last year to shore up City's frailties in central defence, having previously worked with Pellegrini twice before at River Plate and Malaga. Frustratingly, the fee was stumped up just a couple months after the Argentinian had been snaffled up on a free by eventual La Liga winners Atletico Madrid. This does, however, mean Demichelis has been involved with two domestic champions this season, though.
Yes, Demichelis made some high-profile blunders on the European front and in the FA cup, giving away penalties to Wigan and Barcelona. And yes, he did look significantly off-pace during the earlier stages of the season. However, this is about Premier League performance and he turned his image around when it counted amid a raft of criticism and derisory remarks.
Overall, the ex-Bayern defender recorded a pass completion rate of 90% and actually, in one way, maintained a better defensive record than Vincent Kompany. City have kept 12 clean sheets during the 27 matches in which Demichelis has played. Meanwhile, of the 28 games Kompany played – during one of which he was dismissed against Hull – they kept 10.
Season Defining Stat
What else? Manchester City scored more goals than any other Premier League side this season, with 102, and fell just one short of the record set by Carlo Ancelotti's Chelsea during the 2010/11 campaign.
Target for Next Season
Defending the domestic title is often suggested to be one of the most tricky feats in football. Complacency can blunt edges, especially during that final spate of games in which, under heaps of pressure and attention, teams have to decide whether they're hungry enough having already fed on the success of last year.
For City to do so, Pellegrini will have to instil the type of mentality in his players that Alex Ferguson managed at Manchester United. However, ultimately, success in the Champions League has to be Man City's next objective if they wish to establish themselves as a force in football.