A view from the North Bank: Assessment time
953 //
15 Nov 2012, 13:58 IST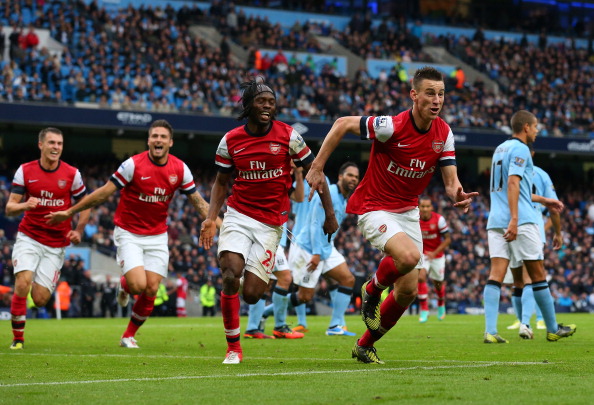 We've had the first 11 games of the season so far, at almost a third of the way through the calendar. It's the time managers and pundits usually assess a team's chances, and you don't usually finish far from where you are now.
The reading for Arsenal this season is rather bleak. The 11 league games so far have seen it all. We had Arsenal's failure to score in the first two (against Sunderland and Stoke) as indicative of a team struggling to make up for the loss of probably the best striker in the world right now, Robin van Persie, who has taken his glittering form from last season with him to his new club (scoring 8 in 10). To the praise Steve Bould and the Arsenal defence received for solid, well-organised performances in the first few matches, even keeping three straight clean sheets (Sunderland, Stoke and Liverpool). The type of performances Arsenal fans have been dreaming of since the Campbell-Toure partnership ended in the early 2000s, arguably Arsenal's last truly quality centre-back pairing.
It feels like a long time since we were praising this team now. All the old problems have returned to the defence, summed up perhaps by Thomas Vermaelen, in previous seasons one of the most assured players in the league, nervously failing to clear a simple cross from Valencia and allowing van Persie to score an easy, 3rd minute goal when they visited Old Trafford in November.
The zonal marking system, praised only a couple of months ago, leaves the players exposed from set pieces (as Fulham found to their advantage last weekend) with individuals unsure about their roles and positions when the ball moves around in the box. We have also seen the terrifying sight of defenders defending in vertical, rather than horizontal, lines at the back producing huge pockets of space in and around the goalmouth. In all competitions Arsenal have only kept one clean sheet since the victory against Liverpool on the 3rd September, even worse considering this was against a drab QPR side who'd yet to win in the league.
The star players in Arsenal's early season success were undoubtedly Santi Cazorla, Mikel Arteta and the unheralded Abou Diaby. Forming a partnership which gave Arsenal a rare stability in defence and options in attack, all the while improving ball retention in midfield.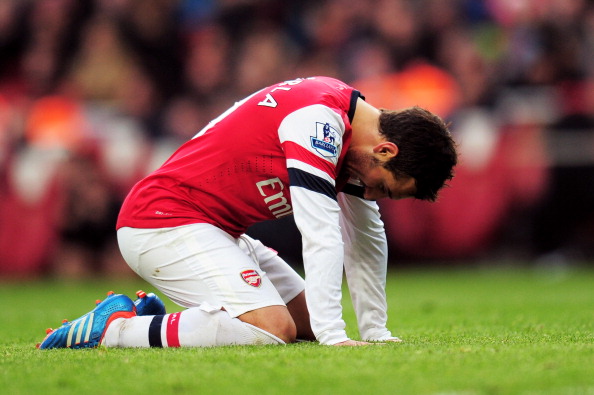 Santi, one of the most technically gifted players I've ever seen, who, without hyperbole, can honestly be described as a magician with the ball at his feet and is one of the few players still pressing the opposition when not in possession, is perhaps the star of this side. Both his technical ability and the tactical role assigned leaves him as the linchpin. Asked to play at the tip of the midfield, both scoring and making goals, keeping the ball cycling around midfield and to press opponents he was always going to be under strain, especially with the added burden of replacing Fabregas and Nasri's creativity. Yet, this is a task Cazorla has demonstrated he is more than capable of fulfilling. In any other national side, he would certainly have more than his 50 caps, still an incredible number for a player who has Iniesta and Xavi (two of the best complimentary playmakers to have graced the game) in front of him.
Earlier in the season he was incredible, and it seemed Arsenal had effectively stolen him for a bargain price of around £14 million off the debt-ridden, warning-to-football, Malaga CF. Now though, the strain put on him, by both the integral tactical role he is asked to play, as well as the physical demands of Premier League football appear to have taken their toll on him. While it would be unfair to criticise, fatigue has robbed some of his sparkle and as a consequence, Arsenal can often be seen to lack a bit of the magic that lit up some of their forward play earlier on.
Arteta is similar. Taking a pay cut to join Arsenal on the last day of the window so as not to miss his last chance to play in the Champions League, and then his side being unbeaten every game he played in last season, proved his quality both as a player and as a professional. This season too, Arteta has further improved his standing in the eyes of Arsenal fans and commentators alike. His role is to be the link man, what was referred to as the 'water carrier' in the team's shape. Moved backwards after the abrupt departure of Song, he breaks up the opposition's play through clever interceptions and intelligent positional play, offers himself as a constant option to the defenders (particularly important to Mertasacker, a not overly accomplished ball playing centre half), releases the ball higher up to Cazorla and keeps the ball moving around the midfield, a vital function in the game today. He too, however, seems to have been affected by a bit of fatigue, resulting in a very poor game against Fulham at the weekend, both conceding and missing penalties, being caught in possession and generally being below the high expectations he has set for himself and the team requires of him.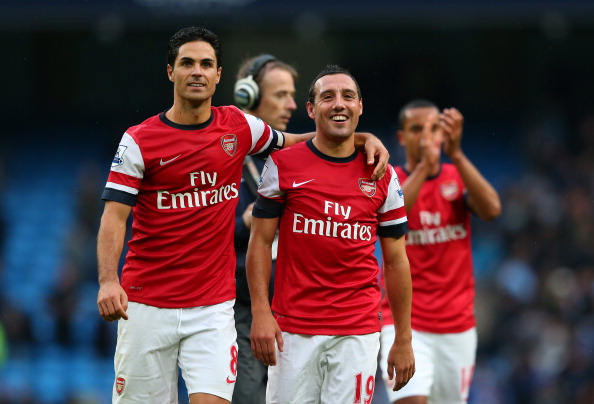 The midfield has definitely been hampered by the absence, once again enforced by injury to Diaby. He is a player who has repeatedly shown himself, when fit, to be able to transform games and an ability shared with Patrick Vieira to drive the ball through the middle and impose himself on a game. These qualities are lacking in players like Santi, Arteta, Coquelin, and Ramsey who are slightly different versions of one another, and that will continue to be absent whilst Wilshere takes the time to re-find his fitness and form or Diaby is back.
This does raise the question of why Arsene Wenger, on losing Song, allowed Arsenal to go into the season so short of options, if not players, in the middle of midfield. Relying on Diaby to stay fit is to take a reckless gamble on the club's season, and places an unhelpful burden on a returning 20 year old Jack Wilshere, in terms of getting him back to health, and his long term development, and does an injustice to the fans who stick by the team.
Either players of adequate quality didn't exist (Wenger may have thought M'Vila or others lacked the necessary attributes) or maybe the club was unable to close on deals (like the Mata and Alonso failures). Perhaps too there are other reasons, the club may still be unwilling/able to finance large transfers and wages (a difficulty to accept given the regular profits and huge cash reserve shown in the yearly financial reports). It may be as simple as Wenger believes that the squad is strong enough to challenge to explain the lack of transfer activity. All of these are subjective questions with their own persuasive evidence but only those inside the club can give us a definitive answer (hopefully in the shape of the autobiography Wenger has hinted he may write after he ends his involvement with football).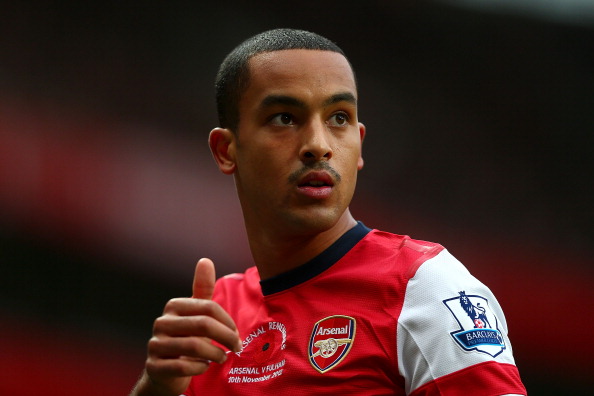 As Theo's contract situation continues to drag on, the more likely he seems to leave. Begging the question as to why the club: 1. has allowed it to get this far that a bosman for Theo Walcott, a player nurtured within the club and to which huge amounts of time, effort and resources have been invested and 2. why the club, year on year, is so inept at keeping its best players. A situation conducive neither to winning trophies, nor attracting top talent, creating a dangerous regressive cycle. On a more positive note, Andrey Arshavin is reminding people why he arrived to such fanfare January 2009. He has played himself back into contention and shown glimpses of the magic that used to light up his game. The 7-5 Reading game was probably the best game I've watched for years, even if conceding 4 inside 30 minutes is really unacceptable. It was pure football, football as joy, as passion, madness and emotion, something we can forget all too easily when surrounded by an ever more commercialised, money-oriented game.
Also I'd like to say "hail hail the Celts are here" to Celtic's 2-1 against win Barcelona at Parkhead. Their win gives football another fairytale to reminisce on as well as a much needed boost to Scottish football. It would be fantastic to have Celtic competing back on a competitive level in Europe. It's a club packed with history and fans who light up (and out-sing) any city and stadium they visit.
To finish positively (for Arsenal), it seems as though Fernando Llorente, the Athletic Bibao striker, will leave on a free next summer. His acquisition would drastically improve the attacking bite of the team. If history has taught us anything, it won't happen but we can still dream, can't we? Also, I still stand by my top four prediction, even if the last couple of months have been rough.