Nemanja Matic's football father plots demise of world champions Germany from the depths
4.09K //
13 Nov 2014, 20:50 IST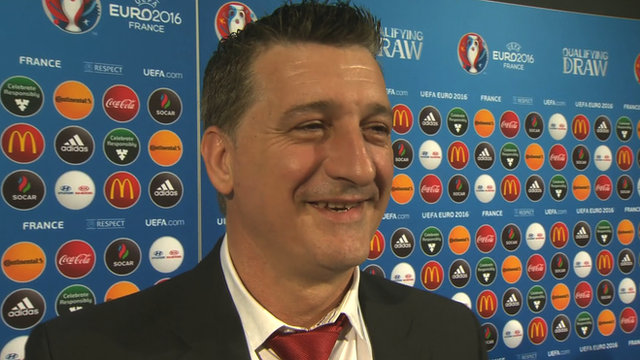 The conference room in the Lokomotiva Stadium, a multi-purpose stadium in Kosice, is packed with representatives and family members. MFK Kosice are in financial turmoil. Bankruptcy and administration beckons. A club of prestige in Slovakia is on the verge of utter destruction. But a lifeline remains.
Allen Bula.
Nemanja Matic's football father
Opposite Bula in the bowels of the Lokomotiva Stadium sits a certain Nemanja Matic. Gathered around them are their various representatives and family members aspiring to witness the moment the careers of their son, brother and cousin take flight, lead to prosperity and success overseas.
It is rather absurd that, having joined only a year ago in 2006, Bula is forced to take such drastic action a mere year later. Much of Matic's meteoric developement at the club is down to his mercurial man-management, his mercurial ability to produce accomplished youth players primed for the big time.
There was always a hanging, unforgiving sense at Kosice that Matic would one day depart but they didn't expect it to occur as early as it had. The midfielder had begun to asert his excellence on the first-team, breaking through the ranks without a hint of hesitation and attracting the entranced eyes of European football's elite. Chelsea included.
As credit for Bula's skillful endeavour, there was an offer on the table, from Chelsea, worth £1.5 million. Enough to revive the club. Enough to spark the return of the belief, hope and glory retracted by their financial adversities.
It was then Matic's career, one of success which sees him excelling at Chelsea today, truly gained momentum. It was then, too, that Bula wrote his name into Kosice folklore.
Humble beginnings
There is now an opportunity to impose himself on the Gibraltan footballing history when Gibralar, under his guidance and stewardship, travel to Berlin's Olympic Stadium in a Group D Euro 2016 qualifier. Greatest mis-match in footballing, possibly even sporting, history? Perhaps, but why should Bula be daunted, shy away from the prospect of facing the world champions, Germany. He has, after all, worked his magic before.
Although this is a totally different challenge altogether. This is Germany against a national side who were accepted by UEFA to compete only mere months ago. Yet this is the type of challenge Bula relishes, against the odds, and as he dubs it, against the world.
Bula has come a long way from his humble beginnings, yet his passion and admiration for Gibraltar is patently clear. He was, too, a former member of their national side, plying his trade as midfielder and representing his nation at all levels from Under-15 to Under-21 inclusive. There are obvious highlights for Bula – his participation in the stunning obliteration of the USA at an Under-15 tournament in the States where the hosts succumbed to a 7-0 score-line and being part of the Gibraltar side which defeated West Germany 2-1 during an Under-20 tournament in Ipswich.
His football career thwarted by injury, Bula pursued a career in management, taking up the post of the Under-17 team-manager's position at non-league Dover Rangers in 2001 before moving to neighbours Dover Athletic a year later to assume responsibility of their Under-17 side.
Hope for Bula and Gibraltar with youth at its core
Bula is a gambler, an individual not distincly fearful of taking chances, taking a leap into the uknown, relocating to Slovakia as MFK Kosice's Head of Academy. It was here when he asserted his sagacity, when he produced young talents boasting quality of gargantuan proportions. In essence, it was his excellence as Head of Academy which salvaged Kosice from the depths. The £1.5 million made through the sale of Matic in 2007 coupled with the income made through the departure of Albert Rusnak to Manchester City kept Kosice afloat.
Yet now a challenge of elevated adversity confronts Bula on Friday evening. As always with Bula, though, youth is the focus, the centre-piece. There is hope for Gibraltar in their young players yet to be signed by professional clubs but determined to assert their talent on Euro 2016 qualifiers as a platform for a professional career. Jack Sergeant (17), attacking midfielder Alain Pons (17), left-back Lee Coombes (16), striker Lython Marquez (18), attacking midfielder Daylan Victor (16), defensive midfielder Ethan Jolley (15).
The list is continuous. Bula, Matic's football father, is plotting the demise of world champions Germany with youth at the core of his audacious plans.